Written by Mistress Valentine, edited by Otaku Apologist
Deka Chichi Muchi Shiri BBA Kishidan (or Hot Steamy Knights), a hentai visual novel game. Published and released by Cherry Kiss Games on July 2019. For PC Windows. Available at Steam. Full Japanese voice acting. Censored genitals.
Ryotaro has been ruling over a world without men for years now. He deflowers every girl that he meets. He turns them into sluts with the power of his dick. He has enslaved countless women to the pleasure of his flesh rod. He has now set his sights on four royal beauties across the sea who rule a distant kingdom. His quest to add them into his harem begins!
Visit our perverted store for more porn games.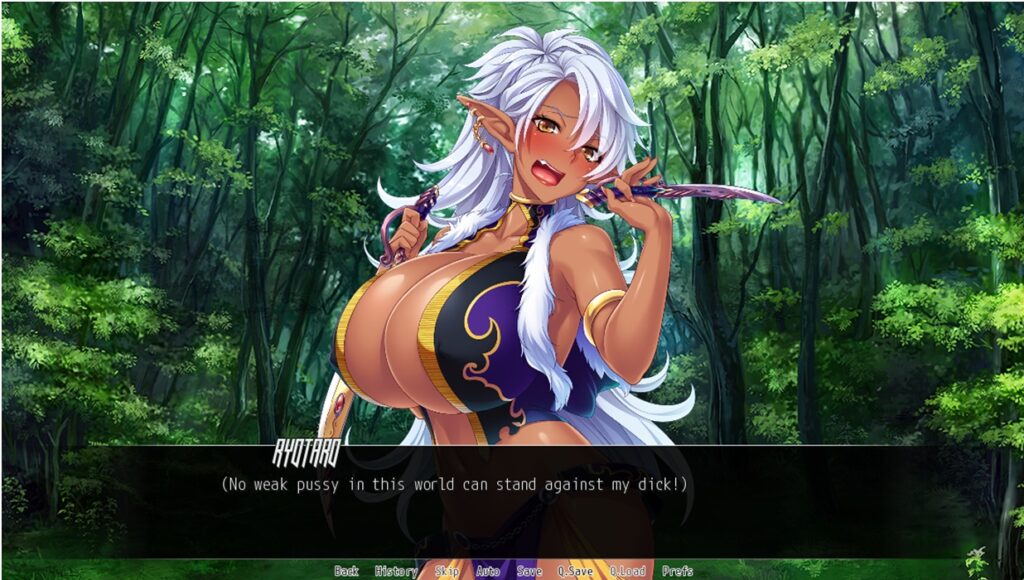 STORY
Ryotaro was transported to another world and immediately seduced a princess. He fucks her before moving on to her mother. He quickly became king and used the mysterious smell his cock to turn all the women in his kingdom into living sextoys.
Now Ryotaro hungers for more. He learns of four beautiful knights who rule a land across the sea. He hops on a ship and sets out to enslave them, but his ship is attacked by a monster, and he is washed ashore. Suddenly, the four knights appear before him.
One by one Ryotaro schemes to trap and fuck each of the knight rulers. He plans to teach them the pleasures of being mindless sex slaves. First he captures the dark elf, Pamela. He uses her as a hostage and ensnares his next target, Martina, a holy warrior of faith.
After Martina, Ryotaro turns his focus to Sheila, a proud noble. The bitch stands no chance when Martina and Pamela capture her. They bind her on the perfect position to take Ryotaro's hot load.
Last but not least is Brigitte who challenges Ryotaro to mortal combat. Ryotaro shows up naked and waves his dick in her face, seducing her with his musky male smell. He proceeds to fuck her wet virgin pussy.
The writing for Hot Steamy Knights is exceptionally sexy. The plot is paper thin but still manages to draw you in with the dirty dialogue. Having a protagonist that is a douchebag pervert is very entertaining. The emphasis is on hentai and dirty talk, while the plot relies more on wild sex than meaningful storytelling. Scenes exist solely to set up the next sex scene.
There are some grammatical errors throughout the game but they aren't noticeable. The game explores themes of objectifying women, harems, domination, and fucking people so hard that their minds break.
Ryotaro is an asshole who is only interested in sticking his cock in as many women as he can. He has no male competition, so all these hot women are his. Sheila, Brigitte, Pamela and Martina each start off with distinctive personality traits but quickly lose these once they are subjugated. None of their backstories are explored and no character is given any chance to develop.
Discover more medieval fantasy hentai games we have reviewed over the years!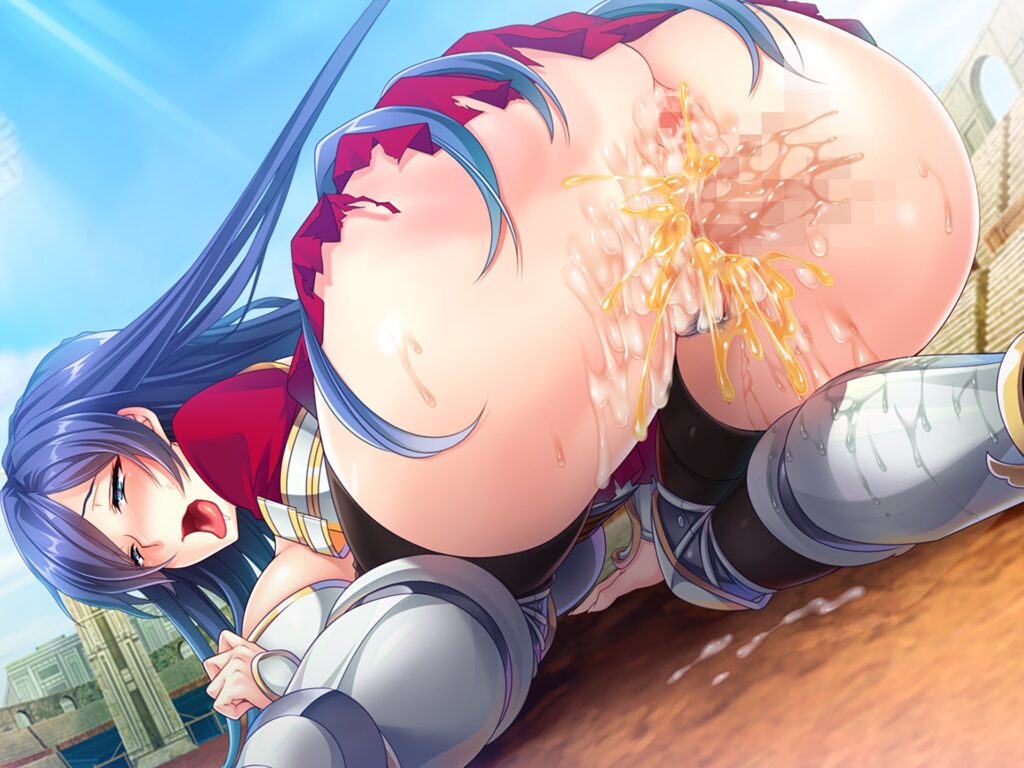 SOUND EFFECTS AND VOICE ACTING (SFX)
Hot Steamy Knights is fully voiced. Each actress gives an amazing performance. Their moans are very erotic to listen to. These ladies know how to fake an orgasm for the camera. The actresses also sound competent outside of sex scenes with good delivery. The actresses are given good material to work with. The dialogue is very sexual.
Hot Steamy Knights features a lot of sound effects. You hear crowd cheering, magical winds, magic spells, explosions, sword swipes, footsteps, sheathing of swords. At one point Ryotaro's party encounters a wild monster that needs to be fought. There is a variety of monster groans and roars. Sexual sounds include slurping, sucking, and several different squelching noises, cum oozing out of pussies, cocks pissing into vaginas and the usual voice actresses making all kinds of lewd sex sounds.
MUSIC
Hot Steamy Knights uses synthetic instruments for most of its musical score. There are 15 songs on the soundtrack, ranging from generic to annoying. A lot of the music is inspired by J-pop, electro and rave tunes. Songs are usually fast-paced, and conflict with scenes playing onscreen. The music almost never fits the scene. Because the game takes place in a fantasy world, real instruments would have been more appropriate. Music loops when the song ends, but because the entire soundtrack is unremarkable, it feels like white noise.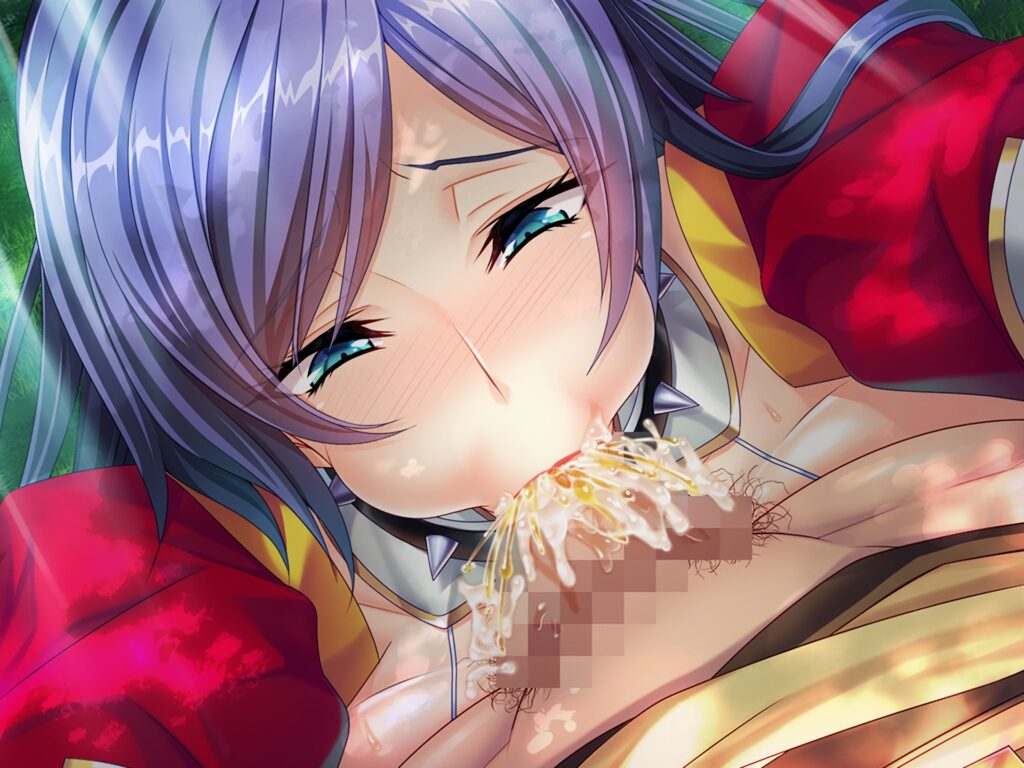 GRAPHICS
The art is excellent quality. There are numerous CGs and sex scenes. The CG gallery is loaded with great artwork. CGs have lots of variants. You'll see facial expressions change, cum appear on the body, vaginal blood, etc.
Characters have beautiful designs with gigantic tits that are several times bigger than their heads. The artwork uses thin lines and vivid colors. The level of subtle detail on each of the four knights' body armour is commendable. Each character also has unique facial designs and hairstyles that make them feel distinctive. After the knights drop their clothes, their bodies are showcased using the best camera angles. The artwork puts the knights in the lewdest positions. Character proportions stay consistent between scenes.
The world is shoddily designed with almost no backstory. Background art is detailed with colourful designs. There is a good variety of settings which include beaches, forests, throne rooms, and coliseums, to name a few. Background images are also brightly lit with deep detail, most notable in the throneroom and the forests.
GAMEPLAY
Hot Steamy Knights is a visual novel / RPG maker game.
Clicking the textbox advances the story. Functionality features are normal to other visual novel games with a 'skip' and 'auto' button for smooth play. There are enough save slots available. You can replay scenes and chapters from the Gallery-menu. Hot Steamy Knights is kinetic with some choices. These choices have no impact on the plot and there is only one ending available. The game can be completed in 2-10 hours. Your reward for completion of the story route is access to a full gallery of all the hentai scenes, CG artwork, and chapter replays.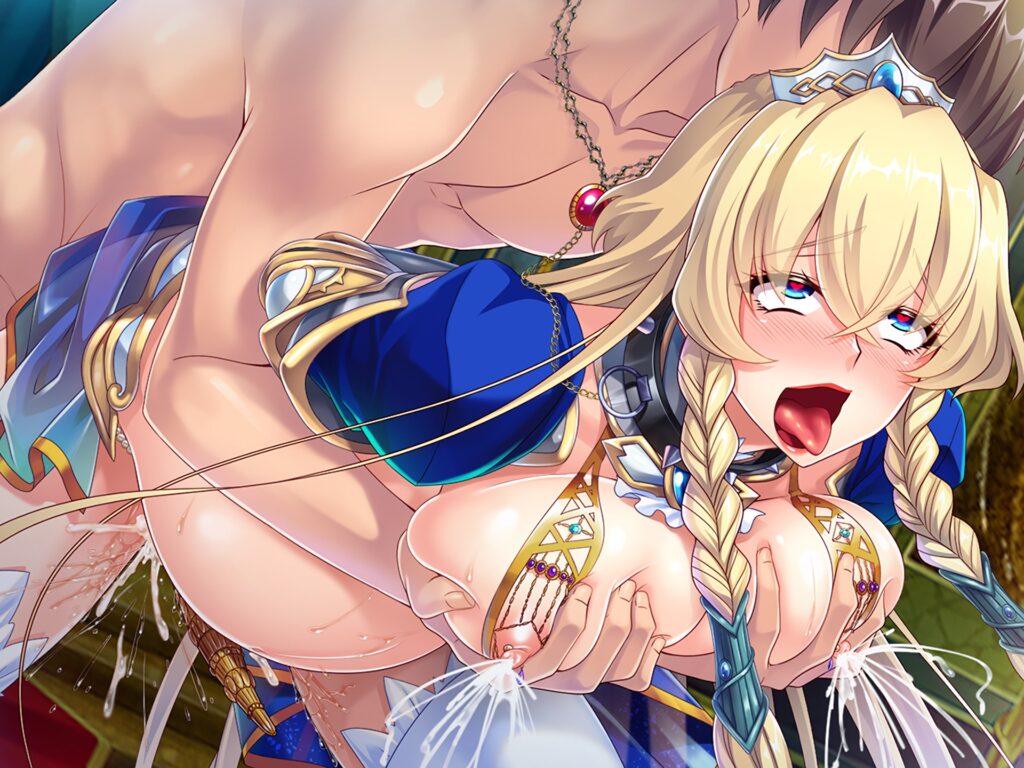 HENTAI
There are over 20 H-scenes available featuring a wide variety of sexual kinks with all four slutty knights. These scenes explore themes of vaginal sex, rape culture, master-slave bondage, ass fucking, orgies, pissing into pussies, and more.
The sex in Hot Steamy Knights is top tier. The scenes are long enough to bust a nut. The dialogue, voice acting, and artwork complement each other well. It's a high-quality fapping experience for the player. Ryotaro's jerkass personality and sexually charged commentary while he's fucking the girls are a big part of why these scenes work. He is rude, lewd, and completely objectifying of women.
Every scene in which Ryotaro strips someone of their virginity is a highlight scene. His subjugation of Brigitte stands out because he goes for her ass first with thousands of spectators. After he cums inside her ass, Brigitte begs him to blast his juices into her pussy as well. He ends the scene by pissing into her pussy and asking her to declare her new status as his sex slave.
One of my favorite scenes didn't involve penetration. It's a scene immediately after Brigitte's enslavement. Ryotaro pierces everybody's clits and the girls give their comments on the experience. It's very sexy.
CONCLUDING WORDS
Hot Steamy Knights is a must-play for every masturbation enthusiast looking to bust nuts without a care. The voice acting is sublime, and the artwork incredible, while the soundtrack is passable, forgettable garbage. These big-breasted bitches are easily dominated, quickly brainwashed to worship cock, aching for cum in their slutty little pussies. Bring on the screen cleaner, wipes and a box of tissues.
You can download Hot Steamy Knights on Steam.
Graphics

Gameplay

Story

Music

SFX

Hentai