Yuri Hentai Game Review: Sakura Sweetheart
Hentai Reviews

>

Reviews

>

Yuri Hentai Game Review: Sakura Sweetheart
Written by Mistress Valentine, edited by Otaku Apologist
Sakura Sweetheart, a hentai visual novel game. Published and released by Winged Cloud on February 2019. Download for free. For PC Windows. No voice acting. Uncensored genitals.
Marron is a clumsy girl who dreams of becoming a pastry chef, just like her parents. Unfortunately, she didn't inherit their talent in the kitchen. Her new instructor is very strict – and sexy! Can Marron become a professional chef under her instructor's guidance?
Discover more Sakura Games at Nutaku.net. Sign up with your email!
STORY
Marron has just been hired at a prestigious family as a pastry chef in training. She has until the end of the weekend to prove to her strict instructor Zakuro that she's up for the task.
Sakura Sweetheart has a straight-forward plot that is as complicated as a blank sheet of paper. Marron has fallen head over heels in love with Zakuro. Multiple scenes end with her covered in icing. Most of the dialogue feels credible for a hentai game. This makes the burning lesbian relationships seem more believable, despite the short timeframe.
Sakura Sweetheart has two beautifully cute girls as its protagonists. Each character has a distinctively unique look and personality. Zakuro is an unfeeling, robotic instructor. Marron's love defrosts this ice-queen, and Zakuro learns to open up to Marron. She evolves into a perverted sex maniac, determined to be the dom in the relationship.
Marron is a generic genki girl with a wild imagination. She is the embodiment of every cute anime girl trait known to man. She's very likable and fun to watch both inside and outside of the sex scenes.

The characters are very flat with no complexity. The story is free of grammatical errors.
SOUND EFFECTS AND VOICE ACTING (SFX)
Sakura Sweetheart contains no voice acting and no sound effects.
MUSIC
The music is subpar. There are 7 tracks available. There is limited variety in tracks with generic songs that fit their respective scenes. Synthetic instruments like the keyboard are used to compose all of the music. Musical changeovers are noticeable but not too distracting. Songs loop continuously until the scene changes.
The soundtrack is uninteresting with most of the music fading into the background. Sakura Sweetheart's music feels like white noise with its generic synthetic songs. The repetitive beats become very distracting over time.
Most songs are upbeat and cheerful, and feel at home in this vanilla yuri title. The best song is simply titled 'Sad'. It has a really sweet guitar solo that barely gets screen time despite how good it is.
GAMEPLAY
Sakura Sweetheart is a visual novel game. Clicking the textbox advances the story. Functionality features are normal to other visual novel games with a 'skip' and 'auto' button for smooth play. There are enough save slots available.
The game has no choices to branch the story into different routes. There is only one ending available. The game can be completed in less than 2 hours. Your reward for completion of the story route is access to a full gallery of CG artwork.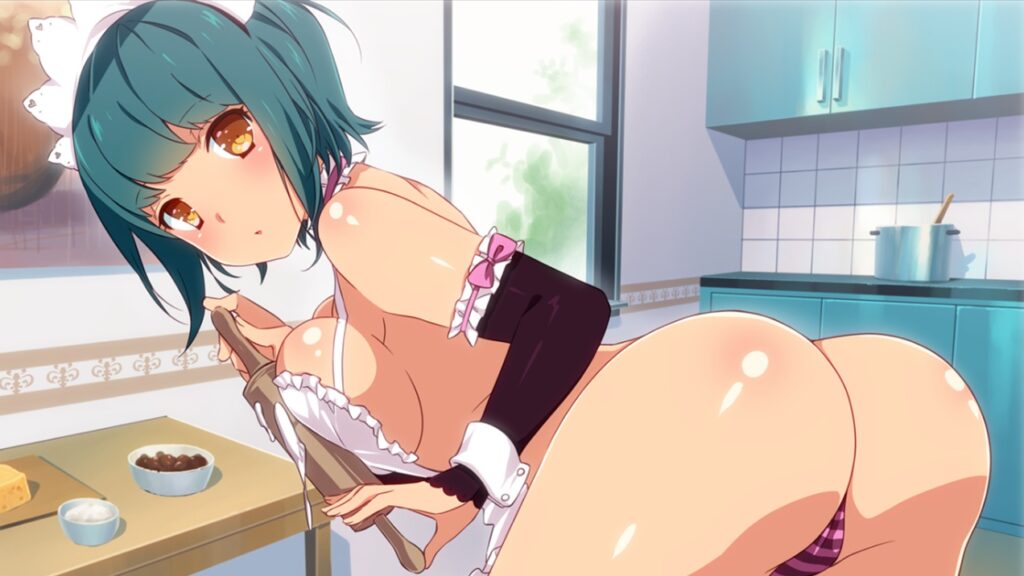 GRAPHICS
The anime art style is good quality. There are 10 sexy CGs to unlock. The world has a generic design. Background images are brightly lit and well detailed. They stand out vividly, but don't feel consequential. The manor setting is a good example of a plain background. There are only three background settings featured.
The art has such details as apples on shelves, brooms, generic bedrooms, plain foyers. The CG gallery is very limited. CGs have almost no variants to showcase the evolution of the events. Bodily proportions stay consistent between scenes while the artwork has bright and vivid colours with good use of shading and lines.
HENTAI
Sakura Sweetheart is about lesbians. The hentai scenes are super vanilla, but very lewd. There are only two actual sex scenes. The first scene starts off with Marron falling over. Zakuro takes advantage of her, by lifting up her legs and eating her out. The dialogue is entertaining to read. Marron's inner dialogue about how good she feels is well juxtaposed with her outer voice pleading with Zakuro to stop smearing whipped cream all over her body.
The second scene features a role reversal. Zakuro's entire body is covered in pink cream with her butt sticking out for Marron, who enjoys sucking out all of the juices. Zakuro's attitude is well balanced between embarrassment and enjoyment. Marron plays with Zakuro's ass, cupping her butt cheeks and squeezing them in her hands. Hot! Both scenes are very vanilla with no scissoring or intimacy. They tease the player in preparation for the climax.
Other scenes are generic and only feature characters in embarrassing, or compromising positions.
CONCLUDING WORDS
Sakura Sweetheart is another freebie entry into Winged Cloud's long-running 'Sakura' series. Generic lesbians lust for pussy and get naughty after lots of predictable shenanigans. The game looks way better than it actually is. It is not, I repeat, not competent fap material unless watching cute girls carpet fucking each other is your cup of tea.
You can download Sakura Sweetheart for free.
Graphics

Gameplay

Story

Music

SFX

Hentai