Prostitution Hentai Game Review: Disinterested JK's Sexual Side-gig
Hentai Reviews

>

Reviews

>

Prostitution Hentai Game Review: Disinterested JK's Sexual Side-gig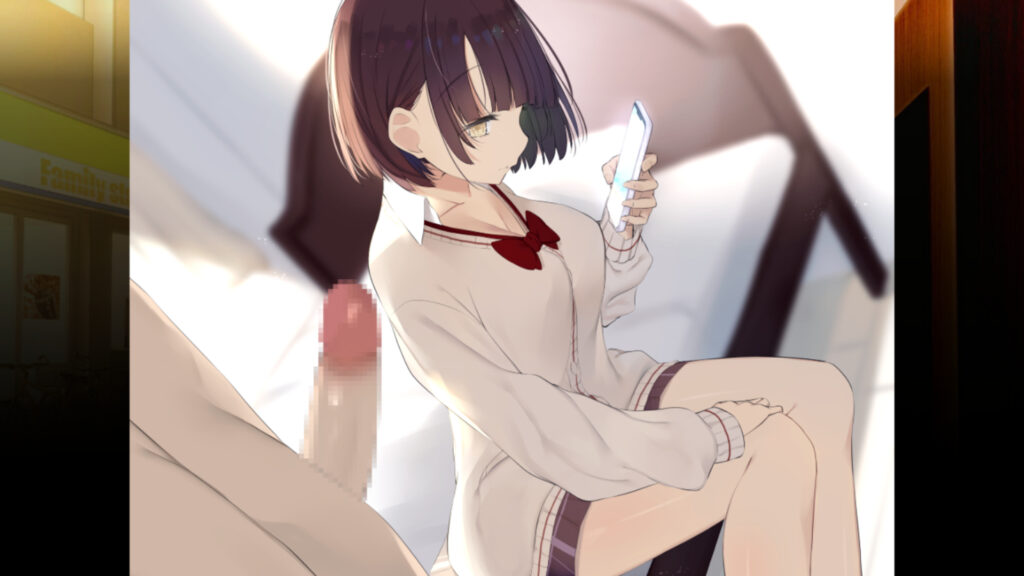 Written by Rastafoo69, edited by OtakuApologist and Mistress Valentine
Disinterested JK's Sexual Side-gig, a prostitution porn game developed by El Syrup. Released November 13, 2021. Download on DLSite for $17.00. For Windows PC. Full Japanese voice acting. Censored genitals.
Schoolgirl Alice is fired from her part-time job because she's so nonchalant and unmotivated. Lacking better options to make immediate income, she agrees to do a quick dirty job for a suspicious man to earn 10,000 yen! Flirting with danger, it doesn't take long before she's swimming in bad company!
PROMO: When you download games through links on Hentaireviews, we make original hentai comics.
Never played a Japanese game before? Please read our guide how to download DLSite games!
STORY
Play as Alice, the sexy schoolgirl who gives handjobs and blowjobs for cash. As you unlock more locations, you'll also unlock more clients and sex acts. Some guys want to see your panties, others want to see your armpits! The premise lends itself for easy-access sexual content but there's little story beyond the setup.
The core of the game is to figure out what these men want to hear in order to get paid more. If a pervy middle-aged man asks "Do you like older men", you say 'yes'! And if a lonely incel asks "Are you single", you say 'yes'! And if a nerd is looking for a big titty gamer girlfriend, you tell him, "I love video games!". Tell them that size doesn't matter! Tell them you'll undress for triple the price! Toss your morals in the trash and sell your body to men!

The downside to this game is its linear progression, which gets boring after the first hour. And when you only ask for $130 for a blowjob, I felt like you could have gotten a lot more! And that guy with the mommy fetish? I felt his scene was too short and I would have loved to see the roleplay go further.
Although the writing had some comedic moments, they were few and far between. Like how the busy businessmen hate their lives and want to regress to childhood, so they all ask to suck your boobs! That was hilarious and I wish the writer did more of that edgy humor.
The game is only two hours long. When she finally does have sex, it's anti-climactic. The guy skips a condom and she doesn't even care. I suppose she was really desensitized after all that? The weak ending really hurt the otherwise great experience.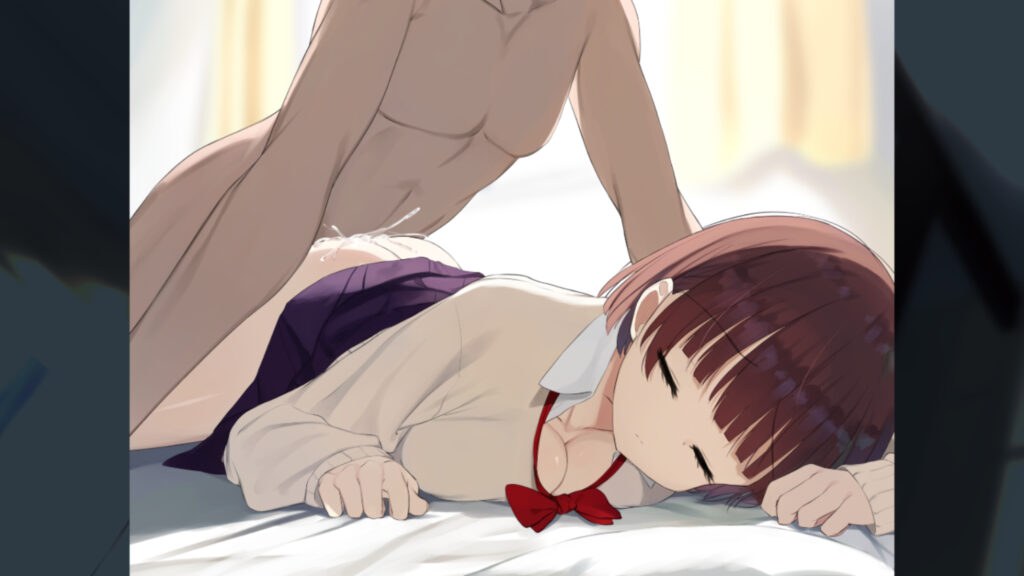 GAMEPLAY
Disinterested JK was created in the Unity game engine, but it's a super smooth and stable experience. Use the mouse to navigate the menus. Press CTRL to skip text. Right-click to hide text boxes.
The game loop is fundamentally repetitive and simplistic. Once you learn what men like to hear, all you have to do is repeatedly click those options. But why would you do that? Currency is basically worthless since it's only purpose is to buy expensive items to help you seduce more men. But you don't need the items if you just talk to enough people to level up. Every level allows you to talk to men longer, giving you a better chance of seducing the high-paying johns.
The sad thing is, this game had a lot of potential. You cannot have sex with policemen or school teachers. It would be really hot if level-ups allowed you to fuck more difficult men like that. But instead, they remain unfuckable, which is sad.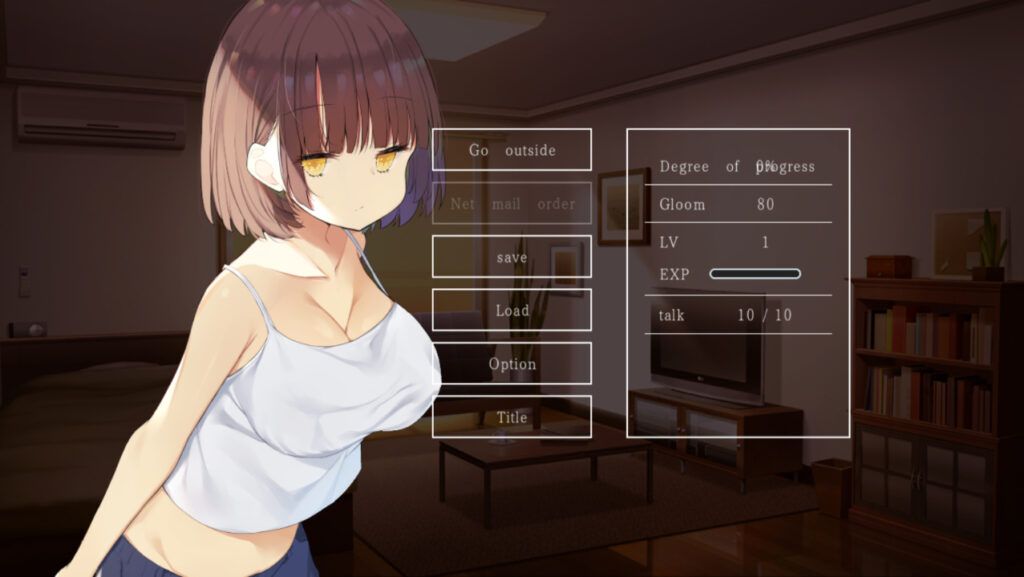 GRAPHICS
There are 8 scenes for this 1-2 hour game. Naturally, even if they're great, you're left wanting more. The scenes are handjob, panty shot, armpit shot, blowjob, breastfeeding, two-leg spreads, and prone bone. Alice only wears her school uniform, so don't expect anything special.
The silhouette images used when speaking to strangers are sourced from "crescent arpeggio". Naturally, we never get a good view at the men fucking Alice. If you're hoping for dirty old men or something, you'll be holding your breath forever.
There are a handful of background images to reflect various locations around town. These include the player home, shopping plaza, public park, train station, and more. Frankly, these all blend together since there isn't emphasis on the location of your sexual encounters.
Although the game was made in Unity, players are able to switch smoothly between windowed and full-screen mode without any game crashes. Frankly, the game engine itself is stable and high quality. I just wish there were a better variety of artworks.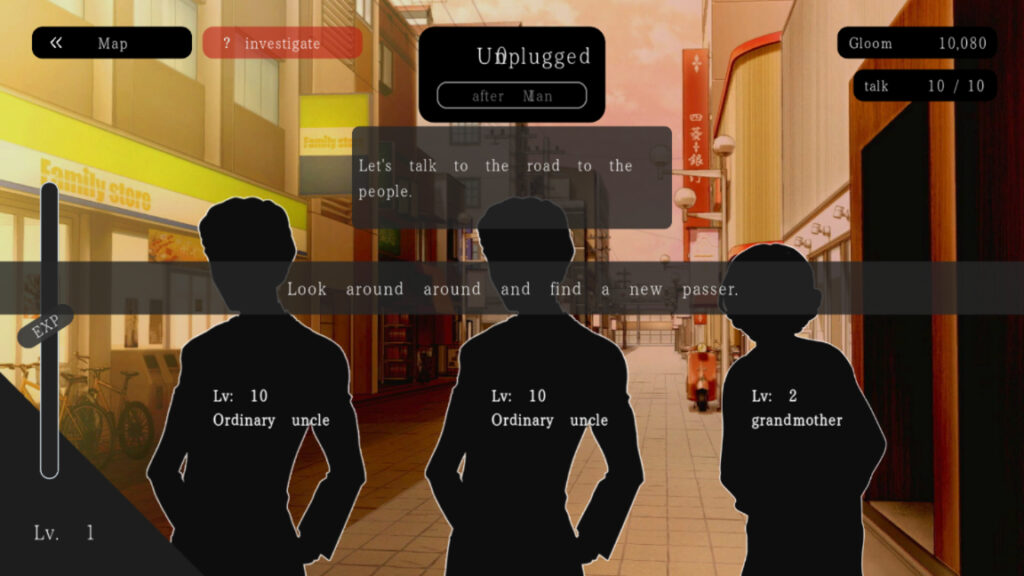 VOICE ACTING AND SOUND EFFECTS (SFX)
Disinterested JK features full voice acting for Alice, who is voiced by Ryo Amemiya. While the script gives very little to work with, the voice actress still makes the most of it with some incredibly erotic scenes. Every time I heard her say "ochinchin" I wanted to cum all over her! It's too bad most scenes are so short and formulaic.
The sound effects are sourced from Pocket Sound & Taira Komori. However, they're pretty limited. Even during sex it wasn't like there was balls slapping into flesh or anything vivid. These effects are largely for menu navigation like when you spend on booster items.
MUSIC
There are only 2-3 background tracks, all sourced from MusMus Material Library. I love the bass guitar tracks that keep things feeling hip and fresh even after your hundredth handjob. I especially loved how the background track speeds up significantly before a special encounter to emphasize the importance of the act. My only complaint is that MusMus is a pretty commonly used music library, so you may recognize the tracks.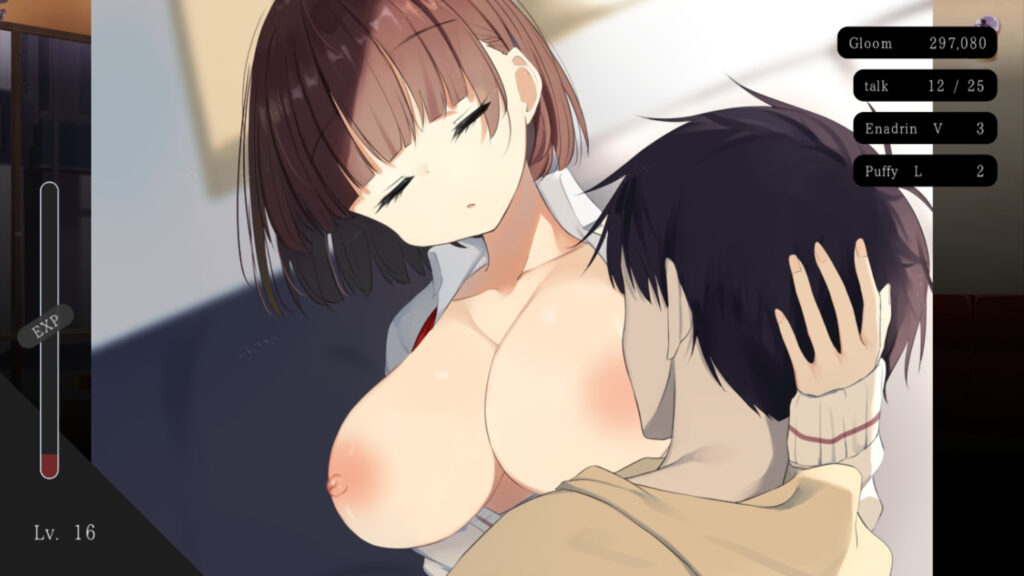 HENTAI
There are 8 basic scenes. Flashing your panties, so a guy can cum on you, breastfeeding a guy while giving him a handjob, and other stuff in that genre.
Alice starts this game as a virgin, and sells her virginity to some random stranger for way too little. All this buildup to the big sex scene and it was a huge disappointment. You go into a love hotel, the same generic music is playing, with the same UI, the same boring dialogue, it didn't feel like a big deal at all. All that buildup and the big scene fell flat. I can imagine this was the intention, to emphasize the prostitution experience where sex is treated as nothing special. Still, I felt the game was building up to this big moment and could've majorly capitalized on it.
The sex scenes felt out of order. It should have started with the panty shot, then the armpit sex, then the handjob. Instead, you're giving nude handjobs one minute and flashing your panties the next! There was no flow or rising tension. And with no animations and poorly written dialogue, I was disappointed.
CONCLUDING WORDS
Disinterested JK's Sexual Side-gig is a simple Japanese porn game about a nonchalant girl who cares little about putting herself in lewd situations. The voice acting is great, but everything else needed more polish to reach the zenith of erogaming goodness. However, as the first game by this developer, it was memorable and a job well done! Here's to hoping we get an improved sequel or an inspired adult dev picks up the concept.
Download Disinterested JK. If you liked this and want more indie whoring sims, read more of our reviews of prostitution games.
Graphics

Gameplay

Story

Music

SFX

Hentai