Hentai Slut RPG Review: Mellow Pink
Hentai Reviews

>

Reviews

>

Hentai Slut RPG Review: Mellow Pink
Written by Rastafoo69, edited by OtakuApologist
Mellow Pink, a hentai RPG developed by Almonds & Big Milk. Released September 21, 2018. Download on DLsite.com for $7.00. For PC Windows. No voice acting. Censored genitals. Free demo available. Official translation available.
Roumage is a young female warrior. She's a sheltered virgin girl with no experience of the big world. When her father gets sick and needs a special cure-all, Roumage has no choice but to leave home on a grand adventure!
New to Japanese eroge? Read our guide How to download DLSite games.
STORY
Roumage has lived in the city of Mellow Pink all her life, but that's about to change! When a doctor reveals that her father has only a week to live, Roumage has no choice but to leave home in search of the all-cure! Both her boyfriend and her best friend are going to help her on this quest, setting up the party of three for a wild adventure!
The story is largely made up of excuses to travel to different areas. First you must cross the woods to reach the docks to find the all-cure, only to discover that it's gone missing! You must return to town and enter the underground passage to reach the dessert. But you still can't find it! Continue walking all over the place for a few hours and the game will be complete.
Without a strong story, player enjoyment comes primarily from watching the interactions between the characters. Roumage is the green-haired warrior girl caring for her father. Sistia is the purple-haired orphan prostitute who is featured in most of the sex scenes. You like the sheltered girl? Or the experienced slut? Pick your waifu and find all of their sex scenes!
There are a handful of endings, though it's unclear how to access them.
GAMEPLAY
Mellow Pink was created with RPG Maker. Movement is controlled with your PC keyboard's arrows keys. Press Z to interact with people and objects. There is no dialogue skip.
It's a classic RPG grind fest. Kill enemies, return to town for healing, kill more enemies, go to the next town. Buy new equipment to get stronger. Defeat bosses to unlock new places to explore.
Leveling in this game is very fast and rapid. You'll practically level up every single fight! Since leveling increases your max health, you'll be backtracking to town a lot for restorative items. Pick up the magic mirror, so you can teleport instead!
Sex scenes are tracked separately between the two girls. Go to the inn and disband your party when you want to control only one girl. Most sex scenes require you to do this. For example, play as only Sistia at the brothel for the first sex scene. This system is not at all polished. Sometimes I'm walking alone, but my entire party appears during sex scenes.
The game is advertised as including pregnancy, but the system is very shallow. Only Sistia can get pregnant, and its pre-scripted to happen only once or twice. Pregnancy affects nothing but appearances. You can abort the child by paying the brothel owner 1000 gold to electrocute your stomach. The DLsite page claims the child can also be aborted by taking damage in combat, but that never happened to me.
The game can be beaten in two or three hours, but that's mostly because of the backtracking and lack of dialogue skip.
GRAPHICS
The art is Japanese anime style: The girls have large eyes, luscious hair, dots for noses, and curvy bodies.
This may be speculation, but it seems like this is the same artist from "Crossed Moon". This artist has a tendency to work on short and subpar titles with a very generic presentation. It does not seem like he put his heart and soul into this art.
The developers were lazy in certain areas of visual presentation. For example, the boyfriend and third party member has no artwork whatsoever. At one point he gets a face in a dialogue box, never to be seen again.
The main city of the game is named Mellow Pink, and is well known for its red light district. This is conveyed well through the city design, as it truly feels like you've entered a darker and more perverted area of town. Unfortunately, the entire city has a total of only four NPCs, which leaves the world feeling empty and ignored.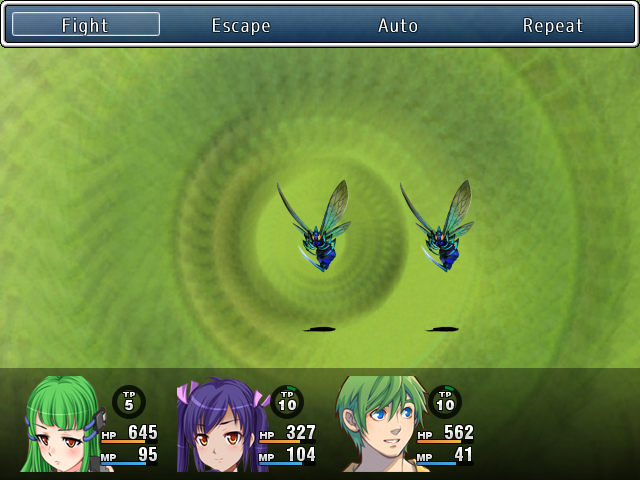 VOICE ACTING AND SOUND EFFECTS (SFX)
Mellow Pink has no voice acting.
The sound effects in this title are mostly standard RPG Maker stock content. If you've played any other RPG Maker game, you've heard all these sounds before. However, some unique sound effects are played. It is very likely these were recycled from the developer's previous titles.
MUSIC
The soundtrack has 86 songs in total, the vast majority of which go completely without use. It's like the developer copied the stock music from the RPG Maker Library, and pasted it directly inside of the game folder.
There are a few unique tracks, but they were made to blend in well with the stock assets. Meaning, they sound generic despite being original. Only a few actual instruments are ever used. The soundtrack overall is forgettable.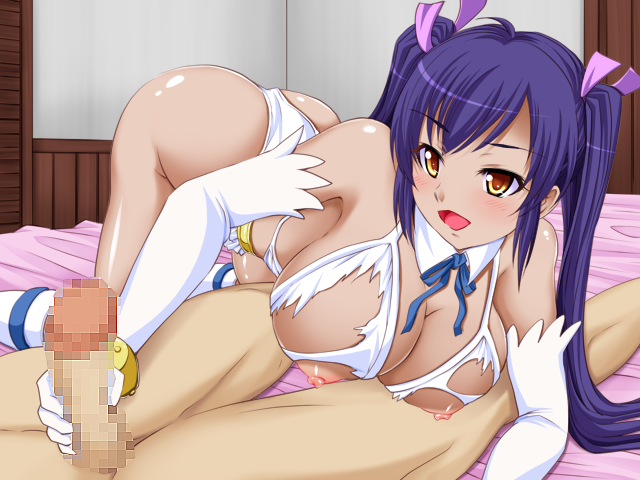 HENTAI
The game has 10 sex scenes, each with a single unique CG. All scenes are unlocked and available to view at the beginning of the game. This makes sense, because some are very annoying to track down.
The sex scenes are split between Roumage and Sistia. Roumage is sheltered and never wants to take dick, always begging the men to stop fucking her. Meanwhile, Sistia works as a prostitute and accepts dick without resistance.
All sex scenes are very short and flawed. For example, some guy coincidentally had contraceptive in his pocket to give to Roumage. And when she cheats on her boyfriend by giving a blowjob to another guy, the boyfriend doesn't even react!
CONCLUDING WORDS
Mellow Pink is a painfully generic RPG. The gameplay is standard grinding, the story is predictable, and the graphics are basic. This game is the most generic vanilla hentai RPG I've ever played. It's a solid experience, but my God, it's predictable.
Download Mellow Pink. If you love RPG Maker games, definitely check out our review for Ghost Town Gunsweeper!
Graphics

Gameplay

Story

Music

SFX

Hentai