Hentai Visual Novel Review: Sankaku Renai – Love Triangle Trouble
Hentai Reviews

>

Reviews

>

Hentai Visual Novel Review: Sankaku Renai – Love Triangle Trouble
Written by Mistress Valentine, edited by Otaku Apologist
Sankaku Renai, a visual novel game developed by NekoNyan and published by ASa Project. Released May 31, 2019. Download on Nutaku for $29.99. For PC Windows. Full voice acting. Uncensored genitals.
Sousuke is an average high-schooler living in a rural town. His step sister Nanaru likes to tease him practically every day. At school he has to deal with the otaku obsessed president of the anime club, his childhood friend Maho who treats him as a non-person, Akane who can't stop fantasying about him in her BL fanfictions, newcomer Shiina who is obsessively in love with him. Sousuke also has to cope with the fact that Cara, another member, went from having the body of a sumo wrestler to a petite idol in just a few days. With all of these crazy people in his life, is there any room for Sousuke to wet his dick inside of his fellow club members?
Visit our perverted store for more porn games.
STORY
Sousuke lives in a rural village with his stepsister Nanaru, his dad Yuu and stepmom Momoji. His life is turned upside down when his biological sister Suzu shows up at his house. Sousuke's mother died in an accident, so Suzu has come to live with her brother. This creates a rift between Nanaru and Sousuke. It's made worse when Suzu also joins the anime club.
The writing in Sankaku Renai is hilarious. The plot is interesting and features very likable characters. The game spends a lot of time building up relationships before putting out sex scenes. Sankaku Renai contains a lot of unnecessary filler content.
With more than 30 hours worth of content, there is a lot to explore. The dialogue is witty and funny. Scenes are entertaining with clever chibi-styled artwork and playful music to boost creativity. The witty banter is fun, and the jokes land. Each character receives a good amount of focus. Dialogue during sex scenes is super lewd.
There are some grammatical errors, but they are rare. The plot explores themes of love triangles, coming of age, divorce, dating, personal growth, tragedy, and enjoying life while you're young.
The characters in Sankaku Renai are wonderfully entertaining. The storytelling is heavy on otaku culture and typical anime tropes. All the characters sport unique visual designs with cheerful facial expressions. Characters have different breast sizes to appeal to every kind of player. Hair is color-coded to fit character personalities. The game's witty interactions make it difficult for the player to pick a best girl. Nanaru receives the most character development. Suzu and Shiina also receive development.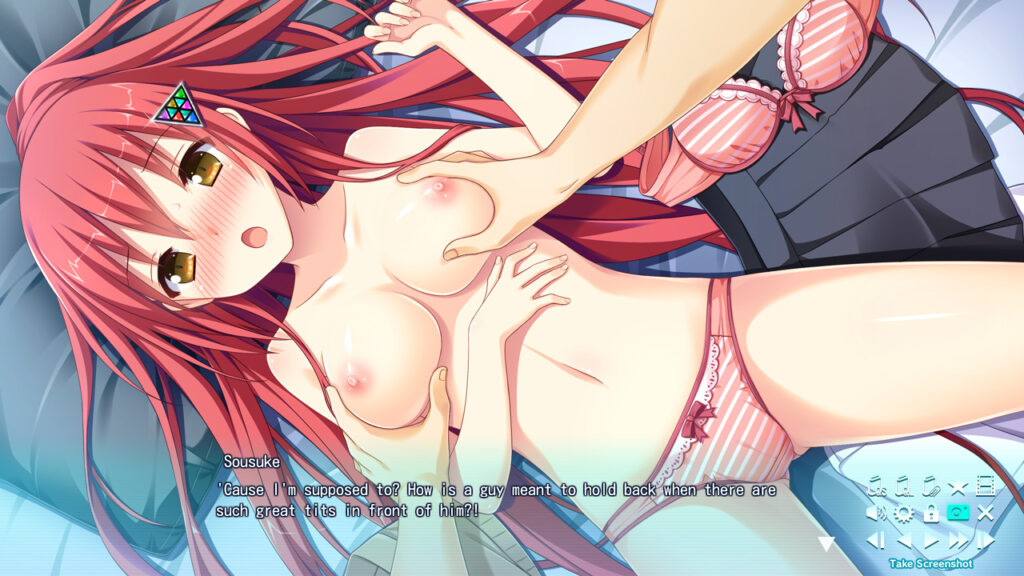 VOICE ACTING AND SOUND EFFECTS (SFX)
Sankaku Renai has full voice acting. The actresses all give believable performances with special mention going to the voices of Shiina and Nanaru. Their delivery is perfectly empathic when it needs to be and hilarious when the jokes are flying. The actresses inject their characters with enough sexual prowess to make any hentai lover's dick grow several inches.
Sound effects are limited. Most sounds are generic abstract sounds you'd expect to find in a comedic anime. Other sound effects include heavy breathing, doors opening and closing, etc. The clips are professional quality.
MUSIC
Sankaku Renai has fantastic music quality.
The soundtrack is large and varied. The opening theme is catchy and perfectly mimics traditional slice of life anime with cute vocals that set the mood for the rest of the game.
The soundtrack features a combination of original instruments like the piano, xylophone, guitar, and drums with synthetic sounds. Some of the music is forgettable and bland. The intimate songs use piano and synthetic instruments to set a romantic mood.
The music loops with noticeable pauses. Songs immerse the player into the world, and are not disruptive. There is a good assortment of fast-paced cheerful songs and slow, intimate songs. Some of the songs feel rushed or out of place. Music does not build up to the eventual climax of characters orgasming.
GAMEPLAY
Sankaku Renai is a visual novel. Clicking the textbox advances the story. Functionality features are normal to other visual novel games with an 'auto' button for smooth play. From time to time you are presented with choices that branch the story. These choices determine which girl you get to fuck. There are multiple endings available. Replaying the game is necessary in order to romance all the girls. There are more than enough save slots available, labelled under 'Bookmarks' instead of normal 'save' and 'load' buttons.
You can add a particular scene to your favorites. The menu tab has a large variety of settings available. The game runs without glitches or hiccups. The main menu has a very basic feel with the typical 'start', 'load', 'save', 'gallery' and 'settings' options.
GRAPHICS
The art is excellent quality. It's in Japanese anime style with the cookie-cutter dot-nosed faces and dreamy eyes. The girls look just beautiful.
Sankaku Renai's seems to have had a huge budget. Every detail of the game world is breathtakingly beautiful. There is a good balance between outdoor and indoor settings such as the school club room and Sousuke's home and the coastal town he calls home.
Background artwork features excellent lighting and good use of colours. The background artwork is not as plentiful as other hentai games but the deep detail in the scenes make this hard to notice.
Character artwork is great. All of the girls have unique designs that conform to typical anime stereotypes. Characters have different hairstyles, breast sizes, facial designs and heights to differentiate them from one another. They each have a wide variety of facial expressions. Colours are vivid and bright with thin edges that make the characters pop.
The game has enough budget to show characters from multiple camera angles. Sankaku Renai also chooses only the lewdest positions for sex.
HENTAI
Sankaku Renai treats sex as a reward. H-scenes only occur at the very end of each girl's route. The game spends time building up your relationships with each of the girls. Sex scenes are intimate and lewd. Girls are portrayed as pure virgins who are shy but willing to bear the pain for their man. They do not become experts in sex but gradually improve their prowess with each sexual encounter.
The commentary becomes increasingly sexier as the characters grow more comfortable with sex. Keep a bottle of lube and tissues on the ready.
The sex scenes, depending on the route, also become increasingly bolder. You eventually get public sex and threesomes. Cosplay sex is not heavily featured but it's very sexy when it occurs. The actresses give stunning performances in h-scenes with soft moans that evolve into wild squeals as their pussies are plowed. The art has variants that show the girls' hymens broken, blood, cum, etc.
Several of the deflowering scenes feel copy and pasted from one another.
CONCLUDING WORDS
Sankaku Renai is a great pornographic visual novel with a lot of content and a decent plot. There are enough h-scenes to help you rub one out. The characters are fun, the musical score is interesting, and the writing very sexual. The overall package is an emotionally engaging masturbatory experience for anyone in the market for hentai visual novels.
Highly recommended Japanese porn game. Download Sankaku Renai!
Graphics

Gameplay

Story

Music

SFX

Hentai