Written by Rastafoo69, edited by Otaku Apologist
I Love Exposure, a hentai game developed by circle RevoRious. Released August 21, 2019. Download on DLsite.com for $10.00. For PC Windows. No voice acting. Censored genitals. Free demo available. Download the English fan translation.
Kanami Komiya is your average Japanese schoolgirl except for one hobby: She's an exhibitionist! When an experienced flasher named Marina invites her to join an exhibitionist website, Kanami finally has a chance to indulge!
Before trying this game, please read our guide how to download DLsite games.
STORY
Kanami finds an exhibitionist website, and starts posting selfies online! With thousands of men liking and commenting on her posts, the intoxicating excitement pushes her to pursue new erotic experiences!
There is no overall story. Control Kanami as she explores the city and becomes a more daring exhibitionist. At first, she's only willing to show off her bra. By the end of the game, you can have Kanami do nude modeling!
The climax of the story has Kanami walk across town completely nude! In this ending, she attends mixed baths to show off her body. There are two other endings. You can pursue a boyfriend or an older gentleman.
You'll complete the game as a virgin. After that, you can seek out more exciting adventures and get deflowered! This can get difficult, and many players report confusion about how to complete the post-game content.
The writing in this game captures a perfect balance of realism and suspense. Kanami can use her cell phone to view her selfie posts and read the comments that horny men have left. The introduction of social media mechanics into a porn game was a very interesting addition, which greatly enhanced the eroticism.
GAMEPLAY
I Love Exposure was created with RPG Maker MV. This decision by the developer will seem strange at first, until you realize this engine lets you use the mouse to touch your in-game smartphone.
The game includes significant scripting, which makes the interface and the gameplay experience uniquely engaging. Gameplay is split between a top-down RPG perspective, and a side-scroller view.
The gameplay cycle is simple. Walk to a secluded place, and take an erotic selfie. Sometimes you can talk to people or solve basic logic puzzles, such as finding the building you saw in a photo. Completing the base game will take two hours, but there are up to six hours of content if you track down all the scenes.
After taking enough erotic selfies, you'll earn a new ability and a reward. The player is constantly rewarded and encouraged to continue forward in the game. Bus stops function as fast travel stations around the map.
The in-game achievement system allows players to track their progress. Beware! The post-game content can be grindy and very annoying if you desire the 100% completion rate.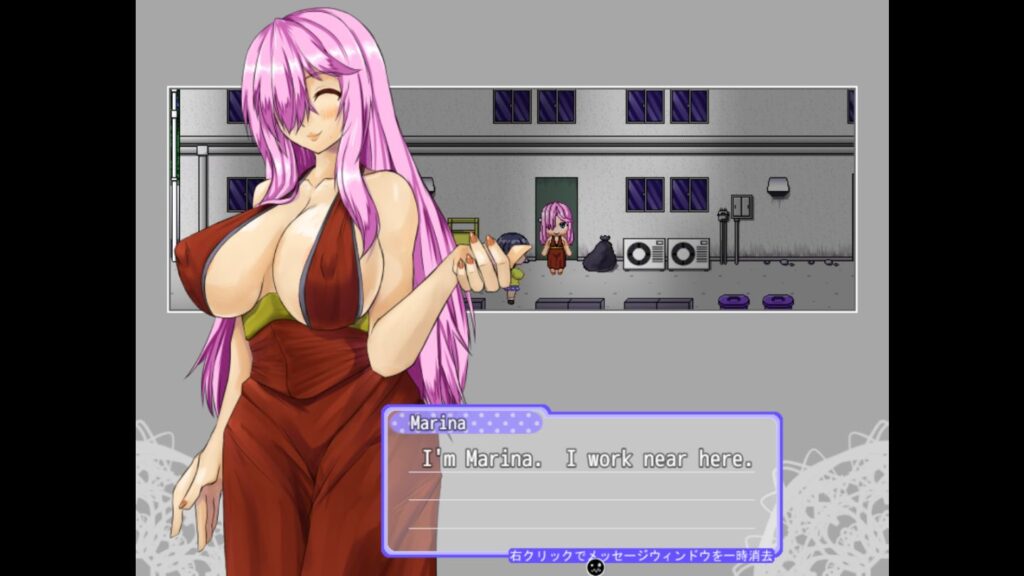 GRAPHICS
The art is in Japanese anime style, with an emphasis on soft lines and 3D character designs.
The game world is small at first but expands as you progress. From the suburbs to the forest, this game offers an enormous world for players to explore and expose themselves in.
While character navigation is primarily done via a top-down perspective, walking indoors turns on a side-scroller perspective. This change lets players see every individual item inside of a building.
The art is absolutely gorgeous, but many of the character artworks are inconsistent. Sometimes Kanami's nipples are pink, other times they're skin-toned. Sometimes her eyes are emerald green, and other times they are baby blue.
Visual presentation matches your corruption level. At first, Kanami uses thick black bars to hide her facial features in the photos. Later, she uses semi-transparent hearts, as if daring people to recognize her!
VOICE ACTING AND SOUND EFFECTS (SFX)
I Love Exposure has no voice acting.
Sound effects are minimal and never really neccessary. A camera sound plays when you take a selfie, but that's pretty much it.
MUSIC
The soundtrack has five songs, all from the stock RPG Maker library. They are digitally synthesized with a heavy emphasis on the electric piano and flute. The tracks are generic, but better than silence!
HENTAI
There are about 45 base CG images with at least 300 variations in total. Each of Kanami's poses is drawn with multiple levels of clothing. Many scenes repeat artworks with new and unique dialogue. There are over 50 hentai scenes in total. This number includes the erotic selfies without any sex.
Your sensei is having sex with her students! You're being paid to model nude in front of strangers! You read some erotica and had a gangbang sex dream! You record yourself on camera masturbating on a roof!
The focus of this game is exposure, not sex. In fact, when Kanami has sex, it's forced sex. The game is best during the first two hours, because the post-game content has lackluster progression and obscure scene requirements.
Instead of sex stats, this game tracks your exhibitionist stats. Have you peed in public? Have you masturbated in a bathroom stall? Were you caught? Everything is tracked in your stats, which determine how many followers you have on social media.
CONCLUDING WORDS
I Love Exposure is an exhibitionist hentai game with tons of scenes and gorgeous artworks. The characters are likable, the plot is believable, and the gameplay is easy to understand. If you love sexy schoolgirls and erotic selfies, play this.
I highly recommend this game to exhibitionists and voyeur fans across the web! Download I Love Exposure. If you like this game and want another one like it, then check out our review for Cos Ro!
Graphics

Gameplay

Story

Music

SFX

Hentai