Hentai RPG Game Review: Crimson Ninja Akane
Hentai Reviews

>

Reviews

>

Hentai RPG Game Review: Crimson Ninja Akane
Written by Rastafoo69, edited by Otaku Apologist
Crimson Ninja Akane, a hentai RPG developed by Nuruhachi Pon Pon. Released October 6, 2016. Download on DLSite for $14.00. Available for PC Windows. No voice acting. Censored genitals. Free demo available.
Akane was a lost orphan girl until one day, she was recruited into the great ninja clan! Her new ninja life was perfect until horny nobleman began to sabotage her! Will Akane endure? Or will she live as a whore the rest of her life?
New to Japanese eroge? Read our guide how to download DLSite games.
STORY
Akane was a young orphan girl raised by Yuga. He was like a big brother to her, and remained that way into adulthood. Now he leads the ninja clan and she's a high ranking member of the group.
The first choice of the game is to drink alcohol from a dirty old man, or refuse. If you refuse, the game ends and Akane lives a normal life. It was pretty silly, but also the perfect start to a corruption-themed game.
The writing in this game is poor. After getting drunk, Akane gets fucked by the nobleman. Then he sends her on two missions where she kills the wrong targets. As a result, she's forced to become the town cum dumpster.
A good hentai game will have the sex flow naturally and believably into the story. With this game, it felt super obvious she was failing her missions as a setup to getting fucked. It was simply too predictable. A more intricate plot with interesting characters would've made a heaps better fapping experience. There's not much else I can say about the story, it's there and does its thing, nothing more.
GAMEPLAY
Crimson Ninja Akane was created with RPG Maker VX Ace. Move with the arrow keys. Press W to hide text boxes. Press A to speed up all aspects of the game from movement to combat and more. Please note that using the A key will speed up the RPG Maker timer. This means your save file will list an inaccurate amount of time played.
Despite the ninja theme, there are no stealth mechanics. This is a typical RPG level grind with item shop visits in between. There's no dialogue skip button, which makes a second playthrough a slugfest. There aren't even any branching story routes.
You start the game at level 10, and level-ups are very slow. The first enemies you meet, such as bumblebees, give more experience points than swordsmen and archers in later levels. This was pretty absurd and embarrassing to see.
Enemies do not react when you enter their line of sight. Although you are a ninja infiltrating secret bases, you can walk right past anyone and everyone. Altogether, this was a very generic RPG experience.
GRAPHICS
The art is drawn in the Japanese anime style. Akane is the primary focus of the game, and all CG images are devoted to her. Huge tits, big round eyes, and a shuriken headband! She's a classic anime ninja girl.
The game takes place in the ninja village and the enemy bases. Each base is a collection of hallways and doorways Akane must explore to find her assassination target. One is a wooden house, another is a stone keep, and so on. While each area is somewhat unique, their layouts are linear. It's hard to imagine these are actual buildings.
Different weapons come with different animations. While sword strikes are fine, the arrow animation is the stock fireball asset from the RPG Maker library. Maybe the developer was trying to be different, but I think he made a mistake.
There are only 12 scenes, each with a unique artwork but few if any variation images. Dialogue and narration might indicate Akane shaking her hips or looking away in embarrassment, but the artworks never change.
VOICE ACTING AND SOUND EFFECTS (SFX)
Crimson Ninja Akane has no voice acting.
Sound effects are used to match the visuals, so problems with visuals carry over. Why do I hear a giant flame when I was pierced by an arrow? On the bright side, the sound design for sex scenes is fantastic! From thrusting noises to ejaculation, this developer did it right! The ejaculation in particular, sounds like a release of liquid without being too dramatic or loud.
MUSIC
There are 56 songs in total, all of which are dragged over from the stock RPG Maker library. The vast majority of these tracks are never used since they don't even fit the game. These digitally synthesized tracks are well made, but completely inappropriate. Why would "town track 1" or "town track 7" be put in a game about killing people?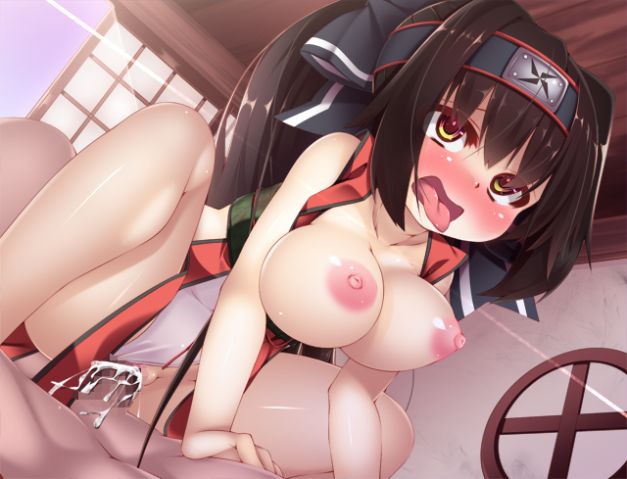 HENTAI
Crimson Ninja Akane has 12 sex scenes in total. Sometimes these scenes are spaced out, other times they're back to back.
There's drunken sex, blindfold sex, titfucking, gangbangs, masturbation, missionary, and more! This game is a classic vanilla experience where scenes don't escalate, they just vary. My problem is, you have no idea who these guys are! There's no plot or setup, you just fuck random ninjas around the village or let the nobleman creampie Akane! I wish there was something unique about these scenes.
Without good writing or animations, these scenes are sadly forgettable. There's not even a pregnancy ending!
CONCLUDING WORDS
Crimson Ninja Akane is another hentai game that uses ninja outfits to draw in players. But behind the evocative visuals, the gameplay and story are both very predictable. Still, a big-boobed slut girl is a great break from the crazy demon sex most other ninja games offer.
Download Crimson Ninja Akane. If you want more ninja girls, then check out our review of Shinobi Buster!
Graphics

Gameplay

Story

Music

SFX

Hentai