Fallout 3 Sex Mod: Seducing Women Adult Mod
Hentai Reviews

>

Rants

>

Fallout 3 Sex Mod: Seducing Women Adult Mod
Written by Rastafoo69, edited by Otaku Apologist
Fallout 3 is an action RPG made by Bethesda. Players explore Washington DC of the United States in a post-apocalyptic era. The game was released in 2008 for Playstation 3, Xbox 360, and Microsoft Windows.
In the ten years since its release, fans of Fallout have crafted thousands of mods to the game that enhance everything from combat to dialogue options. Some perverted geeks have even created sex-filled adult mods for the enjoyment of the fans.
Click here to view the full mod list for Fallout 3.
The game has tons of erotic mods available, and one of the most popular of them is a seduction mod developed by Werewolf2000ad. Released on December 29, 2008, you can download this mod for PC Windows.
The in-game perk "Lady-Killer" finally has new meaning! Rather than a simple persuasion perk, this mod adds seduction mechanics to your arsenal whenever you unlock the perk. Go out there and have sexual encounters with whichever male or female NPC's your heart desires! As of version 1.55, the mod also comes with a questline featuring the many beautiful ladies of the Fallout wasteland! From shopkeeper Moira Brown to the scientist Doctor Li, all of the sexiest fallout babes now have unique dialogue and plot-points. And if you're particularly deviant, you can even have sex with ghouls!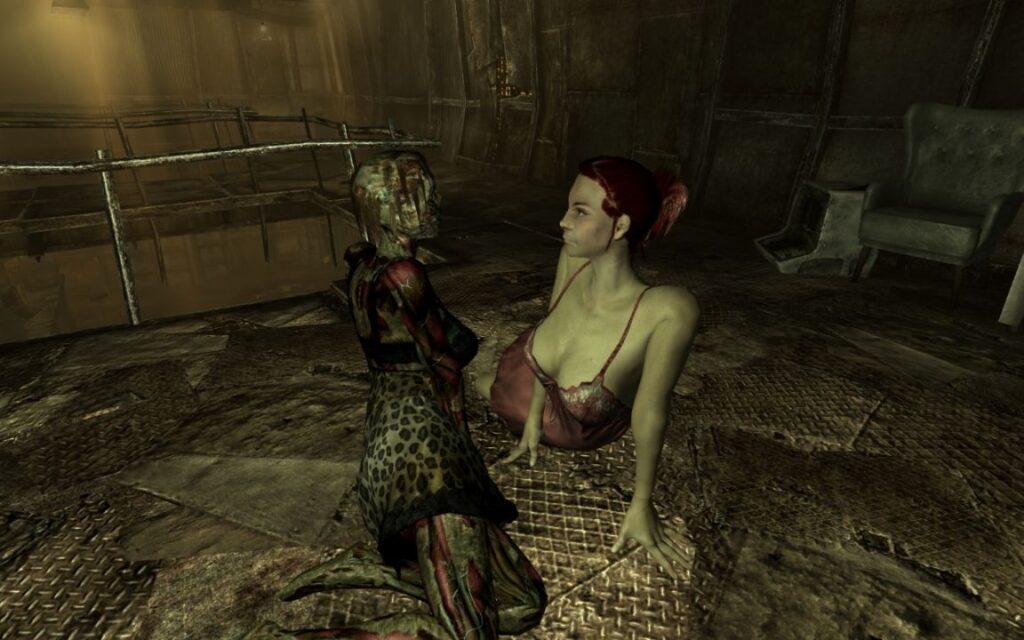 The latest version of this mod was augmented to run smoothly with the Broken Steel DLC, so there's no need to deactivate any game files. Even still, the mod is focused on characters and locations within the base game of Fallout 3.
Moira Brown has finished her Wasteland Survival Guide, and now wants your help in writing a Wasteland Reproduction Guide! Based on your gender and reputation, you'll find many unique events and encounters to explore. Even the Brotherhood of Steel has some sexy secrets to be found! This mod pack adds unique items, quests, and sound effects to Fallout 3. Almost all content is sexual in nature, and accessible regardless of player sex. If you want to roleplay as a sexy wasteland whore, you can easily do it!
How to download the mod
Create a free account at the Nexus Mods forums. The procedure is very standard: Write a username, a new password, an email address, fill the CAPTCHA requirements and wait for the confirmation email. Verify your email. You have to turn off the adult content filter in your profile settings. You cannot do this on the forums, you have to click the 'Nexus Mods' link, and then go to your profile settings (yellow gear icon). Go to 'content blocking' and enable adult content. The above screenshots will help you at the process.