Schoolgirl Hentai Game Review: Game of Busty JK Love 'n' Sex School Life
Hentai Reviews

>

Reviews

>

Schoolgirl Hentai Game Review: Game of Busty JK Love 'n' Sex School Life
Written by Rastafoo69, edited by Mistress Valentine and Otaku Apologist
Game of Busty JK Love 'n' Sex School Life, a hentai game developed by Yatotena. Released December 11, 2020. Download on DLSite for $15.00. For PC Windows. No voice acting. Censored genitals. Free demo available.
You've recently moved to a new school in the countryside! Talk to your peers, help people in need and fall in love with the cutest girl in school! Who is she? Choose your favorite from four hot bitches!
New to Japanese eroge? Read our guide How to download DLSite games.
STORY
This is your last year of school before graduating! It's the perfect time to lose your virginity and find love. There are three cuties, choose your waifu and make her your bitch!
There's bookworm Airi, who dreams of becoming a nurse. There's Rino, who has a calming demeanor and hopes to be a star athlete. Kaede is the final waifu who has a love for agriculture and flowers.
The game outright tells you to focus all of your attention on one girl. This is because events are time-sensitive and many actions can only be performed if your relationship level is high enough. You cannot have a harem. Focus on one girl if you want to succeed. Staying a virgin accomplishes nothing. There are four endings available: One per girl, plus a bonus one if you marry your teacher.
GAMEPLAY
Game of Busty JK was created in RPG Maker MV. Press Alt to skip text. Press Shift to hide the text box. The recollection room is unlocked after beating the game.
Talking daily to your waifu leads to special events that build your relationship. While the three main girls always have something new to say, NPC dialogue just loops over and over again.
You can also go on side quests. For example, you can place a camera in a trash can and bring the tape to a nearby pervert. This will unlock fertilizer which can be gifted to Kaede. Alternatively, purchase some shoes to give to Rino before her big race. All side quests are simple and straight-forward, rewarding you with relationship boosts.
The third action you can do in the game is Sexy Time. Initially, you can only have sex on dates, but throughout the game you can unlock aphrodisiacs to get a girl to spread their legs for you. There are multiple positions to choose from so have fun trying them all!
There are 50 in-game days to enjoy. Players can explore the school and do as they like from 4PM to 9PM. The game has a nice, slow pace that speeds up gradually.
GRAPHICS
The art is standard Japanese anime style.
There are 48 scenes in total. Each waifu has 14 scenes with six bonus scenes. The scenes for the main girls are split between dates and casual sex. You can fuck after the swim meet or give a girl an aphrodisiac and pound her whenever you want. The game feels balanced, rewarding the player for progression without locking all the relevant scenes.
As the title suggests, these are some really busty JKs ("Joshi Kousei", a schoolgirl). The problem is, their breast size changes dramatically and randomly between scenes. As you've probably guessed, tittyfucks make their breasts grow larger while normal sex features more realistic boobs.
The artwork and writing is heavily disconnected. A girl will say "you're so deep" even though the artwork shows you've barely put the tip in. The narration will claim that you "filled up her womb" even though the art shows you pulled out and gave her a facial. These moments break immersion.
The lack of unique RPG Maker assets holds this game back from greatness. grass texture 1 and concrete texture 4 can only carry a game so far. Despite these flaws, artwork in this game is beautiful to look at. Camera angles focus primarily on first-person shots.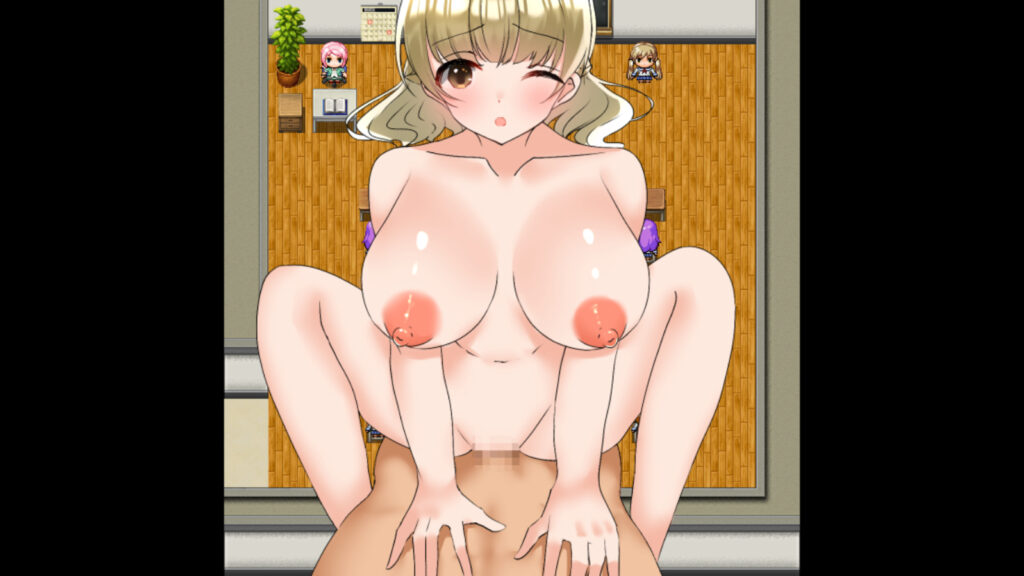 VOICE ACTING AND SOUND EFFECTS (SFX)
Game of Busty JK has no voice acting.
The sound effects are all stock assets, but due to the schoolyard setting, there's rarely a need for sounds. You could play the game on mute and miss nothing at all.
MUSIC
The game's soundtrack features 22 tracks, but prefers to keep using the same one repeatedly. It's a simple song that relies on original instruments like the guitar and flute to create a soft melody. Juxtaposed with the cute girls and relaxed setting, it's a fitting song despite its repetitive nature.
HENTAI
There are 48 scenes in total. Six involve side chicks like the nurse and your teacher. Although the game is named after the busty schoolgirls, there's some MILF action to look forward to.
Sex is completely optional and avoidable. You'll often get context-specific clues to indicate when ass is available. For instance, Kaede will start changing her clothes. Will you fuck her? She asks you to wear a condom, but will you? If you go bare, do you plan to pull out? These choices are all for your enjoyment that don't affect the rest of the game.
The avoidable NTR event takes place in February, close to the end of the game. You will impregnate your waifu and live happily ever after. There are no bad endings. However, in the 4th ending where you marry your teacher, she is not pregnant. I felt that this was a huge disappointment.
The game is filled with hot and horny scenes of your favorite babe loving your cock! While the game can be completed without a walkthrough, some events like the nurse scenes will be difficult to find without one. And if you get stuck on the aphrodisiac quests, you're going to be frustrated.
CONCLUDING WORDS
Game of Busty JK is a fun little romance game where you pick a waifu and make her yours. The art is gorgeous and the huge variety of scenes make for an incredibly erotic experience. It's too bad the core gameplay is just walking around in circles.
Recommended for fans of sassy Asian schoolgirls. Download Game of Busty JK.

Graphics

Gameplay

Story

Music

SFX

Hentai