Written by Otaku Apologist
Hentai Clicker, a free erotic clicker game developed and published by Studio Kinkoid. Released in 2019. Start playing at Nutaku.net. For PC Windows. No voice acting. Uncensored genitals.
Western hentai gamers are a curious breed of masturbation enthusiasts. It's as if you bastards can never have too many hentai clickers. And who the hell spends on these games to make the market swell? Apparently I'm not alone!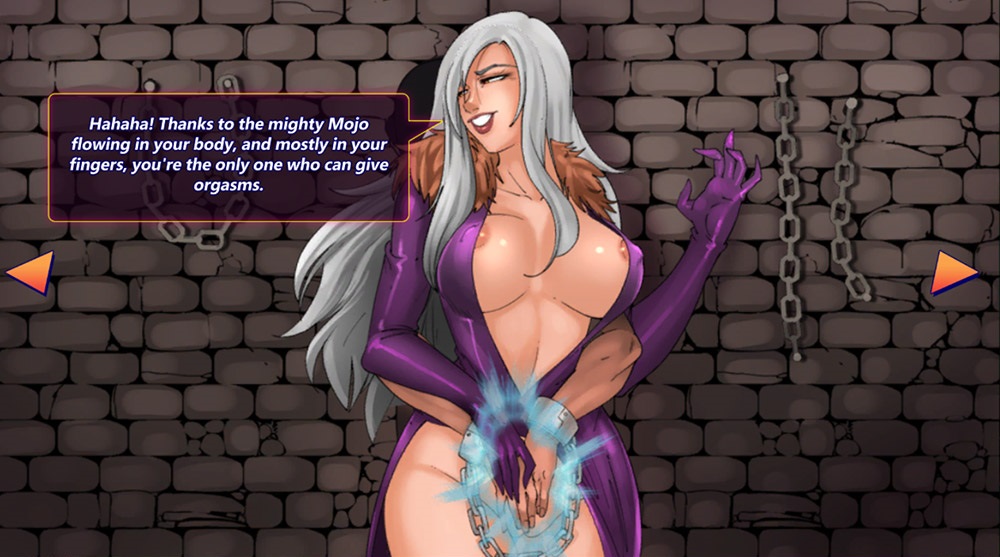 STORY
You are the only man in the haremverse who can make women cum. An evil witch figured out your powers and made you his personal sex slave. You're slated to spend the rest of your life sticking your golden fingers into her ripe tight slit. Just when all hope seems lost, a pink bunny girl appears through a magical portal and rescues you. No longer the prisoner of a single woman, you're now the go-to slave of the entire world's women! They come to you to get off, and you must obey.
GRAPHICS
Hentai Clicker has some juicy visuals. The sprites are animated to fidget, blink, and breathe while you grope them. The character artwork is beautiful, and the dominantly red background art is sexually titillating. You spend all of your game time a cozy office with a sofa and an armchair. The atmosphere is sexy, like you're in a brothel.
GAMEPLAY
This game is a clicker. As implied, you click the screen to score points. The girls get naked when you push them enough, their faces distorting into hardcore ahegao expressions. You can upgrade your girls to assist with the clicking by upping their levels, which sadly has no visual presentation. It's also very strange considering the story, because you're supposed to be the only man in the haremverse who can make women cum. If girls can make girls cum, that makes you a disposable male, no?
MUSIC
This game has like one musical track, and that's it. The song is not very good and it gets repetitive fast. I was very displeased with the music selection during my review period, just like I hated the music of their flagship title, Harem Heroes. Studio Kinkoid needs to seriously up their game with the music they put into their games.
VOICE ACTING AND SOUND EFFECTS (SFX)
Hentai clicker has no voice acting. There's also no sound effects. Why? This company has the money to hire competent English or Japanese voice actresses, or at least get some royalty-free stock female moaning sounds to add into their game. There is no excuse not to have audio in a super simple game like this.
HENTAI
The adult content in this game is okay, but not amazing. You're mostly watching the same girls rotate on your screen, get butt naked, and disappear. Their bodies are very sexy, with perfect breasts and proportions. If you can masturbate to the view of a nude girl standing and doing nothing, this game is for you. If you need more stimulation, like a dildo churning her oozing wet pussy, your boner may not escalate.
BUSINESS MODEL
Hentai Clicker is a free to play game. You can purchase the premium currency Kobans from the in-game store. You can spend them on various boosts, which are strangely limited to a few hours only. Why aren't there more permanent bonuses available? And what's the gain from going higher in levels? The current build of this game lacks the kind of premium content to make these purchases worthwhile.
CONCLUDING WORDS
Hentai Clicker is a cute little adult game that could use more gameplay features and content to keep itself relevant in a highly competitive clicker games market. The base game is pure greatness with its gorgeous visuals. If Studio Kinkoid can add more stuff to it, this title could easily become one of the most popular in its genre.
Experience this game for free in your browser. Start playing at Nutaku.net.
Graphics

Gameplay

Story

Music

SFX

Hentai