Netorare Game Review: My Beloved Childhood Friend Sleeps with Anyone!
Hentai Reviews

>

Reviews

>

Netorare Game Review: My Beloved Childhood Friend Sleeps with Anyone!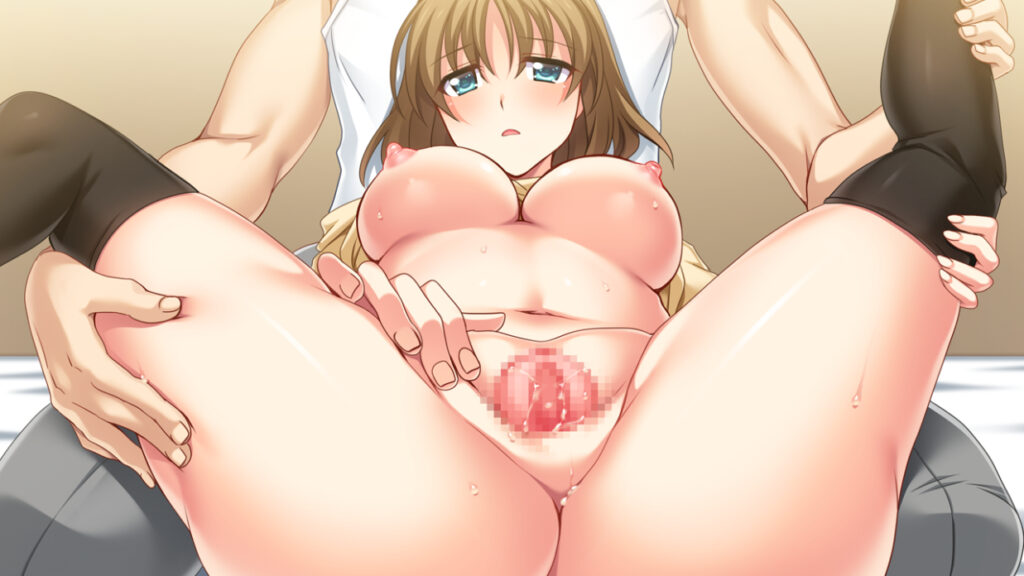 Written by Rastafoo69, edited by Otaku Apologist
My Beloved Childhood Friend Sleeps with Anyone, a netorare visual novel developed by Atelier Sakura. Released October 30, 2020. Download on DLSite for $25.00. For Windows PC. Full Japanese voice acting. Censored genitals.
This is a classic case of the title spoiling the plot, your childhood friend sleeps with everyone! The question is, how do you respond? Do you encourage it, or not? Do you voice your feelings for her, or stay quiet. The choice is always yours…
If you love Atelier Sakura's NTR titles, check out our review of Marina's Cuckolding Report!
Read our guide how to download DLSite games.
STORY
Aika is your childhood friend, she's like a sister to you! She's staying over at your house for the next month since her parents are on a business trip. Last you heard, she had a boyfriend who is two years older than her. Rumor has it, she's a massive fucking whore, but you didn't believe it until you walked in on her riding cock!
Aika wants to fuck your best friend, and your main choice is to consent or discourage it. If you consent, the game becomes a lengthy NTR experience. If you oppose it, you tell her afterwards that she should stop being a whore and only be with the person she loves. Then, you confess to loving Aika and become a happy couple. Although her past is burdensome, you remain devoted to her regardless.

If you do not confess, she fucks pretty much every guy she meets. She fucks you as well because she wants the attention. She ends up getting gangbanged constantly and becomes your fuckbuddy, even though you both feel empty inside because you wish the other cared. This ending made me depressed.
Meanwhile, the dialogue of the good ending is really touching. Aika admits she didn't like her first boyfriend and only wanted to make you jealous. She said "You didn't stop me when I confessed to someone else". She even explained "I stopped calling you Onii-chan because I wanted you to see me as a woman". Basically, she was only being a whore, so you would notice her. Whoever thought hentai can't be Romantic?!
GAMEPLAY
My Beloved Childhood Friend is a visual novel. Click the screen to 'turn the page'. Press CTRL to skip dialogue. Scroll up to review past dialogue. Bookmark your progress by saving it on several available save slots. The game has only one big choice and can be completed in 2-4 hours depending on reading speed.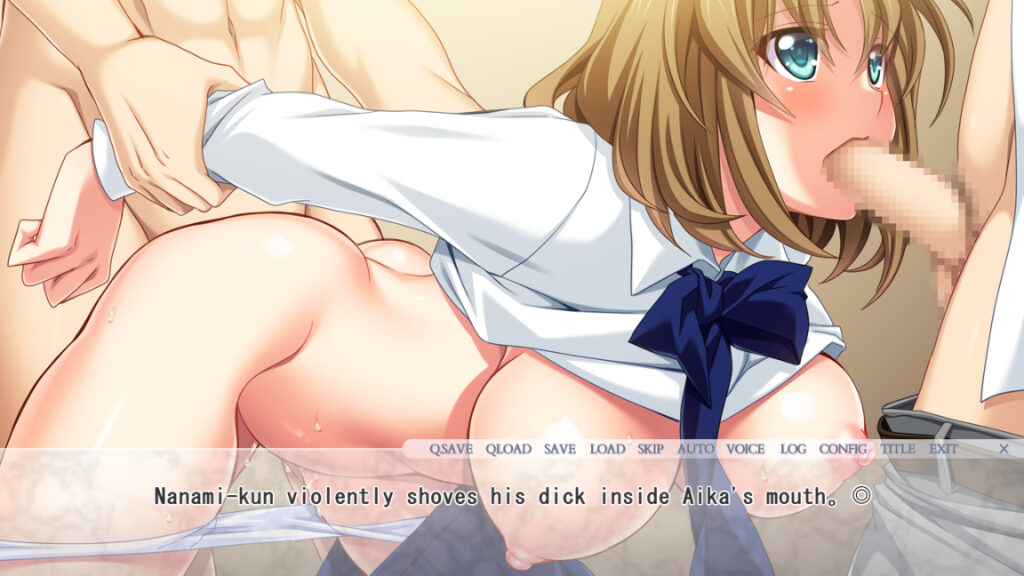 GRAPHICS
The art is in Japanese anime style. The focus is on Aika's facial expressions. Some standing artwork variations only appear once or twice throughout the entire experience. I love the small details like her furrowed eyebrows and frowning mouth to indicate when she's uncertain or worried.
The artist does not visually distinguish between the NTR and non-NTR scenes. At a glance you cannot tell which scenes are happy, and which scenes are her pleasuring men to fill an empty void in her heart. I miss how other NTR titles emphasize darker color palettes to delineate types of scenes, but sadly that is not the case here.
Some scenes like reverse cowgirl seemed off, screaming for more polish. Other scenes like the POV missionary are fucking incredible works of art. That scene in particular shows Aika wearing sexy socks that cover above the knee. Which is unusual since most other scenes show her wearing no socks or only cocks that go up her calf. When a girl only has one outfit, and it's the schoolgirl outfit, I was expecting a lot more feet and leg art.
The amount of detail put into her face varies depending on scene. Sometimes a scene perfectly captures her emotions with tons of attention to detail, other times the art looks like it was sketched as quickly as possible. When great moments like the semi-prone bone position are shown, there's a distinct lack of variation images to convey motion. Overall, I feel like Atelier Sakura did better in the past.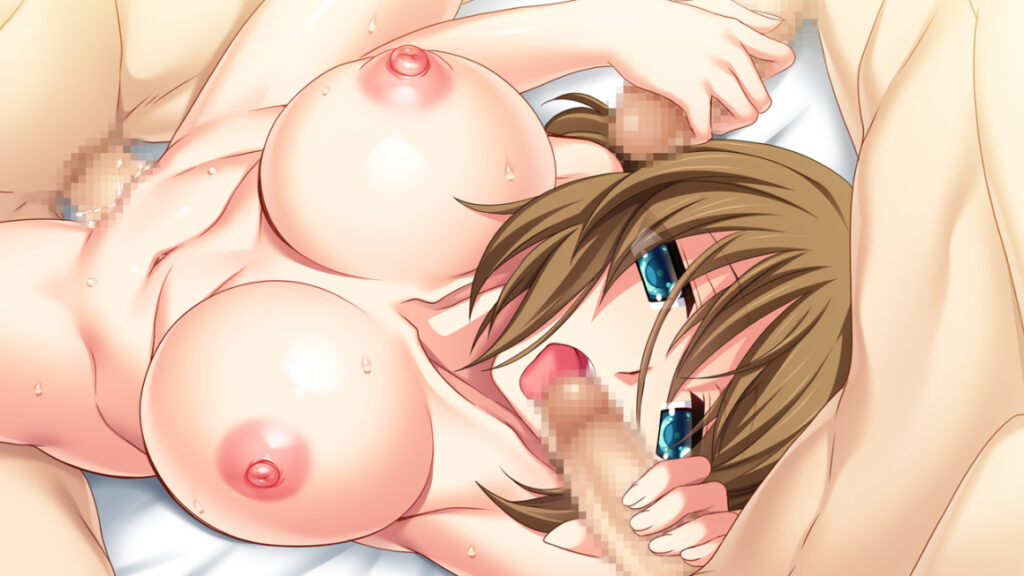 VOICE ACTING AND SOUND EFFECTS (SFX)
Aika is the only voiced character and there's a fundamental flaw there. Aika is explicitly stated to be a first year student in high school, yet she has the voice of someone who's no longer in school. While some dialogue emphasizes her more youthful nature, a lot of it doesn't seem to match what you would expect from a first year student.
In spite of this, the sound design and voice acting is still well done. And when Aika speaks about her emotions, the delivery is natural and super believable. However, none of it is very memorable. The script feels less inspired, almost like it was outsourced to someone else outside of Atelier Sakura.
MUSIC
There are 12 tracks in total, but at least 8 were carried over from previous games of the developer. It was a bad sign when the title music was completely generic and sourced from their other titles. Although there were some fresh tracks like the one that played in urban settings, original compositions were few and far between. It's clear the developers did the absolute minimum in some areas.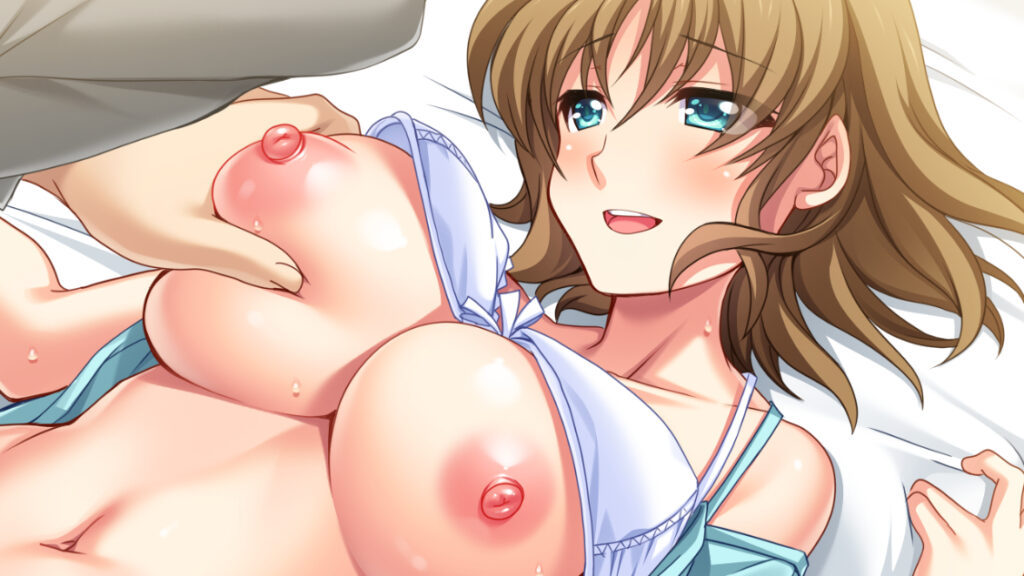 HENTAI
There are 11 scenes in total, showing both NTR content and POV sex. Whether it's the pure love route or Aika reporting back to you about her escapades, the protagonist has plenty of opportunities to fill her pussy with cum.
In that sense, this game isn't as heavy on the cuckolding as some would have liked. And because she fucks your friend before you confess, it isn't good on the pure love trope either. So on a writing and storytelling level, it's not clear who the game appeals to. It's not even catering to cheating fetishists, because you aren't even a couple, she's just your friend.
I don't see the point in every random guy being given a name either. "Nanami shoves his dick in Aika" would have an impact if I knew who Nanami was, but I don't. And because Aika remains in love with you the entire game, there's never a real fear of losing her. Frankly, it feels like an amateur wrote this story, because there's very little tension at all.
As for the visuals, they're hit or miss. If a game has 30 scenes, that's acceptable, but this game has under 10 in a single playthrough. Off the top of my head there were three images that felt unnatural and robotic. This was not Atelier Sakura's best work.
CONCLUDING WORDS
Beloved Childhood Friend is a quick and dirty game about a cute anime girl fucking guys to get your attention. If you choose the good route, the game will be over quickly. If you choose the bad route, nothing ever happens except her having sex with random men. This game has some great visuals but it's a very low effort production.
Download Beloved Childhood Friend. If you like this game but want a deeper and more fulfilling cuckolding experience, then check out our review of Mayumi's Cuckolding Report.
Graphics

Gameplay

Story

Music

SFX

Hentai