Written by Rastafoo69, edited by Otaku Apologist
Civilian Justice League, a hentai game developed by circle Clymenia. Released August 11, 2014. Download on DLsite.com for $12.30. For PC Windows. No voice acting. Censored genitals. Free demo available. Download the English translation patch here.
The story of a naive schoolgirl gifted with the power to fight villains, Civilian Justice League is a game that believes in female empowerment. From gang members to tentacle creatures, the villains only fight to take advantage of the female lead. Her fate is in your hands – will she defeat the villains and save the day? Or be defeated and get turned into a sextoy for their pleasure?
Read our guide how to download DLSite games. Read our review of Civilian Justice League 2.
STORY
After suffering a grave injury in the hands of villainous monsters, schoolgirl Natsume gets saved by a magic gem! Natsume now has the power to transform into a fighter of justice and defeat villains!
Now an employee of the local hero company, Natsume can purchase upgrades and strengthen her abilities to assist in the fight against evil. Alongside classic RPG gameplay, there are simulation elements to the game.
Depending on your performance, you will receive more fame and funding for your company, which can be used to negotiate sponsorships. Keep the company budget high, or you'll soon fall into debt. Without money, your loan sharks will be quick to collect their dues by ravaging your body.
There are four endings to the game: The happy ending, the neutral ending, and two bad endings that involve lots of sex! If you get defeated in battle, or go into debt, Natsume will end up corrupted and horny, even prostituting herself for money!
A single playthrough has a deadline of 52 in-game weeks. There is a "new game plus" feature that allows you to pick up where you left off. The game is actually designed to be unbeatable without this feature.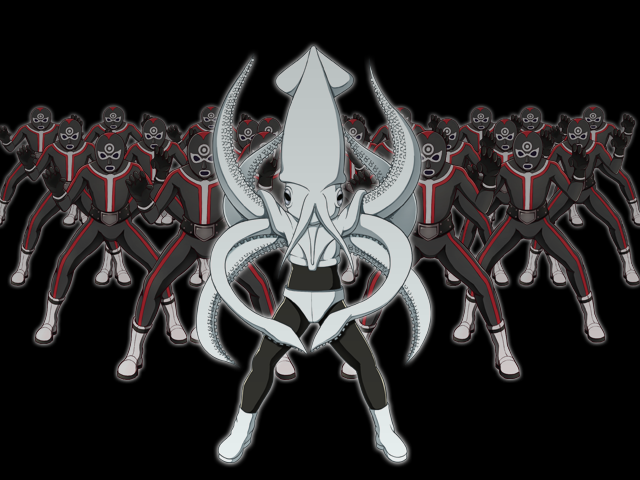 GAMEPLAY
The game was created with RPG Maker, but is far from a traditional level grinder. You move with the arrow keys and press spacebar to interact with characters and objects. Press CTRL to skip through dialogue. Use the 'Q' key to remove dialogue altogether.
At first the game seems quite daunting, like you'll need a walkthrough. But trust me, it gets easier.
You can bring along a film crew for your battles in order to raise your fame ranking. Fame is vital to your growth so that you can negotiate sponsorships much easier.
A sponsorship just means you will automatically receive money when you return to base. That money can be used to upgrade your research lab & equipment, which means you can fight more battles.
You can speed up your rise to fame by appearing on TV, and slow it down by getting raped in front of a camera. I suggest you keep raising your fame, because all of the equipment upgrades will increase expenses on your budget. Balance your income and spending, or you're going to have a bad time.
This game has no shops, items, or other traditional RPG features. Everything is streamlined, including combat. There are no spells or techniques, simply walk up to enemies to automatically battle them.
GRAPHICS
The art is anime style, and frankly mediocre. There are 55 scenes and 24 CGs – you're right to be concerned. A Single CG is used three to four times before a new one is introduced. It gets tedious.
While the images have subtle changes like smiles and frowns, there is nothing special to see. However, each human character has a unique design that's actually impressive on its own.
SOUND EFFECTS & VOICE ACTING (SFX)

Civilian Justice League has no voice acting.
The sound effects are a mixed bag. Sometimes they fit the scene perfectly and greatly enhance player immersion, other times they ruin everything. The sounds made sex seem like a recording of boots in a puddle of rainwater. The sound of the sperm coming out is almost definitely a pack of animal crackers being crushed.
MUSIC
While the sound effects are trash, the music is wonderful! There are 19 original tracks total. The instruments used include an electric guitar, and a piano. There's also a variety of chimes and other noises creating energetic techno beats. Honestly, the majority of the game is techno style music, but it definitely fits the setting. As you transform into your robo-suit and hear that beat, you'll be hyped for whatever battles lie ahead.
HENTAI
There are 55 scenes with 24 CGs. In your first encounter with a sex partner, Natsume will resist. She's also very bad at pleasing the man. Come back and repeat the experience, she'll slowly get corrupted from the pleasure, and learn how to take the dick like a proper woman.
Fetishes featured in this game include hypnosis, tentacles, public shaming, and group sex. There are no animations, but every fetish is explored in at least three scenes. The game covers many fetishes, but never goes in depth or really dives into why people enjoy them.
There is no visible corruption stat, and that's a clear shortcoming to the game. Natsume will prostitute herself, but she seems almost emotionless most of the time. If you want to see pictures of sex, they're here for you; but if you want to get immersed in the female lead's emotional journey to embracing her inner whore's depraved desires, you may be left disappointed.
CONCLUDING WORDS
Civilian Justice League is a good porn game for lovers of RPGs and corruption hentai. It's easy to play, and has unique simulation elements you wouldn't expect from an RPG Maker title. There's at least four hours of gameplay for you to enjoy and stroke your genitals to.
I recommend this game to lovers of porn RPGs around the world. Download Civilian Justice League at DLsite. You can find more quality sex games we have reviewed at our humble webstore hentai-onahole.moe.
Graphics

Gameplay

Story

Music

SFX

Hentai