Written by Rastafoo69, edited by Otaku Apologist
The Demonic Nation Florehades, a hentai RPG developed by Galaxy Wars. Released January 30, 2018. Download on DLsite for $13.00. For PC Windows. No voice acting. Censored genitals. English fan translation patch here.
Klurs has been separated from his demon waifus! Explore the the nation of demons, find sexy girls to seduce, and build your harem of monster girls! This game is a sequel to Dungeon of Lulu Farea.
Support our comics and writing work at our perverted sextoy and game store!
STORY
After conquering the Dungeon of Lulu Farea, Klurs was forced to to stay in the human world while his monster girls went back home. After their sad departure, Klurs spent six months researching all he could on his newfound powers.
The story is simple with a heavy focus on the characters and dialogue. The final ending to the game has a truly satisfying conclusion that left me happy and content. The game is written on the assumption that you've played the first installment. Naturally, things can get confusing for new players, and the ending will be less satisfying as well. I highly recommend you play the first game before you try this one.
The addition of magic nascence or "Mana" was a bit cheesy and low effort on the part of the writer. The storytelling is focused on tying up all loose ends, rather than creating any serious new drama. The game is shorter and easier than its predecessor.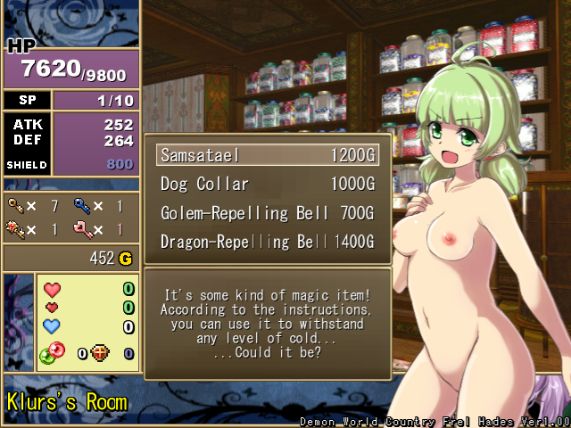 GAMEPLAY
The Demonic Nation Florehades was created with the Wolf RPG Editor, the best engine on the market. You move with the arrow keys and press spacebar to interact with objects and people. Press CTRL to skip dialogue. Press R to label your save files. Press S to screenshot. Press Shift while exploring to view enemy stats. Pres Shift while in battle to speed through combat. Press C to view the text backlog.
The events of the game take place over the course of five dungeons with around 50 floors total. Although there are battle and maze mechanics, this title is more accurately described as a puzzle game.
The gameplay is almost entirely identical to Dungeon of Lulu Farea. Keys, health points, gold, and stat boosting items are spread across the map. Use them in the best strategic order so you can open up new paths. Think carefully about every decision you make, because none of these items respawn! If you use all your gold, there is no more to be found.
This game is significantly easier than its predescesor. Before you were expected to delete your save constantly, but this game is better balanced so you can complete it in one sitting. There's a cheat room if you suck at puzzle games.
Although the quality of the story is a step down from the first title, the gameplay was improved hugely here! The developer clearly learned from the mistakes of the previous game and improved the game balance dramatically. This was an absolute joy to play.
GRAPHICS
The art is classic Japanese anime style. The game is almost entirely made with unique assets and CGs. It's a visually refreshing experience among the multitudes of generic RPG Maker games.
Despite the premise of a demon world of monsters, all the girls in this game are basically human. Outside of the slime girl and catgirl, everyone looks like a human with a monster headband (dog ears, goat horns, etc.).
Where the previous game showed cute chibi art during scenes with dialogue, this game fades the screen to black with text boxes. It seems like the developer meant to create more art, but didn't, and left the scenes black.
There are only 20 sex scenes in total. Sex is also a singular act without progression from blowjob to vaginal. When a blowjob occurs, the scene immediately ends after the blowjob with no escalation. This game has significantly less hentai content than its predecessor.
VOICE ACTING AND SOUND EFFECTS (SFX)
The Demonic Nation Florehades has no voice acting.
The sound effects are fantastic. During sex scenes you can hear the sound of a penis thrusting erotically! While the effect is great, sometimes it doesn't fit. The slime girl looks like jello, but when she's fucked, the sound effects indicate that she is pure liquid water. It's a disconnect between my eyes and ears and took me out of the moment. Overall the audio is good.
MUSIC
There are 107 songs in this game. There's original tracks and a minority of stock assets.
Piano and violin are prominent all throughout, alongside bells and other soft-sounding instruments. Stock tracks are used sparingly and are practically not noticeable. The music almost always has a slow or medium tempo. The only time the music speeds up is during boss battles, but it never goes hard rock. The soundtrack perfectly fits with the story and its themes.
HENTAI
There are 20 base scenes with hundreds of erotic artworks in total.
Although there is a recollection room when you complete the game, not all scenes are there. For example, the sex scene with the item shop owner cannot be accessed.
All the girls have huge breasts. If you like more petite female frames, check out the previous game pronto! The game has several girls from that game, plus six new waifus to find and fuck. From the doggy girl to the android golem, each lady has a unique appeal and personality that sets them apart from the rest.
My favorite sex scene was with Kahlua right in front of her big sister! There are a handful of similar scenes. I absolutely love sex with an audience! You get moments like the spectators showing complete surprise as you drop a creampie in the girl's snatch and look in their direction, like you're challenging them! It's totally hot!
CONCLUDING WORDS
The Demonic Nation Florehades is one of the best harem hentai RPGs I've had the joy of playing. Fantastic gameplay and lovable characters draw you in, while gorgeous hentai visuals and sound design keep your dick satisfied. If you love deflowering virgins and dropping hot loads in sexy bitches, this is the perfect game for you!
I highly recommend this game to harem hentai fans everywhere. Download The Demonic Nation Florehades. If you enjoyed this game and want more, check out our review of Dungeon of Lulu Farea.
Graphics

Gameplay

Story

Music

SFX

Hentai