Hentai RPG Review: Rina and the Wishing Crystal
Hentai Reviews

>

Reviews

>

Hentai RPG Review: Rina and the Wishing Crystal
Written by Rastafoo69, edited by Otaku Apologist
Rina and the Wishing Crystal, a hentai RPG developed by Souzai-Soft. Released June 29, 2014. Download on DLsite for $15.00. For PC Windows. No voice acting. Censored genitals. Free demo available. Support the translator here.
Searching for her long lost mother, Rina arrives in the famous Dungeon City, well known for its local adventurers. Together with her two friends, Rina hopes to battle through the dungeon and make a wish on the mysterious Wishing Crystal!
Support our comics and writing work at our perverted sextoy and game store!
STORY
Rina has arrived in town hoping to find the Wishing Crystal deep inside the local dungeon. Along the way she is deflowered and forced into many lewd situations, but she also finds friendship, and answers about her past.
This game includes mandatory forced sex with the female protagonists begging for mercy. Each girl is deflowered against her will. Even afterwards, forced sex scenes are mandatory to progress. This clashes with the happy dialogue and heartwarming story, creating a mixed experience. Simply put, the sex scenes are hardcore and don't fit the cheery chibi art style.
In spite of its generic appearance, this game's story and dialogue were surprisingly well done. There are three female protagonists, each with their own personalities and back-stories that are super engaging.
Nothing is explained at the start of the game, and you take things one day at a time. Eventually you learn that Rina had amnesia, and came to this town in search of answers. She lost her memories of how her mother was murdered in a house fire. The writer did a fantastic job of creating tension and intrigue that kept me excited to see what's next.
The world building is spectacular. Themes of gentrification and urbanization are prevalent all throughout and even serve as a driving force for the narrative. These topics are explored to create conflict with the characters.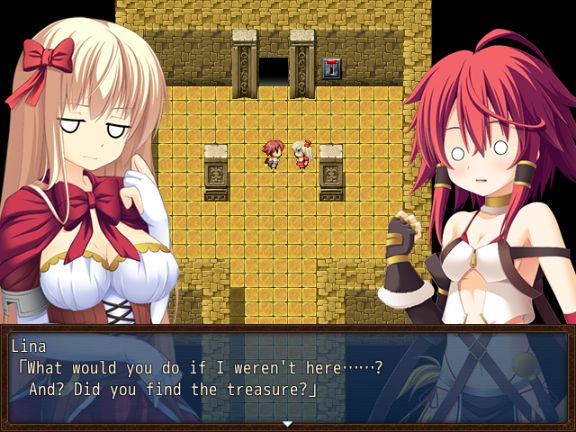 GAMEPLAY
Rina and the Wishing Crystal was created with RPG Maker VXAce, the most common version of the engine. Use the arrow keys to move. Press Q to view the text log. Press A to skip dialogue.
Although the game is generally a dungeon crawler focused on level grinding and consuming healing items, there are two additions to this system that create a truly engaging and unique experience.
Firstly, Lina is a magic enchanter capable of synthesizing crystals and accesories to help her in battle. The crystals allow her to instantaneously learn new spells, while the accesories buff her stats in combat. Some weapons and clothing can also be crafted and enchanted with elemental resistances and other properties that are extremely helpful! You can be severely under-leveled, but pick a great equipment loadout and cut through your foes like butter!
Secondly, a heavy emphasis on exploration shapes your playstyle. Enemies do not respawn, so you're more focused on finding items than leveling up. Don't worry, there are plenty of enemies, but the focus is still on your equipment. Rather than waste all your money on armor, go deeper into the dungeon and focus on treasure chests! Even if you find good items, never get cocky! Stealth segments, missing party members, and basic puzzles are there to mix things up.
There's about six hours of content. There is only one ending, but it unlocks a bonus side-story after you complete it.
GRAPHICS
The art is Japanese anime style. The color palette is relatively muted with heavy use of white, tan, and brown. The main character has a plain design with a red bow in her hair to match the scarlet robe that drapes her shoulders. From the corset to the plaid skirt, there really isn't a reason behind these art choices. Shades of blue would better suit her calm personality and create a more cohesive design. There are over 300 art assets in total, with every scene having numerous variations for sweat and cum marks. The title screen is painfully generic.
There are numerous unique character sprites mixed with standard ones from the stock library. Chibi art is used on the stat menu and bonus story to convey funny expressions and dramatic moments. The dungeon design is absolutely fantastic, lending itself to stealth gameplay in the thieves' hideout. The visuals in this game rock!
The world design is awesome. From ice caverns to aquatic underground lakes, each area of the dungeon is unique and exciting to explore. The final dungeon has a mysterious looping mechanic that goes well with the story, as the demon is trying to misdirect you away. The castle dungeon has multiple entrances and exits, requiring you to travel through the ice zones and coal mines.
VOICE ACTING AND SOUND EFFECTS (SFX)
Rina and the Wishing Crystal has no voice acting.
There are absolutely no sound effects during sex. Outside of sex, the sound effects are stock assets. From the shock of thunder to the kindling of fire, every magical spell and slash of the blade has a special sound. It's all standard fare with nothing particularly standing out. There were some moments like memory sequences where some mystical sounds would have fit well, but were never used. Considering this was the first game from this developer, it's a forgivable mistake.
MUSIC
There are 64 songs on the soundtrack, most of which are stock assets from the RPG Maker Library.
The one track that plays at the inn loops every twenty seconds. With numerous tracks to choose from, you'll spend all your time listening to a handful on a constant loop. I'm willing to bet you'll end up muting the game. With six hours of content, I need a lot more variety of audio than was provided. Generic digital synth music is not good enough!
HENTAI
Rina and the Wishing Crystal has around 18 scenes in total. Most of the scenes are forced sex with the female characters begging for mercy. It can be disturbing to people sensitive to this type of content.
Rina loses her mother's pendant and is forced to prostitute herself to get it back. Along the way, her and her friends will be forced into sex against their will and deflowered by strangers. Polli is actually deflowered by a tentacle creature. Blood is shown during these scenes. If you love innocent waifu's being violated, this is the perfect game for you.
Many of these scenes cannot be accessed unless you purposefully lose a battle with your enemy. These enemies do not respawn, but thankfully a full gallery of "defeat scenes" is available after you complete the game. Remember that the bonus dungeon has no sex scenes.
Erotic dialogue usually consists of a man commenting how tight the girl is. Although there are many variation images, they don't often change the scene enough to make things more erotic. Sex positions are standard missionary or standing sex, with the girls usually laying down, submitting their bodies for the men.
CONCLUDING WORDS
Rina and the Wishing Crystal is a hidden gem. The story is fantastic and the gameplay is super engaging. With gorgeous visuals and multiple waifus to violate, this game deserves much more praise than it gets!
I recommend this to RPG fans everywhere. Download Rina and the Wishing Crystal.
Graphics

Gameplay

Story

Music

SFX

Hentai