Hentai Game Review: Frontier of Sister Indulgence
Hentai Reviews

>

Reviews

>

Hentai Game Review: Frontier of Sister Indulgence
Written by Rastafoo69, edited by Otaku Apologist
Frontier of Sister Indulgence, a hentai game developed by circle Fushidaratei. Released March 18, 2017. Download on DLsite for $20.00. For PC Windows. No voice acting. Censored genitals. Available in English and Japanese.
Your life as a slave is finally over! You've been bought and adopted by a caring young female inventor and her two siblings. These three ladies are your new family, so please take care of them as best you can!
Before trying this game, please read our guide how to download DLsite games.
STORY
You are a simple bishounen (beautiful boy), with a submissive attitude and a kind heart. You have been adopted by a family of three girls, and you plan to do everything in your power to make their lives happy.
The story is best described as a "slice of life". There is a vague overall story, but it's mostly about day to day experiences. The writer concentrated on the characters first and the hentai second.
The story takes place in four chapters. The first three chapters are devoted to the three sisters you are living with. Each chapter is focused on one of the girls. The fourth chapter wraps up with a happy ending.

The dialogue is realistic. The story is filled with intrigue. The only problem is how linear it is. There's no replay value whatsoever, because there are no substantial choices the player makes. This game has eight hours of content at minimum, extending up to sixteen hours of content if you search for every scene and item.
The game world was built up in previous games by this developer. From the crystallized magic shards to the mysterious robots of the black market, this world is enormous. The actual player world is a small village, but the writing is so incredible, you truly feel as though you're living in a huge world of fantasy and mystery!
This game is deceptively simple. Every character seems like a generic stereotype at first, but is later revealed to have significant depth. Everyone has strengths and flaws, which makes for some engaging and realistic characters. I won't spoil it, but the ending had me glued to my screen waiting to see what will happen next.
CHARACTERS
Phai is the protagonist of the story. A former slave, he works hard to help the three sisters who saved him from a life of trouble. The ending to the game will reveal a huge secret about his past.
Rudocchi, also called Rudoux, is the eldest sister of the family. A genius inventor, it's her responsibility to pay off the debt that her father left her. You can work with her in the junk shop for extra money.
Aylan, also called Ayla, is the middle child of the family. A hard worker, she negotiates junk prices and gathers ore in the mines. She has a rivalry with her friend Lolo, who wants to marry you. Even though she's a tomboy, she still wants to be treated like a girl sometimes.
Manana, also called Mana, is the youngest girl in the family. A rural housewife, she cooks the meals and runs the shop. She wants to get married and live an idyllic life, just like her mother did. She's totally clueless about sex.
GAMEPLAY
Frontier of Sister Indulgence was created with Wolf RPG Editor, the best variation of the RPG Maker engine. Use arrow keys to move. Press F4 to change screen resolution. Press C to pull up the action menu. Save the game in the player room.
Many reviewers have dismissed this game as "Harvest Moon with sex". This is completely false. In spite of advertising itself as a rural life game, farming is only part of the experience. There's also a lot of mini-games!
The three main activities are farming, fishing, and odd jobs.
Farming is simply planting and watering crops. Use the profits from farming to purchase fertilizer. Mixing and matching seeds will unlock crop bonuses. As players speak to townspeople and explore the area, they'll gain new recipes, and hints on profitable crop positionings. Buckets of money are required to complete the game, so farming is important.
Fishing requires the use of bait and access to water. The type and quality of fish you get depends on the weather, area, and time of day. Finding every kind of fish is necessary to complete the game.
Odd jobs will earn you "rinnel", which are magic shards of great value. For example, if you're weeping a porch, or mining ore, these jobs require no player input and earn you 1 rinnel each time. These magic shards can be traded in for golden crops and other bonus items. If you want to have sex outside of story events, buy the ability with rinnel.
Outside of the three main activities, there are two other mini-games. These mini-games are not necessary for progression, but super fun as a way to break up the monotony of farm labor.
There is no time limit, so players can experiment with every feature for hours at their leisure. My advice is to focus on money. The second chapter requires five thousand gold to complete, so try to save up!
GRAPHICS
The visuals are primarily pixel art, with a handful of anime CGs for story events. Chibi art is used occasionally, but most of the visuals are pixel animations. There no full screen CGs of any kind.
From the moment you begin, you won't even realize you're playing an RPG Maker game. Sprites are fully animated to walk diagonally, breathe, and move in a realistic fashion. This feels like playing a game made with the Unity engine, except this one actually has a fantastic frame rate.
Almost every single line of dialogue is matched to a unique pixel animation. From surprise to boredom, every emotion and desire expressed by the characters is clearly illustrated with fluid movement and vivid color.
Every sex scene is fully animated. From a handjob to vaginal sex, even including an x-ray view to see the creampie, every scene is well made. With over 30 scenes in total, this must have taken a lifetime to complete!
Sometimes the pixel art can be hard to understand, but the dialogue and text always makes things clear. For example, it can be hard to tell the difference between an onion and a radish.
The game world is medium in size and easy to navigate. Most of your playtime is focused on the farm and town. The outskirts are rarely ever visited. With a handy player map included, this world is easy and fun to explore.
VOICE ACTING AND SOUND EFFECTS (SFX)
Frontier of Sister Indulgence has no voice acting.
The sound effects are varied and well placed. From the mechanical beeping of a robot to the delicate sucking and fucking between you and your housemates, every sound effect is well done. No stock assets are used. This developer has produced numerous games in the past, and has fully mastered sound design, making it seem effortless.
MUSIC
There are a handful of songs on the soundtrack, all unique or recycled from previous titles by this developer.
All music is digitally synthesized to sound like real instruments. From violins and flute to a drum beat and guitar, every instrument is vivid and crisp, making for a clean and enjoyable experience. It feels somewhat manufactured, because every track loops after a minute or less. Don't focus on the music and it will be enjoyable.
The music changes depending on where the player travels and the time of day. This attention to detail is admirable and makes the game that much more enjoyable. The music is great, but could use more emotion behind it.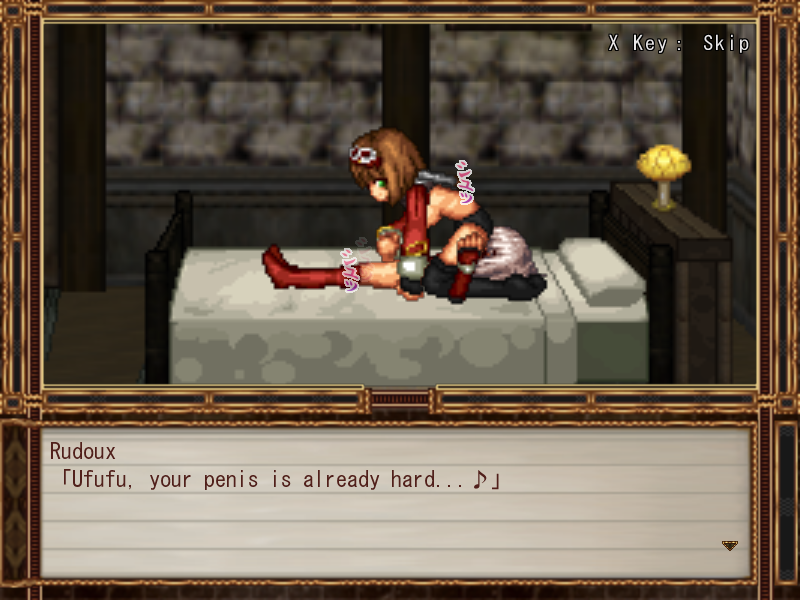 HENTAI
With over 30 scenes and hundreds of unique animations, this game has hours of erotic content to enjoy. Even though the scene count is average, each scene involves multiple positions and is fully animated.
After gaining enough rinnel and completing the chapter associated with your waifu, you'll be able to freely have sex with her whenever you want! You can fuck her in the forest, the town, and everywhere in between! As long as you're a safe distance from spectators, you can even have sex on the public roads!
You are a bishounen, a beautiful boy. This means you're slim and submissive, ready to be dominated by even the most petite of women. Expect sex positions like the amazonian press and other female led experiences. There are some scenes where you are dominant, but they're the minority.
CONCLUDING WORDS
Frontier of Sister Indulgence is a fantastic vanilla harem game. The game has at least 8 hours of content ranging from mining and fishing, to gambling and creampies! The story is relaxed, the animations are gorgeous, and the sex scenes are super hot! The characters are likable, and you will enjoy watching them struggle through life.
I highly recommend this game to fans of pixel animated hentai. Download Frontier of Sister Indulgence. If you liked this game and want something similar, check out our review for Hikari Love Potion!
Graphics

Gameplay

Story

Music

SFX

Hentai