Femdom Hentai Visual Novel Review: I Hear You Like Sadistic Women
Hentai Reviews

>

Reviews

>

Femdom Hentai Visual Novel Review: I Hear You Like Sadistic Women
Written by Rastafoo69, edited by Otaku Apologist
I Hear You Like Sadistic Women, a hentai visual novel game developed by Pin Heal. Released July 30, 2010. Download on DLsite for $32.00. For PC Windows. Full voice acting. Censored genitals. Download the English fan translation patch.
After they groped you on a train, two women approach you! They want to meet again and officially make you their submissive sex slave! Should you accept, you'll enter a whole new world of pleasure and pain!
Before trying this game, please read our guide how to download DLSite games.
STORY
You were a typical bored office worker until the day you got groped on the subway. Crossing paths with a pair of femdom babes changes your life forever! The only question is, how far will you let them take your abuse?
The plot of the game only follows the events of a couple of days. You meet new women and have sexual encounters with them. At the end of the game, you choose one out of four endings. Your choices only affect which scenes you see, and not the ending.
Although the plot is simple, there are actually over 10 hours of content to explore. The game is dialogue-heavy and realistic, with many scenes having nothing to do with sex. You get to know the characters better when no sex is taking place.
Choices you make during sex will either extend the encounter or leave everyone feeling guilty. As the sub in the relationship, it is important for you to read their mood and act in a way that brings them the most pleasure.
Discover more femdom hentai games we've reviewed over the years!
Partway through the game, the plot splits off into two separate routes. Will you go to school with Kyouka, or go to work with Kanae? Going to school leads to tons of yaoi roleplay and public humiliation. Going to work leads to sex with your boss! Each of these routes is canon to the story. At the end of a route, it will be mentioned that the events of the other route happened off-screen.
The writing is downright incredible. You'll always be excited to read what comes next. Characters come out of their shells or even retreat back into them. From shocking moments to heartfelt conversations, the author is a master at keeping his audience engaged.
CHARACTERS
Shingo Karasuma is the main character. He's an unimpressive sales person until he meets the dominant women that soon become his lovers. At the end of the game, he devotes himself to a single femdom mistress and lives happily ever after.
Ayame Horikiri is a divorced day trader with a lot of money. Her job allows her the freedom to engage in her hobbies, like using Shingo as her new slave. She's the classic businesswoman with a dark-side.
Kyoko Onigoe is a school nurse and de-facto head of the Frisky Women Club. She introduces you to many new women and saves you from trouble many times. She almost never opens her eyes, and does not have a specialized ending.
Kanae Katsuta is your boss at work. Constantly stressed out and disrespected, she secretly has a soft side. She's a virgin who wants to dominate a man. She always has hilarious dialogue and insults, making her a super entertaining character.
Midori Tsudanuma is the green-haired schoolgirl who loves Yaoi doujins. She introduces you to pegging, prostate stimulation, and roleplay. In her ending, she ends up romantically involved with Shingo.
Yukari Tsudanuma is the blonde twin sister of Midori. Yukari prefers straight sex at first, but slowly gets into wearing drag and roleplaying as the man. She doesn't get a specialized ending, and is the tsundere of the group.
Yachiyo Okubo is the sultry milf of the group. She wears a traditional kimono and is a huge socialite with her tea parties. She's divorced because her husband hated her femdom dark side. She loves whipping and torturing you.
Sakura Mimomi is the sarcastic witty tomboy with a submissive side. She is also the only other point-of-view character besides Shingo. You get her side of the story and a peek into her personal thoughts.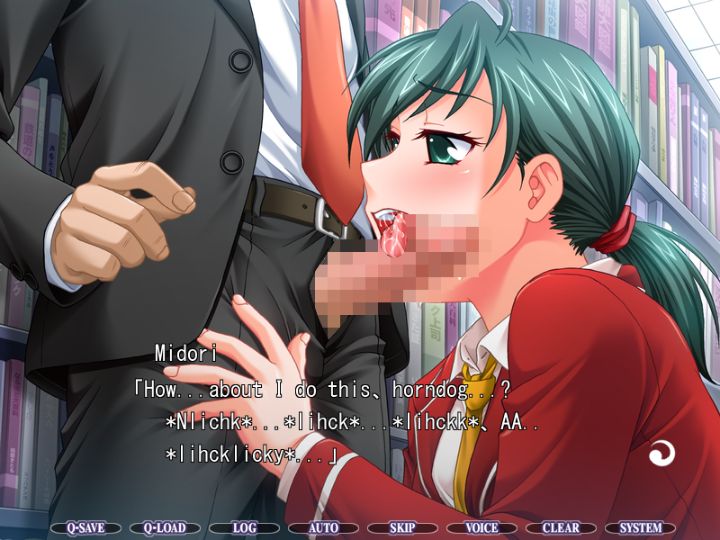 GAMEPLAY
I Hear You Like Sadistic Women is a visual novel. You click the screen to advance the story. Press CTRL to skip ahead. Move the mouse to the top of the screen to reveal the save and load functions.
Feel free to make whatever choices you want, they don't affect the ending. Once all girls are unlocked, you get to choose which one you want to be with. Although there are 7 girls, there are only four endings. Depending on whether your waifu got an ending, this can prove disappointing or very satisfying, because each ending is highly detailed.
Although choices don't affect your ending, they do have direct consequences. For example, if you creampie a girl against her will, she'll sit on your face and force you to eat the cum out of her pussy!
GRAPHICS
The art is Japanese anime style. Each girl has a unique design that sets them apart from the other. Your boss always wears a tight business suit and hairband, while the schoolgirls are always in some type of uniform.
The visual presentation of this game is fantastic. Cut-in images are used frequently. Each background image is completely unique and has multiple variations for positions whether you're kneeling or standing up. With hundreds of cut-ins, backgrounds, and standing images, this game is an absolute work of art.
There are around 100 unique sex scenes featuring pegging, blowjobs, public humiliation, creampies, and more! Everything save for chastity is covered, so enjoy every combination of fetishes and dirty talk imaginable.
This game is heavy on dialogue, which means there are thousands of variation images to match the lines. For example, an artwork for a woman's hand in your chest will subtly change to show her fingers pinching your nipples. These tiny artwork variations make the scenes far more dynamic and interesting, leading to a more immersive experience.
VOICE ACTING AND SOUND EFFECTS (SFX)
I Hear You Like Sadistic Women features full voice acing for all seven girls. With over ten hours of content, the sheer volume of voiced lines is insane. It gets to a point where you forget you're talking to fictional characters!
My favorite voice belonged to Kanae, Shingo's boss. From the beginning of the game I dreamed of fucking her! She would always yell at me and scold me, but soon she was moaning for more cock! So satisfying!
From the options menu, you can turn off any voices you dislike. Similarly, you can use a volume slider for voices, sound effects, music, and lewd voices! That last one is especially important! You can customize if you want constant moaning in the background or not.
MUSIC
Ther are 16 songs on the soundtrack. Each of the seven girls gets a unique melody that plays when they're in the room. For example, the song for Yachiyo features classical string instruments and Japanese clackers. A general sex scene features guitar and drums to convey rising excitement, tension, and fear! Every track fits the scene with a variety of melodies and styles to create a truly enjoyable experience. My only possible complaint is that some tracks sound similar or generic.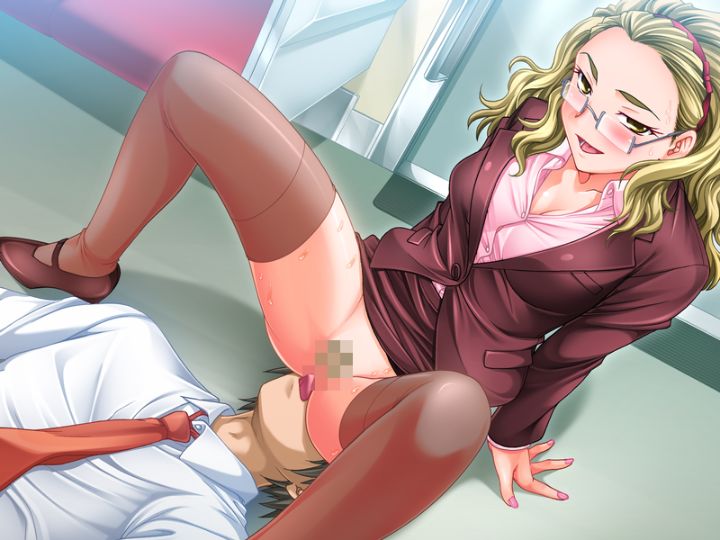 HENTAI
Sex scenes are spread out evenly with a well paced story to match. The sex begins with just groping and exhibitionism, but things soon heat up! Just remember, as this is a femdom game, nobody gets married or impregnated.
With seven females to choose from, you can pick your poison! Kanae will strip you nude and finger your ass in the park, Midori will force you to suck on her dildo, and Yukari will make you pose naked in front of her friends!
Each scene has heavy amounts of dialogue. Especially during threesomes and foursomes, there's a lot of communication. The writing lets you immerse yourself in the lifestyle of a submissive slave to a bunch of dominant women. The game is advertised as having mild netorare, but that's only because so many women want to fuck you that it creates competition.
Risk of public exposure is a huge theme in this game. You actually get seen a few times. These moments make the experience even more realistic with a sense of thrilling danger around every corner. Fair warning! Some of these scenes feature whipping and nipple piercings, which can get grotesque and hard to watch. Avoid Yachiyo if you're worried.
CONCLUDING WORDS
I Hear You Like Sadistic Women is a long and detailed visual novel focused on the femdom fetish. The artwork is varied and gorgeous. The voice acting is awesome, and works alongside the perfect sound design to create a deep sense of immersion. The story is paced perfectly, with sex scenes never too far apart from each other.
I highly recommend this game to femdom fans across the globe! Download I Hear You Like Sadistic Women.
Graphics

Gameplay

Story

Music

SFX

Hentai