Final Fantasy 3D Porn Cartoon: Scarlet Fantasy
Hentai Reviews

>

Reviews

>

Final Fantasy 3D Porn Cartoon: Scarlet Fantasy
Written by Mistress Valentine, edited by Otaku Apologist
Scarlet Fantasy, a 3D porn cartoon made by Dezmall. Released November 4, 2020. Runtime 11 minutes. Full voice acting. Uncensored genitals.
ANIMATION
The animation in Scarlet's Fantasy looks like it belongs in a forbidden Final Fantasy DLC on the PS3. The characters have high-rendered bodies with deep detail and no clipping. Scarlet's 3D body has been tweaked so that her breasts bounce around like two large slices of jelly at the slightest touch. Her lips look juicy and her pussy hungry. Her sex partner is Cloud.
The episode is mostly seen through a first person perspective. The camera movement follows Cloud's eyes and likes to linger on Scarlet's enormous tits. Sometimes the camera angle will switch between first and third person. There are a lot of close-up shots of Cloud's dick and Scarlet's pussy smashing together.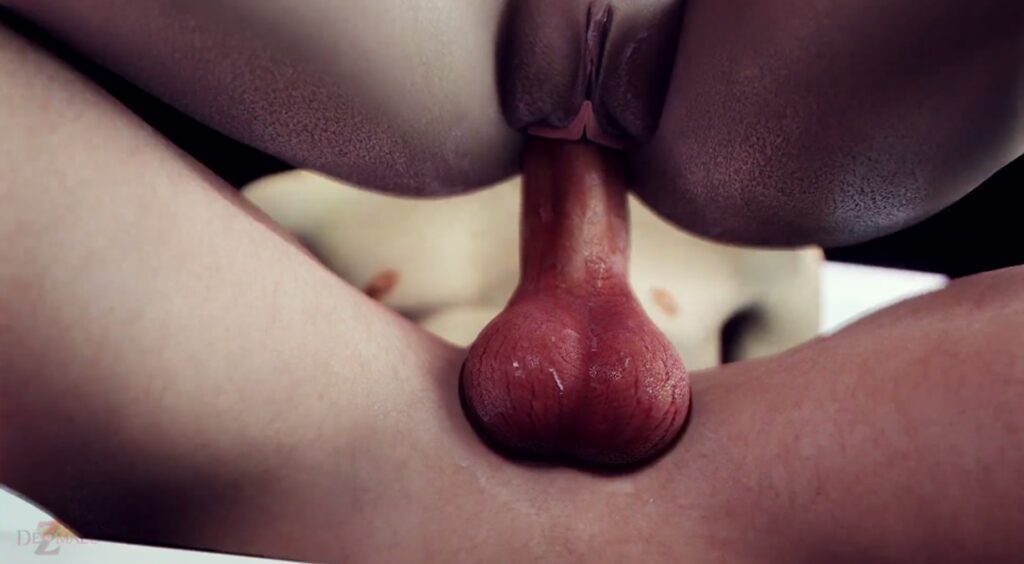 HENTAI
Scarlet sits on Cloud's lap and teases him. She grabs his crotch to get a feel for what he's hiding from her. She takes it out and wastes no time jerking it until it's hard and long enough to suck on.
Watching Final Fantasy VII's Scarlet chomping down on dick, deepthroating that bad boy, as the camera zooms in on her face, is an absolute highlight. The first-person perspective makes the animation feel much more immersive and realistic.
Nothing quite compares to seeing Scarlet slowly sliding a fat cock into her mature wet pussy and riding it until the balls can't keep it in anymore. Midway through the episode she picks up the pace and bounces up and down on your dick until it feels like it might fall off. She unties cloud and takes him to the bed.
VOICE ACTING AND SOUND EFFECTS (SFX)
Bordeaux Black plays Scarlet. Her performance is passable with a focus on making Scarlet sound as sultry and seductive as possible. Her voice is sensual and her delivery on point. She sounds like she's enjoying the script. Bordeaux's moans are hot, but tame enough to make you believe this is a woman who is taking her time, enjoying the moment to the fullest.
The episode is full of sound effects that make the 3D porn feel more organic. One such example is Scarlet's heels as she steps on floor. There is also fabric rustling and hand slaps. There's plenty of good fucking sounds to pleasure year ears.
MUSIC
Scarlet Fantasy features several pieces of music. Almost every song has an ominous beat. Music periodically stops without warning. During Scarlet's sexcapade, the music becomes livelier with more upbeat rhythms. The music uses synthetic instruments that have an 80s vibe. Halfway through the episode, the music changes again and becomes a full on techno-rave symphony that increases in intensity as scarlet gets closer and closer to orgasm.
STORY
We find Cloud from Final Fantasy captured and bound to a chair. Shinra only knows how he got like that, but fuck it! His interrogator, Scarlet, is there to make him talk. She plays around with him and demonstrates just how in control of him she is. Cloud tries to escape, but the attempt fails and he is bound again.
Upset that her favourite prisoner tried to leave her, Scarlet punishes Cloud by sitting on his dick. Cloud's fighting spirit continues to shine and he resists until Scarlet orders his friend in the other room fucked if he doesn't comply. With no choice but to reluctantly engage in hot, slippery intercourse, Cloud submits.
CONCLUDING WORDS
Scarlet Fantasy is a must-watch clip for fans of Final Fantasy. Scarlet's sexytime is fun to fap to. The interrogation sequence is a fantastic setup for naughtiness, and the first-person perspective adds a new dimension to the enjoyment. Dezmall does a great job at bringing this MILF to life and making his audience want to be dominated by her.
You can watch this super hot 3D porn video here.
Animation

Story

Music

SFX

Hentai