Hentai Game Review – Amayakase: Spoiling My Silver Haired Girlfriend
Hentai Reviews

>

Reviews

>

Hentai Game Review – Amayakase: Spoiling My Silver Haired Girlfriend
Written by Mistress Valentine, edited by Otaku Apologist
Amayakase: Spoiling My Silver Haired Girlfriend, a kinetic novel developed by Monoceros+ and published by JAST USA. Released October 25, 2019. Download on JASTUSA for €5.93. For PC Windows. Full voice acting. Uncensored genitals.
Overworked and unpaid, Sousuke returns home to find his sister's daughter on his doorstep waiting to move in with him. Too noble to turn her away, Sousuke lets her stay with him. He is also reminded just how cute his sister's daughter is. It makes his dick hard and ache for her pussy folds. What's a virgin guy to do? This being a hentai game, we know the answer to that.
Visit our perverted store for more hardcore porn games.
STORY
You are Sousuke, a lonely, overworked wanker who arrives home one night only to find a cute girl with silver hair waiting outside his house. She introduces herself as Anya, and hands him a letter from his sister. Anya is his sister's daughter. Her mother had to suddenly move to another country, and she left Anya in Sousuke's care.
Annoyed but unwilling to leave Anya to her own devices, Sousuke takes her inside to come stay with him. Over the next few days, Sousuke's life at work becomes more stressful. He tries to masturbate but is discovered by Anya who offers to have sex with him to relieve the tension. The rest of the game explores the unusual relationship between Sousuke and Anya. With less than two hours of content, there isn't much else to report other than Sousuke has a lot of sex with Anya.
The writing is good, featuring tons of cutesy dialogue. The characters are rather one-dimensional. Nobody gets developed.
SOUND EFFECTS AND VOICE ACTING (SFX)
Amayakase: Spoiling My Silver Haired Girlfriend has full voice acting. The voice actress gives a convincing performance as a distant relative who spontaneously and without any real reason jumps at the chance to suck cock. Her moans are cute and lewd with the script focusing on her promiscuous moeness. Anya is portrayed as someone who longs to be corrupted and used as a cock sleeve. Outside of H-scenes, the actress has good delivery. She is excellent at showing off Anya's femininity.
Sound effects include doors opening and closing, footsteps, fabric rustling and a nice rubbing sound for Anya's clit. The sound design is basic but solid, all clips are recorded without glitches.
MUSIC
The music quality is bland. Generic slice of life songs are played throughout the game using original instruments such as the guitar, flute and piano. Nearly all the tracks feature pleasant and inviting songs. During romantic scenes, a soft and intimate piano sets the mood. Music fits the sex. The soundtrack is limited, but has a song for each mood. Songs loop without notice and do not feel distracting.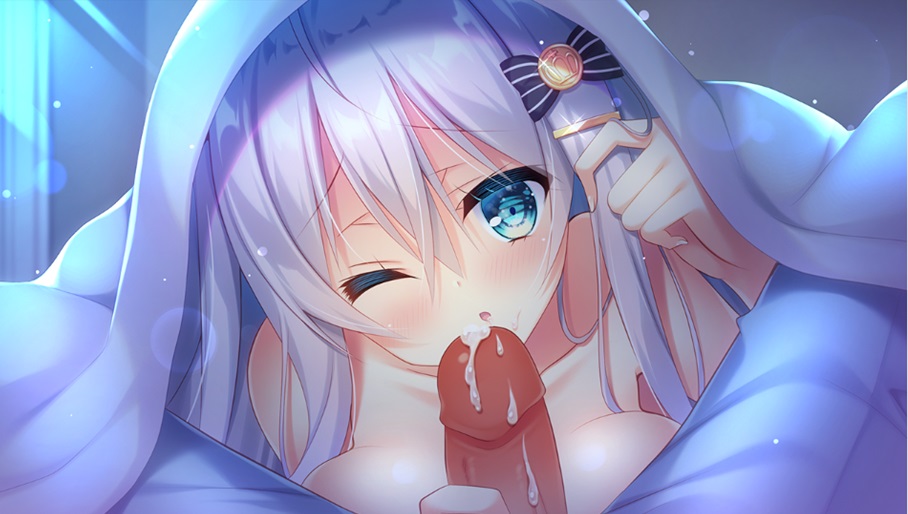 GAMEPLAY
Amayakase: Spoiling My Silver Haired Girlfriend is a kinetic novel. The game can be completed in less than two hours. Gameplay is limited to clicking the screen to "turn the pages". The game is linear with no branching storyline. There are no choices.
The game has basic visual novel functionality. You have enough save slots to bookmark your favourite scenes. You can replay all H-scenes in the CG gallery. View individual CGs after you've unlocked them. Fap with two hands by clicking the 'auto' and 'skip' buttons to speed through parts of the dialogue you already read. There is a boatload of customizable options in the preference menu for you to play with.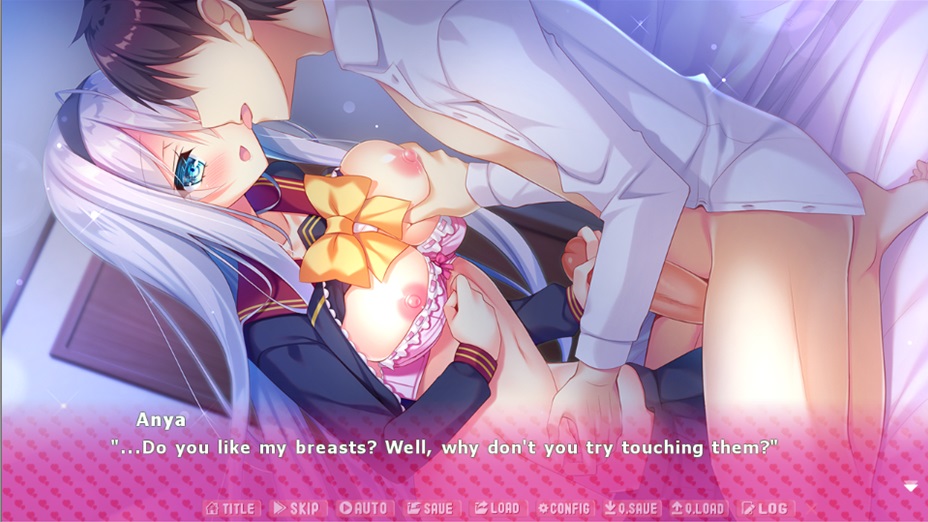 GRAPHICS
Artwork is beautifully drawn with unique transitions between scenes. The game has limited background artwork. You get to see Sousuke's apartment from the outside and then from the inside. Background artwork is filled with rich detail that makes it stand out. It also helps the game world feel more alive. Unfortunately the bedroom design is simple with a generic Japanese feel to it.
Characters are drawn with big beaming eyes and innocent appearances. Bodies use thin edge lines with light shadows drawn in all the right places. Anya has a generous bust that stays consistent in-between shots. Sprites have limited poses and facial expressions. Sometimes the game tricks the player by moving the sprite side to side. Anya wears a school uniform that looks cute and utterly innocent.
The sexual artwork is very limited with only 10 CGs. The camera angels selected show off Anya's body in the most sexualized manner. The game has limited hentai content, but makes up for it in all other areas of production.
HENTAI
The quality is passable. The sex is designed to evoke a romantic feel. Anya and Sousuke enjoy good sex because they are good people. The running commentary between the two is cute and makes you feel warm. Anya becomes more and more dirty and adventures with every sexual encounter. She is a virgin at the start of the story and a slut by the end. The artwork shows off Anya's body from the sexiest angles.
Each sexual encounter focuses on a specific position with no other sex positions used during that scene. Sousuke rides Anya in the cowgirl position, steals her first blowjob experience, robs her of her virginity, pounds her from behind, and rides her from the bottom as her pregnant belly heaves up and down on his dick.
There is a good amount of evolution with each CG. Anya's expression changes from curious to lewd to embarrassed to horny. Sousuke's cock pumps in and out of her pussy before blasting his load inside of her. The creampies are the sexiest to see. The scenes are just long enough to empty your balls on the keyboard and don't outstay their welcome.
CONCLUDING WORDS
Amayakase is the perfect game for vanilla hentai lovers. The sex is romantic, and the heroines are cute. The story is short and sweet. The production values are high with full professional Japanese voice acting to boot, coaxing the semen from your balls. Everything from the artwork to the music is well done to create a pleasant masturbatory experience.
Highly recommended hentai visual novel. Download Amayakase, Spoiling My Silver haired Girlfriend.
Story

Hentai

SFX

Gameplay

Graphics

Music