Hentai RPG Review: Underground Kingdom and Sweeper
Hentai Reviews

>

Reviews

>

Hentai RPG Review: Underground Kingdom and Sweeper
Written by Rastafoo69, edited by Otaku Apologist
Underground Kingdom and Sweeper, a hentai RPG developed by circle 7cm. Released June 12, 2015. Download on DLSite for $4.00. For PC Windows. No voice acting. Censored genitals. Download the English fan translation patch.
A big titty goth girlfriend has appeared at your door! She's from the Underground Kingdom, and wants to marry you and make you king! While you search for the magic wedding rings, spend time with her, and soon she'll open her legs to your cock!
Read our guide how to download DLSite games. Also consult our article how to apply translation patches.
STORY
Descoco is the pervy princess of the underground kingdom. You have a royal bloodline tracing back to the underground kingdom, which makes you the rightful king! Find the magic wedding rings called "The Red Eyes" to make the marriage official!
While the story appears basic at first, it quickly expands into an exciting narrative. You join the "Sweepers", find the four heavenly kings, and seal the gate to the demon realm! The game is a dramatic and action-packed adventure.
Spoiler alert! The villain of the story views humanity as a destructive force that pollutes the world. They want to destroy humanity and allow beasts to roam the land, because animals live in harmony with nature. The hero's response is fantastic – "That's pure sophistry". It leads into a discussion on how man is capable of defining his own destiny, really great stuff.
The title of the game is simple. You are helping the princess of the underground kingdom by joining "The Sweepers". It's basically a monster-hunter guild with different guild ranks. You start at rank C, but become rank S by the end of the game. This was a great way to show progress and I loved it.
There are three endings, each aligning yourself with a unique faction and waifu. Will you stay in the sweepers and marry Saki? Will you join Descoco as king of the underground kingdom? Or will you move to the demon realm with Suzuran? You decide!
GAMEPLAY
Underground Kingdom and Sweeper was created with RPG Maker VX Ace. You move with the arrow keys and press 'Z' to interact with things. There is no dialogue skip.
The game cycle is your classic RPG adventure. Defeat enemies to level up and earn money. Leveling up will unlock new skills that make your battles faster and easier to complete. Money can be used on items and equipment.
By the end of the game you'll be a level 99 multi-millionaire. Level ups and cash come fast, which keeps the game engaging. The downside is that the game lasts for about five hours.
Battles are split into two categories. Strong enemies have a regular battle sequence, while weak enemies can be killed by walking up to them. Only strong enemies have a chance to drop items, so you always have a reason to change things up.
At the start of the game, everyone in town is kidnapped by monsters. While this makes for a barren world to start with, by the end of the game you'll feel a strong sense of accomplishment when the town is full of happy people again.
My only complaint is that the game is too easy. Healing crystals are everywhere, so you'll almost always have max health.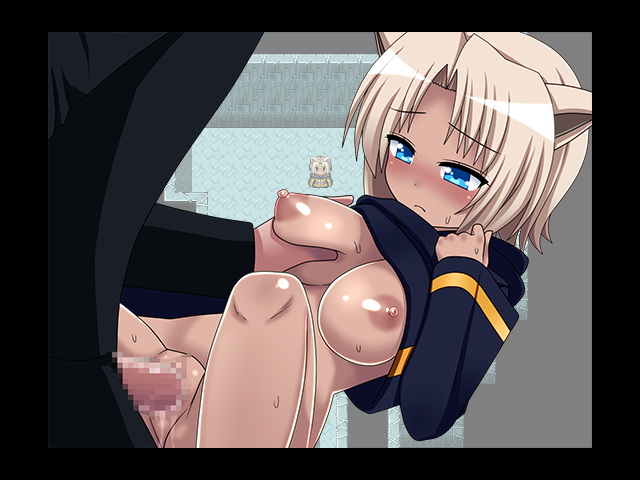 GRAPHICS
The art is traditional Japanese anime style. Most of the artworks focus on Descoco and Saki having sex with the protagonist.
Standard RPG Maker assets are used throughout the game. They get repetitive fast. While some moments are fun and unique, there are many others that make the game feel super generic.
On the bright side, the fullscreen CGs are gorgeous. Descoco's sexy leggings always make my cock hard, and the cat ears on Asura's head are so cute! The big anime eyes and perfectly pink nipples ooze femininity. Censorship on the genitals suck, but besides that, the art is fap-worthy.
A world map would have helped this game a lot. To leave town, you choose a location from a menu like "Swirl of Fire". It felt like I was teleporting there. I had no clue how the world looked outside of the main town.
From fiery caverns to haunted mansions, this game has a variety of dungeons ready to be explored. The lack of unique assets is obvious here, but if you can look past that, they're lots of fun.
VOICE ACTING AND SOUND EFFECTS (SFX)
Underground Kingdom and Sweeper has no voice acting.
The sound effects are very typical for your standard RPG Maker title. The swords prompt a "slash" sound, while healing spells are accompanied by a magical "whoosh". Often, you can identify the attack or magic on sound alone. As for sex, the sounds are fitting but ordinary.
MUSIC
There are 18 tracks in total, most of which are either licensed or unique to this developer. Most tracks are over a minute in length, so they don't loop too often. A variety of instruments are used, ranging from drums to maracas and flutes. Each song fits the dungeon perfectly. Although the visuals may be stock assets, the music provides new life to them that makes player excited to continue.
Though these tracks are good, they are flawed. One track in particular, has a full minute of introduction before it ever establishes a rhythm or melody. This was hard to sit through, and was my least favorite track of the entire game.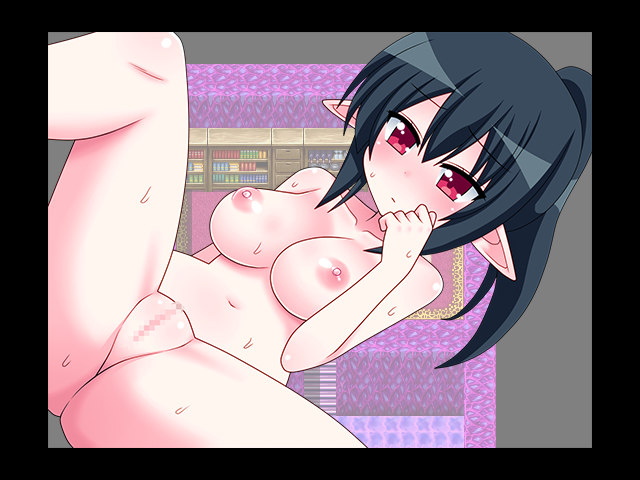 HENTAI
Underground Kingdom and Sweeper has 12 sex scenes in total, some of which include multiple unique CGs. A single scene has girls change sex positions or progress from blowjob into vaginal sex.
This game is often mistakenly referred to as a harem title. This is because you can befriend and fuck three female traveling companions. However, you can only get married to one of them. There are no threesomes and you can't have them all at once.
The erotic dialogue is pretty basic. The girls will often say generic lines, like "It's so big and thick! I'm at my limit!" This may sound hot, but the lines get repetitive over time. But there are some good moments too, like when Descoco warns that you might get her pregnant! This is especially hot if you choose her ending, because then she confirms that she's having your baby!
Most sex scenes have no foreplay or build-up. You literally walk into a girl's house, ask for sex, and the scene starts playing. This was pretty lazy of the developer, but some people will probably praise this for cutting the fat and getting straight to the goods.
My favorite scenes took place in the brothel. I paid a fat stack of cash, so I got to creampie a busty slut without a condom!
CONCLUDING WORDS
Underground Kingdom and Sweeper is a hentai RPG experience with civilian rescues mechanics. The story is entertaining, the gameplay is well paced, and it's altogether a great experience from a small indie developer. The sex scenes are hot, but that's more because of visuals, since the writing is very basic. If you want a great vanilla experience, this is the game to play.
I recommend this title to anime fappers who want a big titty goth girlfriend. Download Underground Kingdom and Sweeper. If you like this developer and want more from him, check out our review for Shinobu-kun, The Only Girl at an All Boys School.
Graphics

Gameplay

Story

Music

SFX

Hentai