MILF Hentai Game Review: One Summer Vacation
Hentai Reviews

>

Reviews

>

MILF Hentai Game Review: One Summer Vacation
Written by Rastafoo69, edited by Otaku Apologist
One Summer Vacation, a hentai game developed by Brown Rabbit. Released September 25, 2017. Download on DLSite for $10.00. For PC Windows. No voice acting. Censored genitals. English fan translation patch here.
You're on summer vacation with your family! You meet a sexy doctor, a hot store clerk, your busty teacher, and many more fuckable bitches! Get close to these women and grope their huge tits with your own two hands!
Read our guide how to download DLSite games. Also consult our article how to apply translation patches.
STORY
Your name is "Yuu", and there's only 30 days left of your summer vacation! Get outside and meet some busty ladies!
Every day something new will happen. There's an event on day five when you do homework with your sister, and on day eight when you peep on the cashier at the general store. After you complete all the events of a day, you advance to the next day.
There are often choices, but none of them have long lasting effects. For example, if you jerk off into your stepmom's underwear, it might be mentioned in dialogue later, but it has no effect on the overall story.
I wish you could customize the player name. Often times characters say "Yuu, you know you should…" and it gets pretty weird to read. Other characters also have weird names, like your brothers Luke and Gonzo. It's silly to give characters such random names.
On day 30, you pick your waifu from six thicc bitches. You can choose your stepmom, your teacher, the nurse, and a few others. No matter what choices you made throughout your journey, you always get to decide which girl is your ultimate waifu.
GAMEPLAY
One Summer Vacation was created in RPG Maker VX Ace. Use the arrow keys to move. Press A for the text log. Press Shift to run.
The gameplay consists purely of walking around and talking to people. On some occasions you'll have unique things to do like playing hide and seek, but that's pretty much it. There is no learning curve or combat system.
The game has under four hours of content, but still offers a quest log in the pause menu. You can save your game and go do something else. When you return, your quest log will remind you what to do next.
Although the game has choices, they barely have consequences. The only serious consequence is that you will skip some scenes. If you go straight to your main mission and skip the optional scenes, they can still be viewed later in the recollection room. The recollection room is unlocked after completing the game.
GRAPHICS
The art is a cartoonish variation on the Japanese anime style. There are over 2000 images total, and some animations.
The artstyle is very inconsistent. Sometimes your character is tall and other times he's a midget. Sometimes the hair is well drawn while other times it looks like a moron colored it. Sometimes a girl's ass is fat and other times it's all bone! We chose the best looking photos for this article and even after careful cherry picking, many flaws are clear to see.
Numerous artworks are used to showcase non-sexual actions. From swimming to laying around, many artworks are realistic and put the player into the moment. Blinking character sprites made this game an engaging experience both in and outside of sex scenes.
All CG artworks are created in-game. There is no gallery to download, because the art is created with blank character stills. The eyes, mouths, hair, and other features are added onto that character art.
This game has a ton of animations. There are handjobs, blowjobs, titfucks, kissing, and so much more! The animations tend to be basic and choppy, but there are hundreds of them. When they're featured on key moments, they're spectacular, like when your stepmom lifts her shirt to show off her enormous titties! Or when the local doctor lowers her hips down right onto your cock! The images in this article don't do justice to the sexy animations.
VOICE ACTING AND SOUND EFFECTS (SFX)
One Summer Vacation has no voice acting.
There is a fatal flaw with the sound design in this game. There is no options menu! The player cannot customize the audio level for sound effects. This means that the sounds are always much louder than the music! You can be enjoying a cool beat, and suddenly a digitized chime will blow out your eardrums! A game without an options menu is a game with a huge flaw.
However, when sound effects actually play, they're always spectacular! A dramatic heartbeat sound plays when your stepmom confronts you. The sound for skin slapping against skin is realistic and very enticing!
MUSIC
There are 20 audio tracks, but only a handful are regularly used. Flutes and string instruments play often times, but the notes are so constant and robotic, they have no flow. You can easily tell they were digitally synthesized with someone manually increasing and decreasing pitch.
What's worse is how short these tracks are! Many are under a minute long, and loop constantly! While some tracks end on high notes, so you never notice the loop, other tracks fade out at the end, making the loop super obvious. Short tracks that loop a thousand times made me want to mute the game.
The experience was not all bad! The game designer knew the best moments to silence the music, and when to play atmospheric audio. Especially beautiful was the sound of a windy breeze late at night. Sometimes less is more!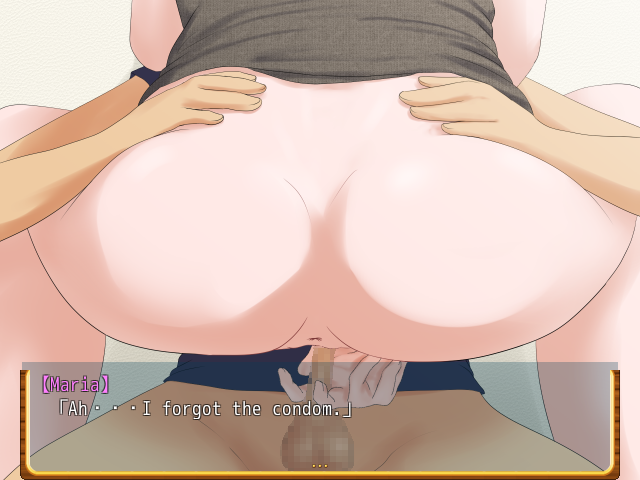 HENTAI
One Summer Vacation has 43 base scenes and numerous smaller scenes not recorded in the recollection room. For example, seeing a beautiful babe in lingerie for the first time, it's not a sex scene, so it wasn't recorded.
Each scene is fully animated down to the smallest detail. For example, characters breathe very lightly, it's barely noticeable. But once your jerk off in front of a woman, you'll see her begin to breathe heavily in great excitement!
There are no vaginal sex scenes until the end of the game. The vast majority of scenes are gropings and handjobs, with the occasional blowjob. Keep this in mind, and don't get impatient!
With six unique women across 43 base scenes, on average each girl gets only 7 scenes. Some girls, such as the shop clerk, get very few, while others like the stepmom get a ton! Sadly, this means that certain girls get neglected for a long period of time. If you're interested in your sexy teacher, that's too bad because she rarely ever gets sexy scenes devoted to her.
When sex finally occurs at the end of the game, the experience is downright perfect! Sex positions include cowgirl, doggystyle, missionary and more! At first you have to use a condom, but soon she lets you finish inside! The girls will even say "This is wrong, we shouldn't do this! But I want to!" If you love fully animated sex scenes that are polished and well made, play this game.
CONCLUDING WORDS
One Summer Vacation is a hidden gem in the hentai market. As the first game from an indie developer, it's one heck of a competent debut. While the art has its problems, the scenario is pornographic gold. You'll get to live out a fantastic summer vacation full of groping and lovemaking with tons of sexy babes! The animations are gorgeous and the scenarios orgasmic.
I recommend this game to fans of animated hentai moms. Download One Summer Vacation.
Graphics

Gameplay

Story

Music

SFX

Hentai