Netorare Hentai Game Review: The Promised Rosary
Hentai Reviews

>

Featured

>

Netorare Hentai Game Review: The Promised Rosary
Written by Rastafoo69, edited by Otaku Apologist
The Promised Rosary, a netorare hentai game developed by X-Toys. Released March 8, 2017. Download on DLSite for $13.00. For PC Windows. No voice acting. Censored genitals.
Cecilia and Marco are travelling in unknown territory together. Marco is in love with her, but Cecilia is ready and willing to prostitute herself for money. How will Marco react to seeing his loved one fucked by another man?
New to Japanese eroge? Read our guide how to download DLSite games.
STORY
Cecilia and Marco must walk across an entire island to reach the port town and return home. Along the way, they will be manipulated, brutalized, and overwhelmed with despair. Their hopeful smiles will be wiped off their faces!
This is one of the best written stories I've ever read. The cuckolding content is used to emphasize the despair of the characters. Marco is forced to watch his beloved Cecilia get used and abused, and there's nothing he can do about it. The game gets so depressing, many players refuse to finish it.
The DLSite store page itself mentions that the game offers two playthroughs, but that had a double meaning. There are two stories because you can choose your character at the start of the game and play through their eyes. There's also two stories, because completing the base-game unlocks the true route and ending.
Spoiler alert! Just as God redeems people and cleanses them of sin, so too does The Promised Rosary. Using it, Marco travels back in time to redo this entire game. He protects Cecilia from despair, and keeps her safe like he promised to. The first playthrough of the game is meant to be depressing, so you can truly appreciate the second playthrough. I'm leaving out tons of details, but trust me, the ending is like something from a Hollywood movie. I loved every minute and cried like a baby.
GAMEPLAY
Promised Rosary was created with RPG Maker VX Ace. Move with the arrow keys and press Q to view the text log. Press W to hide the text box. Press CTRL to skip text.
The game cycle is very simple. Walk through the wilds until you arrive at a town and get sexually harassed by the guards, the innkeeper, and the local employer. Then have sex with mercenaries and travel to the next town. This repeats about five times.
The game has battles, but the experience points and gold rewards are so tiny, it's better to avoid fighting. The main content of the game is the dialogue and the sex scenes.
At the start of the game you can choose which character you control. This changes dialogue slightly and creates some replay value. The game has over four hours of content, depending on if you speak to NPCs or not.
GRAPHICS
The artwork is Japanese anime style. Variation images such as sweat and cum are drawn on characters' bodies to convey the progression of sex scenes. There are about 30 sex scenes in total, though CGs tend to repeat. From skirt flips to removing panties, some CGs repeat back to back, making things very obvious and less enjoyable.
Cecilia's sexual exploits are the focus of the game. While at first she wears the robes of a nun, she later wears bikinis and other outfits that make her look like a super sexy slut! Her tits are huge and her hips are damn sexy! She's got fantastic curves, and she gets cock!
Her inexperience is shown outside of dialogue, by the way she handles dicks. While at first she can barely fit the head in her mouth, she soon learns to give a proper blowjob, and starts swallowing cum like a total whore! I love how her sexual experience is shown in the visuals, and more games should do this!
Most of the assets in this game are very basic. From mercenary party members to enemy sprites, stock RPG Maker assets are frequently used. Thankfully, the textures and backgrounds are often unique and gorgeous! For example, the royal purple velvet curtains fit the design of the church perfectly.
VOICE ACTING AND SOUND EFFECTS (SFX)
Promised Rosary has no voice acting.
The sound assets are all from the stock RPG Maker library. While most games use a handful of unique tracks for sex scenes, this game does not. The ejaculation sound is like a cup of water spilling on the floor. This is bad to the point of being embarrassing. All other sound effects were standard and good, it was only during the sexual content where things go downhill.
MUSIC
There are 15 musical tracks in total. The main menu has choir music which matches the religious symbolism in game. It sets a good tone to start the game, which the experience sadly doesn't live up to.
A single track plays through the majority of the game. It's a gentle song featuring a flute alongside violin. It fits dialogue sequences, exploring town, and other basic moments. But sadly, the music does not change for sex scenes. Meaning, you'll hear this same relaxing melody while Cecilia is crying from being deflowered. It's absurdly bad design.
The game redeems itself at the ending with a beautiful guitar lullaby that matches the twist ending. It genuinely made my eyes water. Like the writing, the developer seems to love contrasting the tedium of despair with the fleeting, fanciful moments of hope. It's nice, but a single track cannot save the game.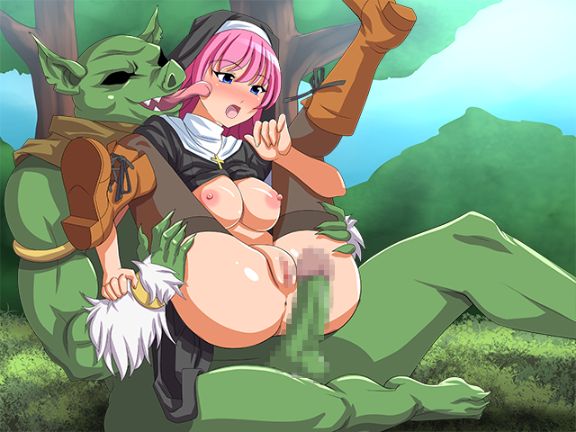 HENTAI
There are about 30 scenes in total. Many scenes involving monster sex can be easily missed, but thankfully the recollection room is unlocked upon completing the game. From there you can view all scenes, regardless of whether you found them or not. There is only one missing scene, a bonus scene, that can only be accessed via the true ending.
The primary featured fetishes is prostitution and cuckolding. At the start of the game you can choose which character you control. If you choose Marco, the game has a netorare focus; you will regularly peep on Cecilia having sex. If you choose Cecilia, the game has a humiliation focus as she whores herself out for money.
The pacing of this game is weird. First Cecilia has sex with strangers, then later she gives blowjobs. It should be the reverse. This game doesn't do a proper job at escalating the scenario, instead it randomly places sexual content in any order.
Sex positions range from doggystyle to cowgirl, and erotic dialogue is always the same. Cecilia claims she doesn't like it and wants the man to pull out, but he disagrees on both points. The only thing that made these scenes unique was Marco peeping on the girl.
CONCLUDING WORDS
Promised Rosary is an underappreciated hentai game with a great story. The graphics are nice and the ending made me cry, but the lack of engaging gameplay dims its halo. If you love netorare porn with a happy ending, this is the perfect game for you.
Download Promised Rosary. If you love NTR and cuckolding titles, check out our review for You'd Fight for Me.
Graphics

Gameplay

Story

Music

SFX

Hentai