My Hero Academia Hentai Game: Hero Cummy
Hentai Reviews

>

Featured

>

My Hero Academia Hentai Game: Hero Cummy
Written by Rastafoo69, edited by Otaku Apologist
Hero Cummy, a My Hero Academia porn parody game developed by Cummy Studio. Released October 12, 2019. For PC Windows. No voice acting. Uncensored genitals. Available for PC Windows, Mac OS, and Android.
You're a new student at UA High! Your quirk helps you persuade people. Soon every girl at the school will be sucking your dick!
STORY
You're a guy with a badass quirk that controls people's actions. You need to find out why your dad hates and UA High. For the sake of your father, you must find allies and explore the school!
Before your journey even begins, you learn that your mind control powers have been greatly weakened! The only way to fix that is to befriend Mei Hatsume so she'll give you a quirk amplifier!
The plot line about your father gets completely forgotten ten minutes into the game. Instead of a plot-driven narrative, you get a slice of life story. Ochako needs money and will do anything if you pay her. First she shows off her panties, but don't you want a handjob? And when she needs a steady job, you can help her run a gloryhole business!
The game is currently at version 0.6, so the story is still developing. So far I've really loved the slice of life moments with the cast of Hero Academia. If the developer keeps things sexy and fun, the game is sure to become a classic.
GAMEPLAY
Hero Cummy was created with the Unity game engine. While the gameplay is nearly identical to any Renpy visual novel, the unity engine allowed the developer to create a variety of minigames.
While the core gameplay consists of clicking the screen, there are a variety of minigames and other cool features. From customizing your hero name to making choices in dialogue, this free title has all the features you'd expect from a top quality visual novel.
Right now your choices only determine the order in which you view sex scenes. None can be skipped or missed. Luckily, players can hold the CTRL key to skip dialogue and speed past unwanted scenes.
The main minigame is a slider puzzle similar to Candy Crush and other phone games. The only unique mechanic are the energy bolts you find on the grid. Line up three energy bolts to restore your energy, so the game will last longer and you'll earn more points.
The best minigame is Ochako's gloryhole simulator. She starts out as a totally inexperienced dork, but as she sucks dicks, you'll earn money to upgrade her skills. At first she can barely take in the tip, but very soon she learns to deepthroat! This sexy minigame reminded me of the Mass Effect Gloryhole game we reviewed.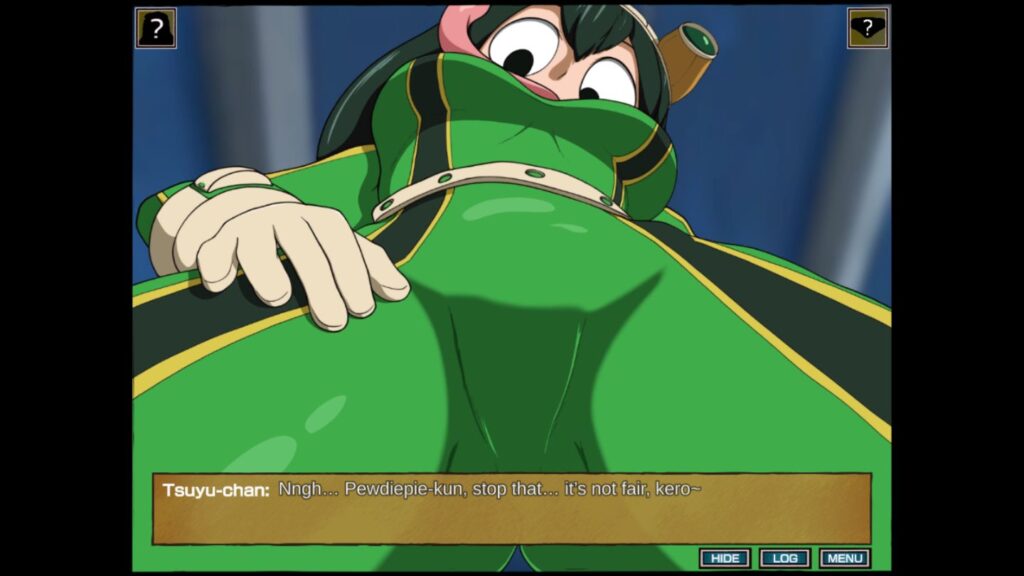 GRAPHICS
The game's art style mimics the source material well, but not always. Some scenes capture the style, while other scenes look far too cartoonish. The scene with Midoriya for example, makes him look like a scrawny light-weight, when he's much more muscular in the show.
While other games might flash the screen white for a creampie, this game does nothing at all. One moment you're getting a handjob, concluding in an abrupt cumshot with no visual clue that the character ejaculated. This was lazy, and I hope it will be patched later.
Multiple scenes in-game are fully animated with smooth and realistic movements. From spanking Mitsuki Bakugo to shoving your cock in Uraraka's mouth, this game animates some of the best fantasies the Hero-Aca fanbase has conceived. Strangely though, some scenes have no animation at all.
The background art is fantastic to look at. The world of Hero Academia is beautifully realized to resembled locations from the series. From the h-shaped dormitories of UA High, to the messy support class laboratory, this game has it all! Just some backgrounds made no sense. One moment you're on a hardwood floor, and the next moment you're on stainless steel metal! It seems like the sex scenes were made before the dialogue, because their backgrounds often do not match.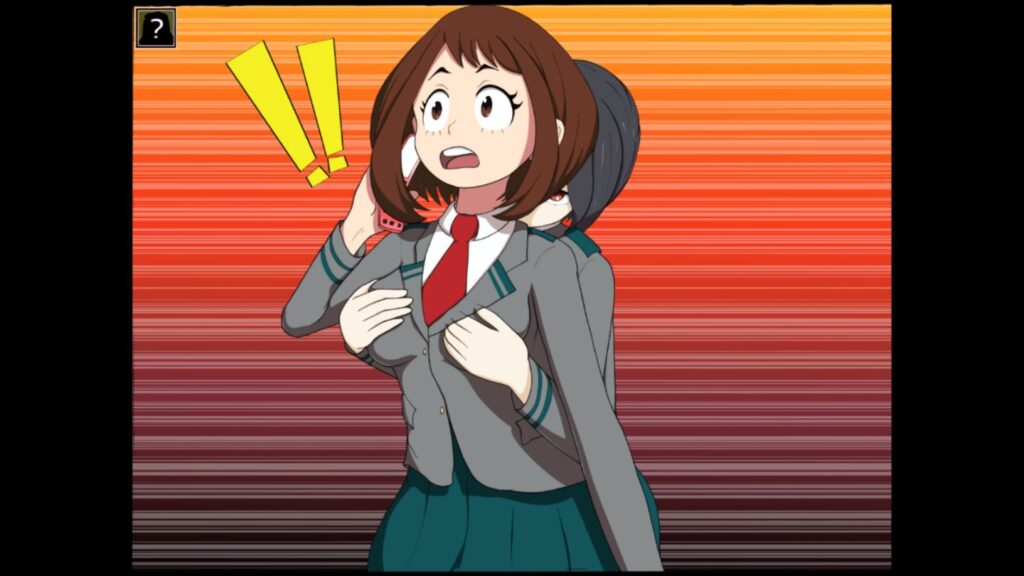 VOICE ACTING AND SOUND EFFECTS (SFX)
Hero Cummy has no voice acting.
The sound design in this game is terribly incomplete. While some scenes have the necessary sound effects like punching and smacking, other scenes are completely silent like when you have sex. Whether it's the thrusting or the cumshot, a still image without sound isn't enough! These scenes need added sound to make them more dynamic and believable to the reader.
MUSIC
All of the music in this game is sourced from the My Hero Academia original soundtrack. None of the tracks are unique, so if you've seen the anime, you will recognize them.
Music is not always on. You need to finish one track to move on to the next one, which can lead to strange situations. For example, the dramatic All-Might theme played during a quiet sexy moment. Speaking of music changes, it rarely ever changes to begin with! Only two or three tracks play throughout the entire experience! This developer clearly needs to put more effort into his sound design.
HENTAI
Hero Cummy has at least ten erotic scenes. If you count handjobs and other sex acts, the number is small. If you count scenes with random nudity, like when you walk in on someone changing, the scene count rises significantly.
Currently, there's only one or two vaginal sex scenes to be found. The main plot is about collecting panties and helping Ochako make money at the gloryhole. While random nudity is nice, the blowjobs are far better. The problem is, there's a severe lack of erotic dialogue. Sex scenes often last under a minute before they're over and it's very disappointing.
As an anime parody game, you can expect some weird scenes. One moment Hatsume has a strap-on, the next moment Tsuyu is using her ten-foot long tongue to stroke your cock. It's all very random, and you're guaranteed to find at least one scene that bothers you.
As the game is still in development, it is possible that things will change for the better. But with so many girls to cover, the developer has spread himself thin. It is likely that every girl will only get one sex position.
CONCLUDING WORDS
Hero Cummy is an exciting new My Hero Academia hentai game for weeaboos everywhere. The story is basic, but the animations and character moments are absolutely gorgeous. To see Ochako stoke your cock while talking about heroism is sure to make you rock hard! And with lots of slider puzzles to enjoy, this game is a relaxing play for even the most stressed out gamers.
Download Hero Cummy on Windows PC, Mac OS, and Android. You can support the developer on patreon here.
Graphics

Gameplay

Story

Music

SFX

Hentai