Kuroinu Chapter 2 – Sleeping Hentai Beauty Gangbanged
Hentai Reviews

>

Rants

>

Kuroinu Chapter 2 – Sleeping Hentai Beauty Gangbanged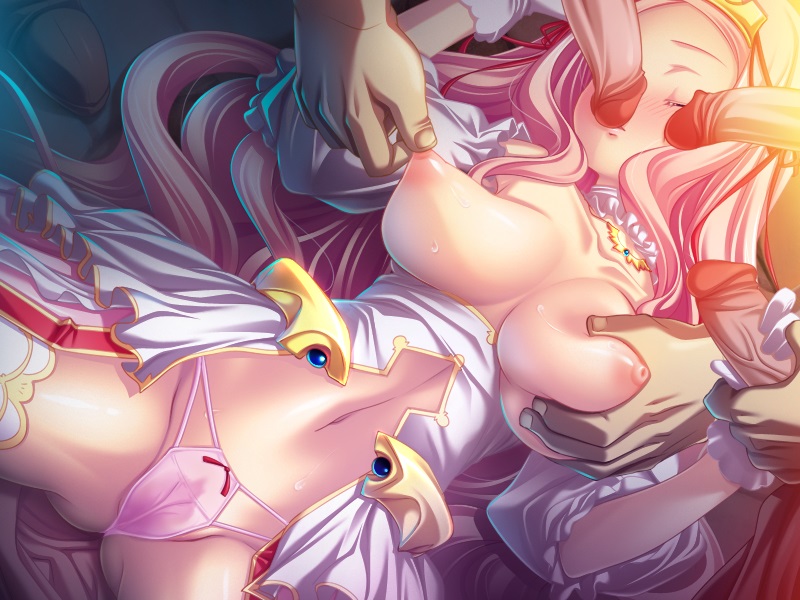 Written by Otaku Apologist
The first chapter of Kuroinu was a rapey experience. I forced the proud dark elf queen into prostitution. With a little drugging, extortion, and public humiliation, she learned to accept her role as the Cuntry's cum dumpster. People learn to love their chains, and Queen Olga grew to enjoy sexual servitude. That makes it a victimless crime, right?
This hentai visual novel features 9 beauties to fuck and destroy. Each chapter has three women. For this writeup about my ongoing playthrough of the Kuroinu series, I kidnapped the barely legal virgin princess, Prim. Her sex scene was pure molestation. She slept with several dicks in her ripe holes.
Prim is a human princess with a timid ladylike personality and massive tits despite her age. Her parents were complete perverts that made her wear a gown that exposed her tiny pink panties. Not only is her bottom half completely exposed to the maids of the castle, her saggy fully developed breasts are barely covered by the silky fabric. Either this is a rebellious phase for her, or she's been wearing the attire of her father's concubine so long she's desensitized to walking in her underwear in public.
Prim's kidnapping was enabled by two pig men who sided with Vult in the war. These pigs are shady businessmen who manipulated their way to earn the trust of the royal family. The characters are designed around the hateful stereotype of white greedy capitalists. This game is more racist than I expected, bursting with anti-white propaganda that skips mentioning that the most evil people in the world are the Chinese communists.
Let's oogle at this babe's panties.
The pig brothers drugged the girl in her bedroom and snuck her into a horse cart. During the chaos of Vult's siege on the castle, they transferred the girl to the Black Citadel. The sleeping agent, the pig men described, was so powerful that the girl wouldn't wake up no matter what. Eventually she did wake up, but not before the men had unloaded their balls into her.
The mercenaries groped Prim's breasts and pulled her nipples. When she didn't wake up, they felt secure about plugging her mouth with their dicks, while one lucky guy popped her hymen. They took rounds raping her like a sexdoll. After cumming twice inside and soiling her soft body with their leftover jizz, Prim woke up. The female voice actress screamed very realistically, which makes me wonder how much Liquid ltd was paying that bitch. Who the fuck gives her voice to a rape victim?
Free market capitalism is victorious once more.
Prim's body was a reward given by Vult to his mercenaries. Gold is not the only currency that mercenaries accept for their services. For carrying out his war campaign, Vult gave these toxic men the most exquisite non-monetary prize a man could wish for. Meanwhile, the pig men wanted an exclusive deal with Vult to supply goods to Cuntry, so they helped him conquer the castle. The pig men wanted the princess for their sex slave collection, but the mercenaries were first in line. I'm certain that Prim will have many sex scenes with the pigs.
The princess is now all alone. She's a prisoner prostitute of Cuntry, and there is no hero to rescue her pussy from the clutches of these men. All she can do is pray in between gangbangs.
There's only so many dicks a woman can take before she's knocked up. This young girl is maximally fertile, she can easily birth a horde of babies for the random men and monsters that take her ass for a spin.
Kuroinu Chapter 2 is available for download at Mangagamer.com.