Corruption Hentai RPG Review: The Almeria 5th Knights
Hentai Reviews

>

Featured

>

Corruption Hentai RPG Review: The Almeria 5th Knights
Written by Rastafoo69, edited by Otaku Apologist
The Almeria 5th Knights, a hentai RPG developed by M.Games. Released January 9, 2017. Download on DLSite.com for $10.00. For PC Windows. No voice acting. Censored genitals. Download the English language patch. Translated by Elfloren, support his Patreon.
The knight captain has died. It is the duty of vice captain Rose to carry out their mission! Will she focus on her goal? Or get herself a big-dick boyfriend? She has her options open, and can choose to spread her pussy for all her male soldiers whom she commandeers in this politically incorrect Japanese porn game that makes a strong statement against gender equality in the armed forces.
Read our guide how to download DLSite games. Also consult our article how to apply translation patches.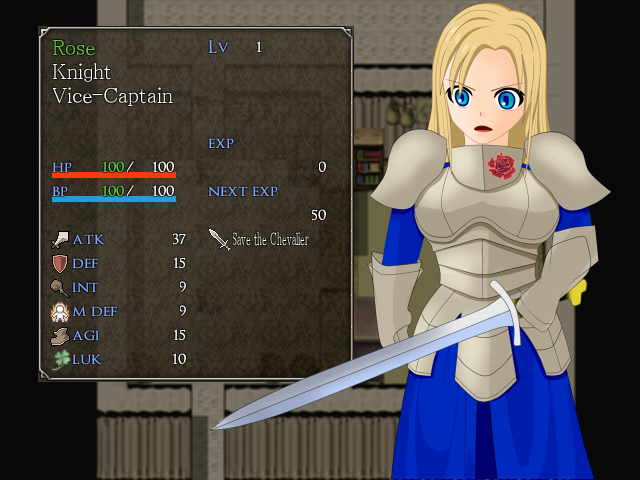 STORY
"Captain. You were like a father to me. May you rest in peace". With that, Rose fully devotes herself to running the 5th company of the Almeria Knights. Hunting down a mysterious shadow creature, she'll have to put her all into the coming battle!
There are three basic routes. The virgin route is the longest and most difficult. The slave route is the easiest and focuses on Rose becoming a cumslut for her soldiers. The NTR route involves getting a boyfriend and cheating on him, resulting in pregnancy.
Each route has a unique ending, but there are bonus endings with unique requirements. For example, if you fail to feed your troops you'll earn the rebellion ending, where they imprison Rose for her incompetence.
The NTR content needs improvement. Rose dates her boyfriend for a short time with little development, before cheating on him with another man. A stronger romance with Kyle would make cheating on him far more dramatic.
After the prologue that establishes you must hunt the shadow creature, there is little story to follow. Instead, slice of life dialogue takes the stage. When you go out exploring, you can take two companions with you. Depending on who they are, you'll get new and unique interactions between the characters. Being alone with Kyle means he'll confess his feelings. Being alone with Dan means he'll peep on Rose in the bath. This dynamic event system ensures every player will have a unique experience.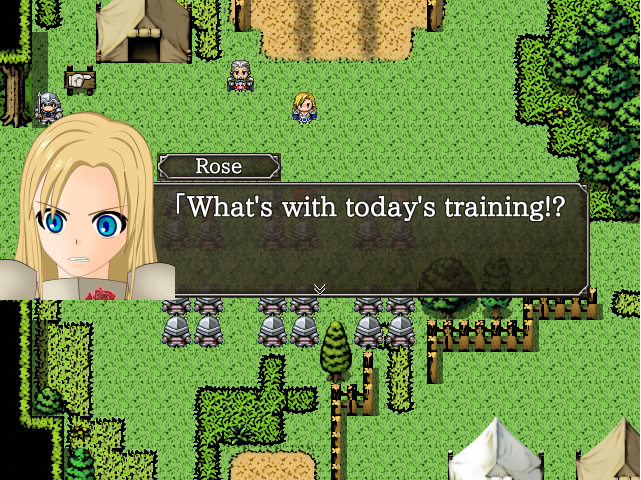 GAMEPLAY
The Almeria 5th Knights was created with RPG Maker VX Ace. Move with the arrow keys and press shift to dash. Inside of dungeons, press shift to explore the area. There is no option for skipping dialogue.
The game begins with a fantastic tutorial level that lets players get accustomed to the gameplay. If the tutorial doesn't help, the pause menu features a game manual that explains how to play.
The game cycle is pretty basic. Go out and kill monsters to raise your level and earn new abilities. While you're out there, pick up herbs and other crafting materials to take home. Once you're home, build new items and weapons to make your party stronger.
Rose has her own sex stats that track her experience and corruption level. To increase her corruption, you need to lower Rose's dignity. The recollection room offers hints on how to unlock more scenes.
The crafting system is incredible. Shields, runes, scrolls, and more! Start crafting books to unlock special abilities for your party. These include higher drop rates for items, and a resistance to abnormal status conditions.
The gameplay is varied and super fun, but there are some issues. Characters level up very slowly, finding materials is grindy, and there are only three explorable locations. While the early-game is fantastic, late-game is horrible.
GRAPHICS
There are 24 base CGs, most of which are fully animated. Battles and explorations are shown with a side-view position. Rather than a common dungeon design, this game randomizes encounters within. Sometimes you'll find a merchant, other times an exploding treasure chest. In other words, the side-view allows for smooth randomization.
With only three areas to explore, the game gets repetitive fast. You constantly have to explore for food and crafting materials, which means you'll always return to the same three zones. Worse, the items you forage are the same in every area!
Most scenes being animated, there are no gallery image files. Instead, eyes and mouths are added to template images. This means the animations and artworks cannot be exported. And without a way to hide text boxes, your view of the action is always obstructed.
The sprites and textures used in-game are fantastic! Runes and roses are completely unique to this title, along with many other visual assets. Sprite animations during dialogue convey emotion beautifully, like when characters shake their head in disagreement. Stock assets are used, but these unique animations help shake things up.
And of course, the user interface is gorgeous. From the pause menu to the rations tracker, most menus are custom made for this game. It's the small touches that really give this game a ton of personality.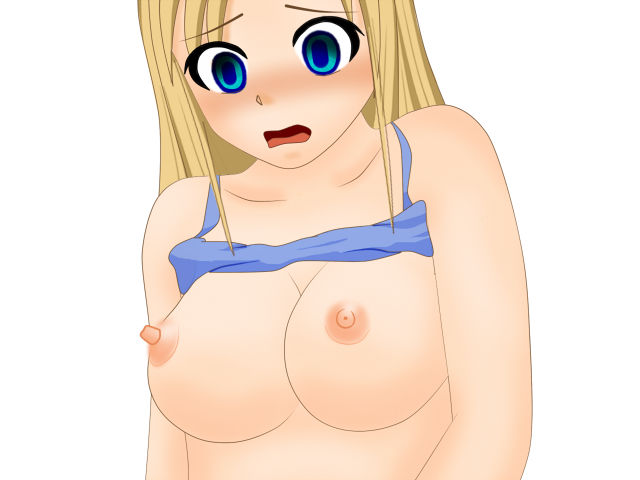 VOICE ACTING AND SOUND EFFECTS (SFX)
The Almeria 5th Knights has no voice acting.
Sound effects are commonly used throughout the battle portions of the game to emphasize the impact of your attacks. From a magic blast to a sword's slash, each action has an audio cue that lets players really feel the impact. During sex scenes, sound effects are never overused. They're often used for blowjobs or vaginal sex. Stock sounds are plenty, so after a few hours, the audio gets tiresome.
MUSIC
There are 26 unique songs on the soundtrack, and they're all fantastic. They're also lengthy, some extending past 4 minutes, ensuring they never loop. The forest exploration music with tambourines, piano, and guitar was fantastic. I could listen to it for hours and never get tired. Many of these tracks are super creative, combining digitized echo effects with drums and cymbals and make your ears orgasm. I've downloaded many of these tracks for my personal relaxation time. The soundtrack as a whole is downright flawless. My only complaint is that few if any sex scenes have background music.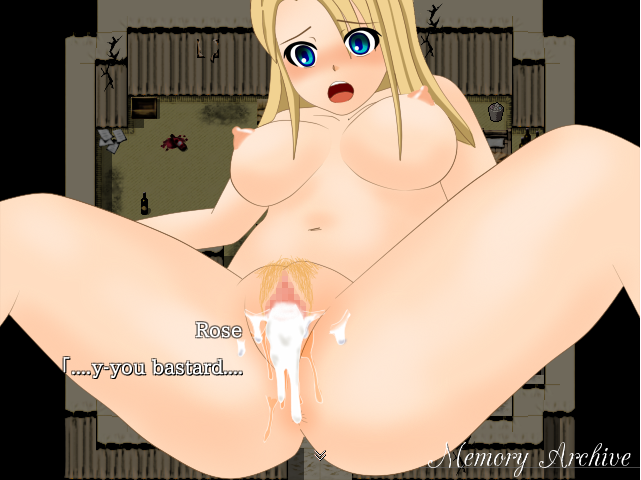 HENTAI
There are 20 scenes in total, 10 of which feature sex, the rest are ecchi.
The two erotic routes have distinct fetishes. You can be a free-use cumslut, or a cheating slut. All scenes are animated and recorded in the archive room. The room gives clues on where to find the scenes, as well as a guide. This lists the point of view, the romantic partner, and the fetishes involved.
All sex scenes are animated. From handjobs to blowjobs, the animations are limited and simplistic. Still, their use alongside variation images really brings these scenes to life. There's also an occasional close up image for kissing, which creates a good flow of action in each scene.
The slave route is incredibly hot. All of Rose's soldiers run a train on her! A crowd of men yell "fill her up!" and her eyes widen. She just got creampied by a complete stranger in front of her troops! Even her best friends saw! This is truly premium fap fuel!
The netorare route has its own appeal, and deserves a mention. While she resists at first, eventually Rose leaves her boyfriend for another man! She becomes a total meat toilet and even gets impregnated! The other guy is so much bigger, so of course he gets to finish inside! The boyfriend only gets to watch!
CONCLUDING WORDS
The Almeria 5th Knights is a fantastic hentai RPG with three unique routes to explore. The original soundtrack is perfect, the characters have great dialogue, and the gameplay is super engaging. If you love cheating girlfriends and gangbang sex, this game will make you cum buckets!
I highly recommend this title to one-handed players everywhere. Download The Almeria Knights 5th Knights. If you love animated hentai games, check out our review for Niplheim's Hunter.
Graphics

Gameplay

Story

Music

SFX

Hentai