Hentai RPG Review: Risa and the Succubus Grimoire
Hentai Reviews

>

Reviews

>

Hentai RPG Review: Risa and the Succubus Grimoire
Written by Rastafoo69, edited by Otaku Apologist
Risa and the Succubus Grimoire, a hentai RPG developed by Yumenamakonn. Released June 27, 2019. Download on DLSite.com for $16.00. For PC Windows. No voice acting. Censored genitals.
Risa is a treasure hunter who has recently learned about the treasure of the great demon Floreti. But since the demon made all the men horny, Risa must engage in lots of battles and sex before she can find her treasure!
Read our guide how to download DLSite games.
STORY
Risa has traveled to the Malheim district of the kingdom in search of treasure! But with so many horny men under the demon's influence, she'll have a lot of sexy encounters before she ever finds the mysterious and unknown treasure.
The game wants to be an epic quest, but never builds up the suspense. We learn that demons are a long extinct race, but we're never shown a cutscene or flashback. We learn that the friendly nun has fallen to their influence, but she barely had any dialogue to begin with. Without buildup, the writer is expecting us to care without emotional investment.
Some aspects of the game were well written! The first boss of the game returns later on for a rematch, and you're able to easily take him down! This was a great way to show your progress and growth, and made the story feel more meaningful.
The key point of the game is that the nearby town has been left in ruins due to demon influences. This means that there are few if any NPCs to interact with. This makes the world feel abysmally incomplete.
A lot of events just happen because the developer needed to make the game longer. For example, when you take a break from searching for the grimoire, you search for a barrier crystal in a distant town. It was an unnecessary plot line, and completely broke the flow.
GAMEPLAY
Risa and the Succubus Grimoire was created with RPG Maker VX Ace. Press Shift to hide the text box. Press Alt for automatic text. Press CTRL to skip text. Hold enter to speed up battles.
It's your classic RPG adventure. The game cycle involves you defeating enemies to level up, and finding money to buy items. Leveling up will raise your damage output, so you can clear dungeons more quickly.
This game can be incredibly grindy. There are three difficulty modes, none of which affect the story. The only change between difficulty levels is that the amount of level grinding goes up. I highly recommend easy mode.
Sexual harassment in battle happens way too often. Each time it does, your magic is drained away. And when it happens enough, you develop weakness to harassment, making you lose even more magic. All this is completely unavoidable, making the harassment seem less natural and more repetitive.
The game has a ton of great ideas that are not fully developed. Teleportation crystals can return you to different parts of a dungeon, but they're rarely used. Finding ingredients and crafting items is nice, except that it's impossible to find crucial ingredients. The farming system is too bare-bones, and you never have a reason to use it because healing potions are dropped like crazy. Altogether, this game needs some serious rebalancing to make the most of these features.
My favorite features were the two unique character stats in this game. The technology stat affects the power of your attack items like kunai knives and molotovs. Meanwhile the resistance stat lowers your likelihood of getting poisoned or falling to various status conditions. These stats rise with each level up, which was a totally missed opportunity! It would have been better if these stats leveled up as you use molotovs and endure poison. That way, player actions would have more impact.
GRAPHICS
The art is traditional Japanese anime style. Risa is featured in most of the game's artworks. The busty nun named Miane also appears in a handful of scenes.
There are 16 CGs spread throughout the game. From a beach bikini to a hardcore creampie, the content of the visuals ranges from tame to wild. The images themselves are drawn at a low resolution, making some of them pixelated. Even stranger is how some scenes only take up a portion of the screen. The minority of scenes being fullscreen makes this game a strange oddity, as it often shows missing upper bodies.
Character sprites and textures are taken from the RPG Maker library. Even the white-haired nun uses the default sprite. While the hem of her robes is golden in the artworks, the sprite shows white. This was a lazy mistake that could easily be remedied if the developer paid attention to details.
The world map is drawn as a realistic map with a compass and geographical indicators. While visually this is gorgeous, the downside is that it cannot be scrolled through. What you see is what you get, and players can only walk around in named regions like "stream cave" and "Mount Fleurtey". I would have preferred some open world space to make the world feel bigger than a handful of isolated zones.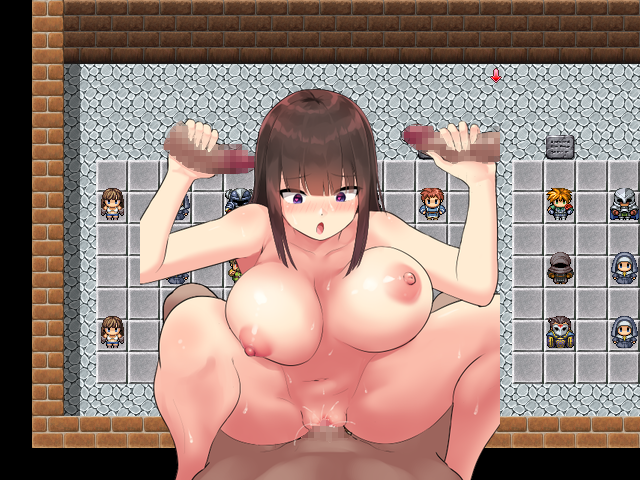 VOICE ACTING AND SOUND EFFECTS (SFX)
Risa and the Succubus Grimoire features no voice acting.
The sound effects in this game are very hit or miss. The vaginal sex sounds especially vary from scene to scene, sometimes sounding moist and lovely, other times sounding like wood being pounded by a mallet. Ejaculation sounds more like a stomach ache. Meanwhile tongue kissing sounds like someone drinking cake frosting from the tube. I genuinely wanted to mute the game many times throughout this ordeal.
MUSIC
There are 75 music tracks in total, varying in quality dramatically. In one scene, the sound is generic digitized drones. Rather than music, it sounds like a weird mechanical buzzing that almost gave me a headache. Avoid the music during the prison sex scene! In another scene, the music is downright great! Harps and xylophone and piano create a relaxed forest medley. This inconsistency between good and bad music makes this game a very mixed experience.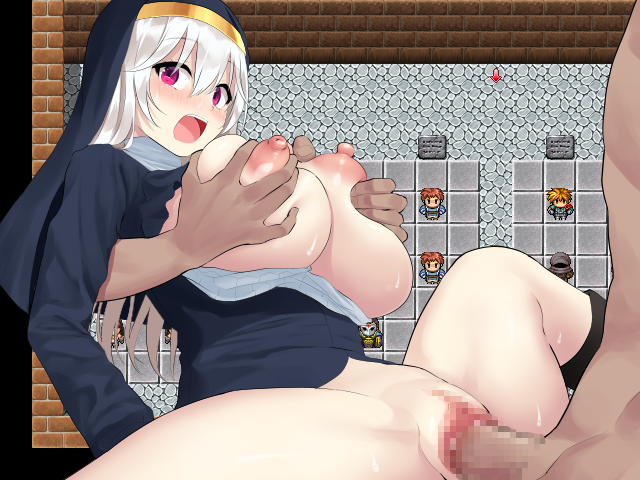 HENTAI
Risa and the Succubus Grimoire features 16 CGs spread out across a number of scenes. There are less than 16 unique scenes, because a good amount of the CGs are cut-in images that appear and reappear regularly.
The sex stats in this game are just plain embarrassing. When your character is fingered, her experience in vaginal sex increases. The stats do not give an accurate idea of sexual experience, because it groups in sexual harassment as well.
The recollection room is available in a mirror in the player home. This is never made clear to the player, so many hentai gamers have reported going through the game completely oblivious of the scene room.
Fetishes range from aphrodisiac sex to hypnosis sex. In every sex act, the protagonist gets surprised and turned into a bitch in heat. While the artworks and scenarios are fantastic, the placement of these scenes is somewhat random, like when you get hypnotized looking at a painting on a wall in a random dungeon. This was totally strange, and I wish the game had a fully fleshed out town to find sex scenes, instead of randomness like this.
CONCLUDING WORDS
Risa and the Succubus Grimoire is a sex game that gets so close to being perfect but never hits the mark. The sex scenes are pretty random, the gameplay is really grindy, the story has no focus, and the music is always hit or miss. Sometimes you can judge a game by its title and in this case, a forgettable title matched a forgettable adult game.
Download Risa and the Succubus Grimoire. If you liked the idea of this game, then check out our review of Dungeon Repeater.
Graphics

Gameplay

Story

Music

SFX

Hentai