Hentai Game Review: My Girlfriend is a Naughty Teacher
Hentai Reviews

>

Reviews

>

Hentai Game Review: My Girlfriend is a Naughty Teacher
Written by Mistress Valentine, edited by Otaku Apologist
My Girlfriend is a Naughty Teacher (aka. Boku no Kanojo wa Ecchi na Sensei), a visual novel developed by Monoceros+ and published by JAST USA. Released September 25, 2020. Download on JList for $19.99. For PC Windows. Full Japanese voice acting. Uncensored genitals.
Also visit our comic site for free original hentai comics!
STORY
You take on the role of Hatori Yuu, a guy with a serious problem. The dude just can't stop fapping! The situation is made worse by his teacher, Kaori, who is drop-dead gorgeous with rocking hard tits. Yuu can't stop daydreaming about fucking her brains out. It gets so bad that Kaori comes up to him one day, concerned for his slipping grades, and tells him she'll do anything to help him control his libido.
Hatori takes initiative like a fucking champ and starts pounding Kaori-sensei's pussy. It doesn't help! He pounds her again and again until she can't help but use her sweet lips and sizable bust to make all his perverted adolescent dreams come true.
The writing is okay with enough sex scenes to tide you over. As soon as Kaori and Hatori start their affair the plot becomes a thing of the past. With up to ten hours of content, My Girlfriend is a Naughty Teacher promises lots of nut busting action.
SOUND EFFECTS AND VOICE ACTING (SFX)
Kaori is fully voiced. The actress playing her has a sweet voice that makes you fall in love with the character.
The sound effects are limited. Some of the most frequently heard noises include stock cicadas in summer time, showers and casual traffic in public places. The game uses a library of stock sex sounds like penis stroking and sucking, as well as squelching and cumming. The game includes limited sound effects for school bells and footsteps. Several sex sounds you hear throughout the game include slimy squirting, gooey cock jerking, balls slapping against pussies and a few generic pussy squelching noises.
MUSIC
The soundtrack contains five songs that use a combination of original and synthetic instruments. Instruments include keyboard, guitar, drums, trumpet and wind instruments. It's much better shit than generic digital trash.
A Pledge of Love is a soft and romantic melody that makes you feel fuzzy inside. Libido Funk is similarly upbeat with a nice fast beat that makes you feel relaxed. Kaori's Theme is upbeat and lively and reminds me of music you find in the Persona games. The Smell of Corruption has a cool jazzy vibe, perfect for sex music while Tension and Trouble feels like a generic song from a slice of life anime.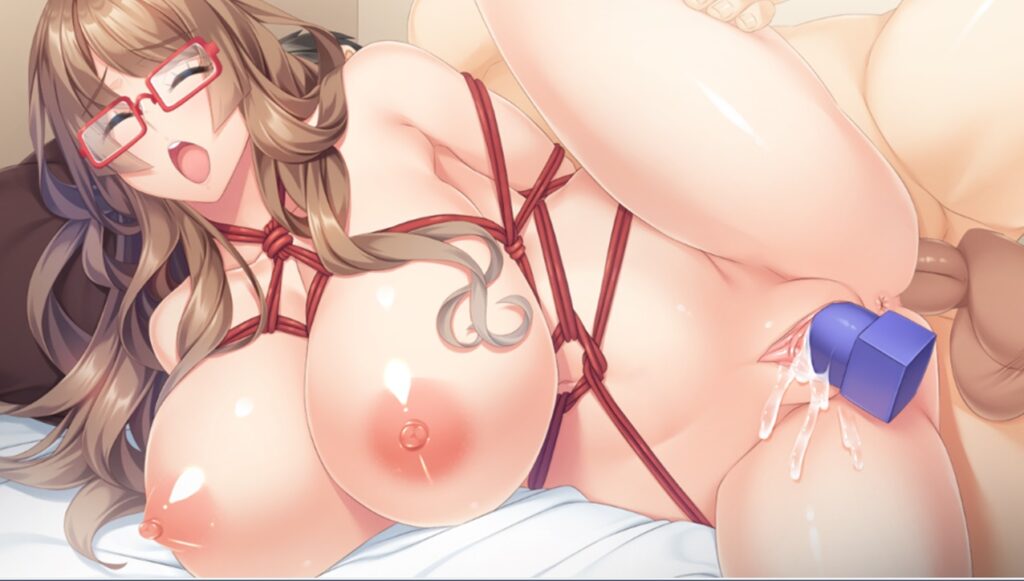 GAMEPLAY
My Girlfriend is a Naughty Teacher is a visual novel game where you click the screen to "turn the page".  The menu screen is translated into English. You can replay your favourite scenes. You can use the BGM Mode to listen to the game's music in your own time.
The game has two endings. There is also two bonus scenes to unlock after reaching 100% completion. The game sometimes asks you to make choices but these decisions rarely have any real impact on the rest of the game. One or two of these choices however will immediately lead to an ending, so watch out!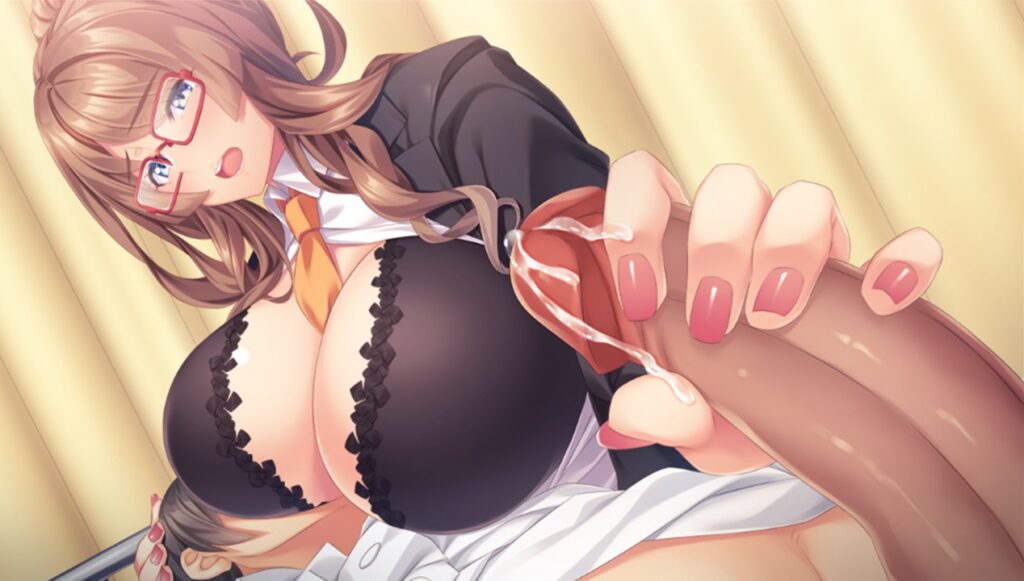 GRAPHICS
Kaori is the only character with a sprite and her poses are very limited. She only has a handful of facial expressions. Kaori's character design is sexy as fuck with huge fucking breasts that the camera likes to zoom in on. Her bust looks even more sizzling hot when she's naked.
Background artwork is also limited. There is artwork for the Front Gate, Classroom, Hallway, Rooftops and the School Club Room. These locations are rich in detail with good lighting and excellent pixel quality. 
The camera likes to use the zoom-in technique during sex to make you think there are more CGs than there actually are. The camera angles are selected based on how slutty Kaori will look. Artwork in the game evolves during a scene to show different facial expressions, cock and cum placement.
HENTAI
This game is full of spectacularly sexy scenes. The sprites have slight movements during sex like breasts, eyes, body and head that make the intimacy feel more believable. Kaori's proportions stay consistent in-between scenes while her brain becomes more and more focused on fulfilling your next sexual desire.
After confessing his horny sins to Kaori, she rewards him with a succulent blowjob. You get to put Kaori in bondage and sexy cosplay. In exchange for paying more attention in class, Kaori allows you to pound her pussy on the rooftop while her naked breasts squish against the fence. One noteworthy sex scene involves you receiving a blowjob while in the infirmary, followed up with Kaori taking the lead during sex as you fuck on the infirmary bed. 
CONCLUDING WORDS
My Girlfriend is a Naughty Teacher is a great game to pick up if you like your anime teachers with a giant rack and an insatiable appetite for sex. The plentiful scenes mix well with the down and dirty excuse for a plot, guaranteeing you several sloppy masturbation sessions.
Graphics

Gameplay

Story

Music

SFX

Hentai