Written by Mistress Valentine, edited by Otaku Apologist
I'm Done with Men, a 3D porn video based on Left 4 Dead, made by SirDougRattman. Released on December 23, 2018. Runtime 4-5 minutes. Full English voice acting. Uncensored genitals.
STORY
Zoey recounts to her friend her recent failed relationships. She's done with men. She met one at the restaurant and fucked him there. She met another in a club and sucked his cock there. She even had wild sex with another man in his apartment until his boyfriend showed up… She fucked them both.
She laments that all these men never call her back after having their way with her. Zoey comes to the conclusion that men suck, which is when Ellis unzips his pants and takes out his cock. Zoey quickly sees the light of reason, persuaded by the power of her friend's argument. She shoves Ellis' giant pecker in her mouth. It's a very happy ending.
The writing is hilarious, full of clever dialogue and jokes that are verbally and visually funny. The comedy aspects makes the episode feel more than just a piece of porn designed to help you bust your nut.
ANIMATION
The characters are well rendered with fluid motions that don't feel jagged or choppy. Most characters have a good variety of facial expressions. Some scenes feel rushed and unfocused. The two men that Zoey fucks only have a default expression that never changes. It's like the animator didn't care whether the faces looked realistic or not.
The episode features a lot of locations with different lighting. There is a good control over the amount of light the scenes let in while the shadows look realistic. Character body proportions do not change in-between scenes.
VOICE ACTING AND SOUND EFFECTS (SFX)
Both of the voice actors give solid performances as their respective characters. The actor behind Ellis' redneck impersonation is believable. His laid back portrayal is entertaining to hear.
Milly Stern carries the episode with a fantastic rendition of a woman tired of men ignoring her when she just wants to be treated as a cum-craving whore. Her delivery is on point and her sexual noises stimulating.
The episode incorporates a lot of sound effects to cover as many audible actions as possible. The bulk of the noises come from Zoey who sucks cock like a professional prostitute with decades of experience.
Sounds include things like tables shaking and hands slamming on said tables. There are sounds for subtler actions like putting cups of coffee down as well as sexual sounds which are mostly comprised of bodies slamming into one another.
Unfortunately the episode misses several obvious effects which are extremely noticeable. The table that Zoey is bent over shakes. Meanwhile the cutlery on it make no sound at all.
MUSIC
The episode features a wide variety of different music. Each of Zoey's stories take place in a different location with an appropriate song to go with it. In the restaurant, cabaret music creates a romantic atmosphere. The club sequence has generic rave music playing which makes the scenery feel more lively. The office where Ellis and Zoey discuss her recent rejections has elevator music in the background. All the music is fun to listen to and fits the context.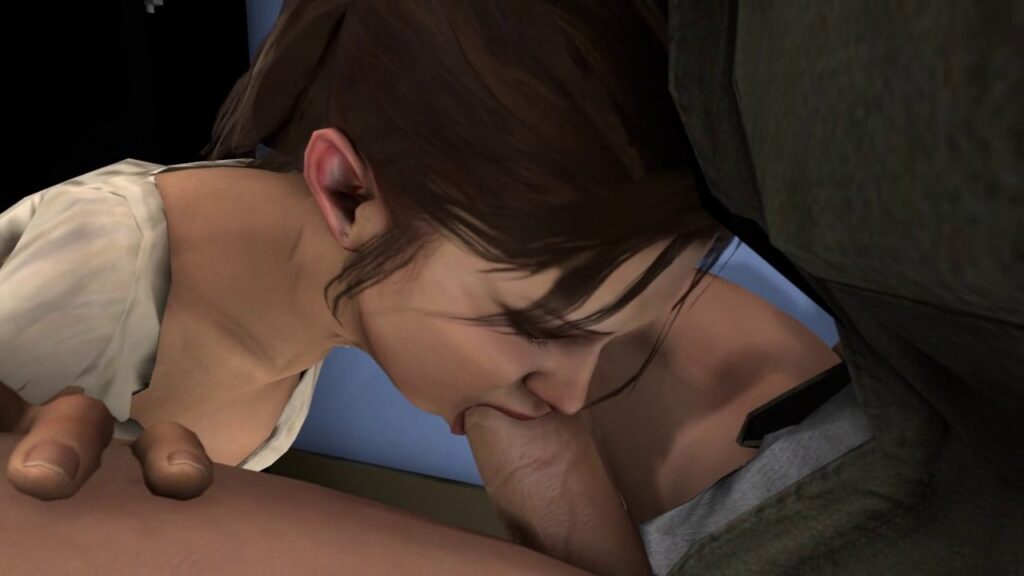 HENTAI
I'm Done with Men has funny sex scenes that will make you laugh and cum. Zoey shows off her sexual prowess by fucking like an animal in the doggystyle position. Later on, she sucks off some guy in a nasty public toilet behind the club. She proves what a whore she truly is by letting two men plug her holes with their meat rods.
Meanwhile the camera highlights Zoey's sexy body in such a way that the viewer wants to get in on the action. Sex scenes feel longer than they are and compliment the animation and voice work brilliantly. While nothing about the content is new or innovative, as there are millions of clips online featuring the same sexual scenarios, the execution of the scenario is exquisite.
CONCLUDING WORDS
I'm Done with Men is another sexy comedy from SirDougRattman that strikes a pristine balance between fun and fucking. You're guaranteed to let out a laugh or a load while watching. The clip may be short, but it's packed full of awesome.
You can watch this sexy 3D animation on Newgrounds.com.
Story

Music

Animation

SFX

Hentai