Battle Harem Hentai Game Review: Otogi Frontier
Hentai Reviews

>

Reviews

>

Battle Harem Hentai Game Review: Otogi Frontier
Written by Otaku Apologist
Otogi Frontier, a free hentai browser game developed DMM Games. Released in English in 2019. Play for free at Nutaku.net. Full Japanese voice acting. Censored genitals.
If you enjoyed Osawari Island, Flower Knight Girl, Oblivious X, and the other carbon copies of the same cookie-cutter battle harem game, you may enjoy this one as well! Who doesn't like playing the same shit over and over again?
STORY
"A completely original story telling the aftermath of the fairy tales we all know!! Inside the world of fairy tale which differs from reality, there is Otogiland. Born and shaped from human imagination, Otogiland residents gain strength and life from human's fairy tales. The protagonist, an ordinary man with tremendous Elmight, gets led astray into Otogiland. Balancing with the Elmight, this world also consists of its counterpart, the Demight. But now, the balance is broken…" – Source.
The story is mostly told by talking portraits having dialog. You never see any actual action take place. You have a squad of girls visiting familiar fairy tale locations where all manner of semi-hilarious shenanigans happens.
GAMEPLAY
Otogi Frontier is a battle harem game where your squad of five maidens fights monsters that come in waves. You can invite a high-level character to help you, which makes battles rather easy-mode. Your actual interaction with the game during levels is limited to clicking the activation buttons for the special abilities of the girls. The battles are automated, turn-based, and basically like watching a movie play out. Very relaxing!
You manage your squad outside of the battles. You can choose your team composition and make your guys stronger with new gear and improved spells. When you fight monsters, your girls also gain level-ups which increase their stats. I was breezing through the game for an hour leveling only two girls before I added more party members. Their power caught up with my first two girls very quickly. Technically, the only interactive gameplay is clicking through a bunch of menus.
You can also create food and forge equipment for your girls. Once you have the materials, you can make the gear and equip it. It's a very simple crafting system.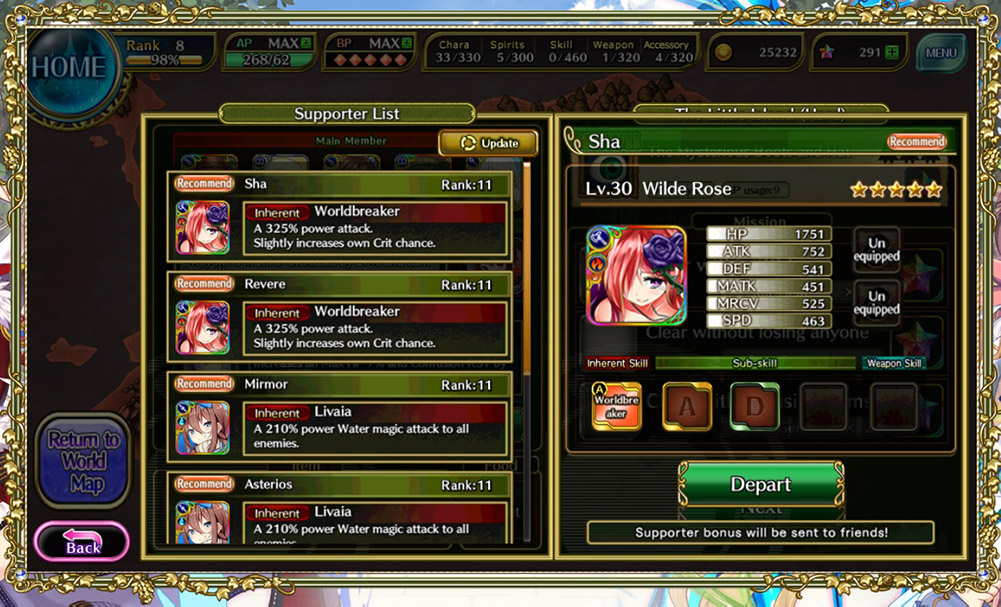 GRAPHICS
Otogi Frontier is a beautiful game. The environments are hand-drawn with plenty of detail in a style familiar to anime fans. The fairy tale locations include the yellow brick road from the Wizard of Oz, but also some very generic caves and forests. The quality of the art is top-notch, and will make your eyes cum.
The in-game character art is chibi-styled, depicting happy-go-lucky anime girls smirking serenely while engaged in good old ultra violence. While same-face syndrome has spread to every single babe like STDs in the ghetto, there's tons of variety in colors and styles of clothing. One of the first girls I added to my party had a hook for a hand. If that isn't progressive, I don't know what is. I had a problem with the fact that the sexy sprite art is barely viewable in any context outside of the gacha. The women's clothes are incredibly sexy on their voluptuous bodies, and the art is great.
The monsters you fight include mushrooms, creepy eyeballs, ghostly mummies, and many other very imaginative, strange creatures. You don't feel pity over massacring them in the hundreds, because what are you even fighting?
MUSIC
The soundtrack is limited, and you're mostly listening to the same song that plays during battles. It's a good, energetic song led by a keyboard, but the novelty wears off. More variety in battle music would be greatly appreciated. Other songs, which play in the various menus, are also pleasing to the ears. There's a high-octane boss battle music that ramps up your blood pressure. The songs are played by a small orchestra. I heard a total of four songs.
VOICE ACTING AND SOUND EFFECTS (SFX)
This game has tons of luscious Japanese female voice acting. Young hot girls spit out lovely lines of dialog, and moan pleasurably during the hentai scenes. This is anime quality content, and will please audiences. Each voice sounds unique and beautiful with lots of girly personality.
The sound effects are plentiful, featuring the full range of sword slashes and magical spell effects typical to fantasy genre games. The recordings are professional quality and play at appropriate times. Clicking buttons in the menus also plays out various cute sounds, so everything is covered.
HENTAI
The hentai content in this game is a little scarce. You have to really level up your characters to unlock their scenes. The scenes themselves are animated and well drawn, with full female voice acting and sound. The dicks and pussies are censored with pixels. The artwork itself is gorgeous and detailed. The females sport perky breasts, shaved pussies, and realistic body proportions. Every flock of their hair is beautifully detailed too. The scenes conclude in climactic creampies, with the girl often closing her eyes as the pleasure flushes over her body.
BUSINESS MODEL
The game is free to play. There's a gacha shop where you can purchase premium summons with Nutaku gold. Premium currency buys the rarest and most powerful girls, but you can also build a decently powerful squad of waifus by spending star gems, which you gain naturally by playing the game. You can get 5-star waifus with star gems.
The premium gacha, which costs Nutaku gold, prices each draw at $2.50 and $5.00. You have a chance at drawing 6-star waifus, which are the ultimate power houses of this game.
CONCLUDING WORDS
Otogi Frontier is a competent casual hentai browser game. It executes a tried-and-true formula, and does it well. The production values are high, and everything to the finest detail is executed in pristine quality. The gameplay doesn't strain your wrists. This title is a perfect hands-off booster of dopamine on the background while you study or work.
Recommended for casual hentai gamers. Play for free at Nutaku.net.
Graphics

Gameplay

Story

Music

SFX

Hentai