Hentai Visual Novel Game Review: Valkyrie Svia
Hentai Reviews

>

Reviews

>

Hentai Visual Novel Game Review: Valkyrie Svia
Written by Mistress Valentine, edited by Otaku Apologist
Valkyrie Svia (Jap. Ikusa Otome Suvia), a visual novel game developed by Lilith. Released Feb 2, 2015. Download on MangaGamer for $24.95. For PC Windows. Full voice acting. Uncensored genitals.
Loki, the god of mischief, has united with creepy monster motherfuckers in order to invade the kingdom of Asgård. He screws the pooch spectacularly. Now, his only chance to achieve victory is to make two virgin battle maidens his slaves!
Visit our comic site for more hardcore hentai content!
STORY
Loki, the God of Mischief, has betrayed Odin when he helped the King of the Underworld capture him. This plot goes to shit when Odin uses his magic to seal up the river that flows into the World Tree Yggdrasil. This will lead to the destruction of the world unless Loki frees him. Alternatively, Loki must locate two keys that will release the river.
Loki learns that the keys are held by two battle maidens, Svia and Sigurd. The keys are hidden in the women's wombs! A magical seal on the keys requires that they consent to giving the keys, which they naturally refuse to. Loki devotes his unrelenting focus on turning the battle maiden duo into mindless cum buckets.
Loki kidnaps Svia and Sigurd and lets his monster minions have sex with them repeatedly. But Svia and Sigurd are devoted virgin warriors with strong minds! Not
The plot is simple but entertaining. Svia and Sigurd are powerlessness as they struggle to defend their chastity from hordes of horny monsters. There is a good balance of plot and porn, but none of the characters are well developed. The main girls have smoking hot bodies but forgettable personalities.
SOUND EFFECTS AND VOICE ACTING (SFX)
Listening to Svia and Sigurd get fucked by tentacles and monsters is hot as fuck. The voice actresses gave me the impression that they have years of experience in the hentai business. You can really feel the tentacle penises shoved down theirs throats. Outside of hentai scenes I enjoyed Svia's lines over Sigurd's. Both babes have great delivery and a wide vocal range. Only the girls are voiced, the males are silent.
Sound effects are limited. The only sounds I remember are door knocks and doors opening and closing. There are no sex sounds.
MUSIC
Music is limited. It feels like you hear the same two songs throughout the game. During sex scenes the music is fast-paced while filling you with despair. Outside of sex the music is very slow and ominous. There's a sense of hopelessness conveyed by these tracks that fits the events taking place.
The game uses original and synthetic instruments to create memorable songs. Frequently heard instruments include the drums, the electric guitar, keyboard and piano. Each song is distinctive from the last. There is a good balance between fast songs and slow songs, but the beat can be quite repetitive.
GAMEPLAY
Valkyrie Svia is a visual novel game. You click the screen to "turn the page". The game has very basic visual novel functionalities. There is no 'auto' button to help you jerk off during play. Customize the 'skip' button's speed to substitute for an 'auto' button. The game has enough save slots for you to backtrack your progress.
Every once in a while the game will present you with choices. The impact of these choices is inconsequential because there are no happy endings. Some choices simply unlock alternative sex scenes. Other choices determine how thoroughly fucked the girls get in different endings. You can replay h-scenes in the galley. Cum to your favourite CGs in slideshow mode.
GRAPHICS
The graphics are gorgeous. The artwork looks hand-drawn with a slight grainy effect that makes the content look older than it is. The artists always remember where their characters are and how much light is available. Bodies contain the perfect mix of slim shadows. Sexual CGs rock a modern anime art style with bright, vibrant colours.
The characters of Svia and Sigurd look amazing. Both have plump, realistic breasts, full asses and virgin pussies. The game shows them off from different super sexy camera angles. Each character sprite has limited poses and a collection of expressions. Character expressions are not utilized nearly enough. Proportions remain consistent between artworks.
Background art is especially beautiful. Backdrops have western influences on them, featuring gorgeous medieval architecture. The indoor settings are well-lit with very ominous, nightmarish overtones.
Sex scenes are comprised of several artworks that somewhat evolve during a scene. You see the changes in the women's facial expressions, sweat droplets, cocks and tentacles getting wild, cum and blood from broken hymens.
HENTAI
The game has a male domination and enslavement theme. There's a ton of tentacle scenes and monster sex. Every scene features one or both battle maidens getting violated in their pussy or ass. The game's sex scenes are long and very descriptive. The artwork is deliciously sexy.
Svia and Sigurd take turns being violated. Watching them fight against the training that's making them into sex-addicted slaves, is lewd as fuck. A key highlight of this game is that the girls don't immediately become mindless whores after one scene. The progression of the corruption is gradual and satisfying.
Each girl gets a turn to have their hymen broken before the onslaught of monster cocks. After their virginity is taken, the girls are subjected to extreme sex acts. In my favorite scene Sigurd is assaulted by an army of tentacle beasts. The play by play during this particular scene is fantastic.
Another favourite scene of mine happens near the end of the game when Svia is brought before the townspeople and equipped with a ring that allows Loki to manipulate what she says and does. He makes her masturbate in front of everyone while spouting dirty talk. Hearing her speak lewdly before quickly recanting out of embarrassment is very arousing.
In another scene Svia is assaulted by a horde of horny men who take turns shoving their cocks down her throat and her pussy. They call her names and degrade her until she has no choice but to accept her new role in life.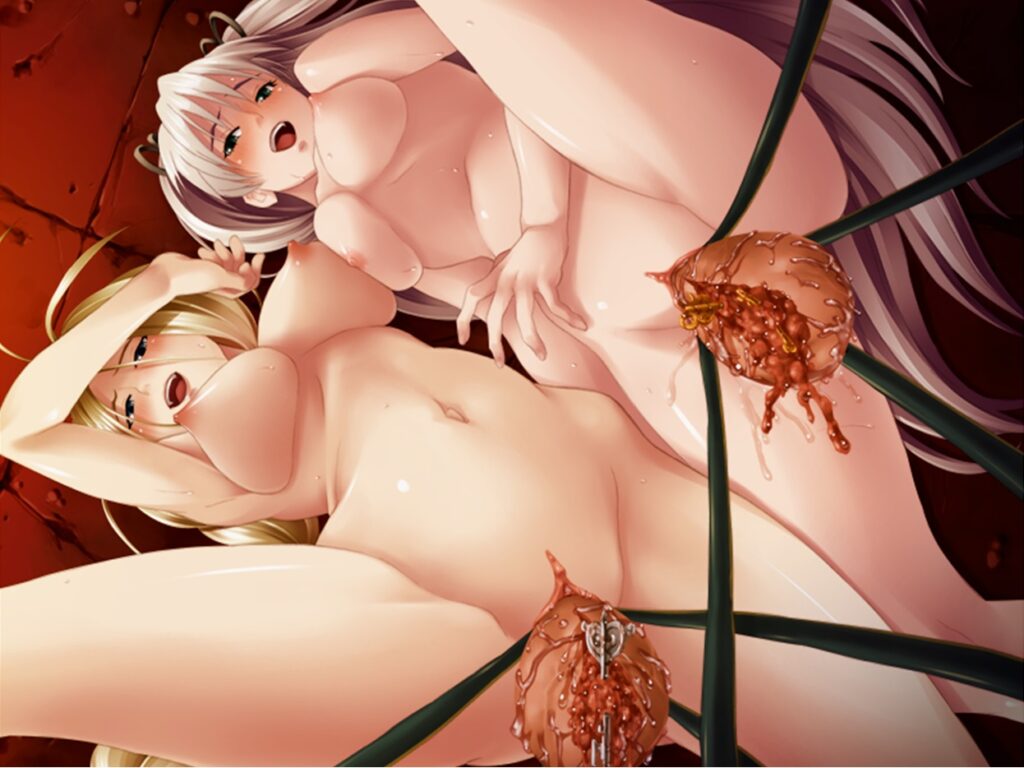 CONCLUDING WORDS
Valkyrie Svia is a great porn game if you enjoy gorgeous girls getting molested by disgusting monsters and tentacle cocks. The story is intense and the visuals stimulating. You should have no problem emptying your balls to this title.
Highly recommended for the sadistic kind of hentai fans. Download Valkyrie Svia.
Story

SFX

Music

Gameplay

Graphics

Hentai