Written by Rastafoo69, edited by Otaku Apologist
Trick or Treat, a Halloween hentai game developed by MoonGlow. Released October 28, 2017. Download on DLSite for $13.00. For PC Windows. No voice acting. Censored genitals. Download the English fan translation patch.
Mary Solciel is excited for Halloween! But when she opens a mysterious book, she's haunted by a little orb-demon! This little devil demands Mary fuck every guy in town! Or 1000 pieces of candy, whichever is quicker!
New to Japanese eroge? Read our guide How to download DLSite games. Also read how to apply translation patches.
STORY
Mary needs 1000 pieces of candy or a totally lewd romp around the town. Your choice! There are two endings, one for the candy and one for the lewdness. When the devil guy is freed, he never bothers Mary again.
Candies are acquired by talking to people, visiting houses, and doing side quests. The game has no overall story and is mainly episodic in nature. Although the DLSite page tries to make it sound long and epic, the game can actually be beaten in only an hour.
Every individual NPC has a unique personality and dialogue. Like when two brothers in a horse costume start talking, with the one in the back saying "Big brother, my hips hurt". There's plenty of quirky and funny moments like these that made me smile.
Mary is the ditzy nice girl while the Devil is a rude jerk boy. They compliment each other well, like when devil says "Wasting so much time on your costumes, you humans are dumb". But that doesn't stop Mary from enjoying Halloween night. My favorite bit of dialogue was when a random Christian guy gets upset seeing Mary's witch costume.
GAMEPLAY
Trick or Treat was created in RPG Maker VX Ace. Move with the arrow keys. Press CTRL to skip dialogue. Press Shift to hide text boxes. Press 'S' to auto-progress dialogue.
There are 10 fetch quests and a handful of miscellaneous quests. Everything outside of that is pure dialogue. The lack of battles and strategy means this game has no replay value.
The miscellaneous quests include counting the jack-o-lanterns in town, naming the four angels of the Catholic church, and speaking to a pervert who wants photos of Mary in her witch costume. These were a bit tedious, but a good way to mix things up between fetch quests.
The late game requires paying attention to your lewdness, candy, and health points. Lewdness must hit 100 for that ending, while candy must hit 1000. Your health will go down as you trick or treat, and it's game over if you lose it all. Luckily, there's a store on the south side of the map that allows you to exchange candy for recovery items. This is a cool and unique system, but the game is too short to utilize the feature.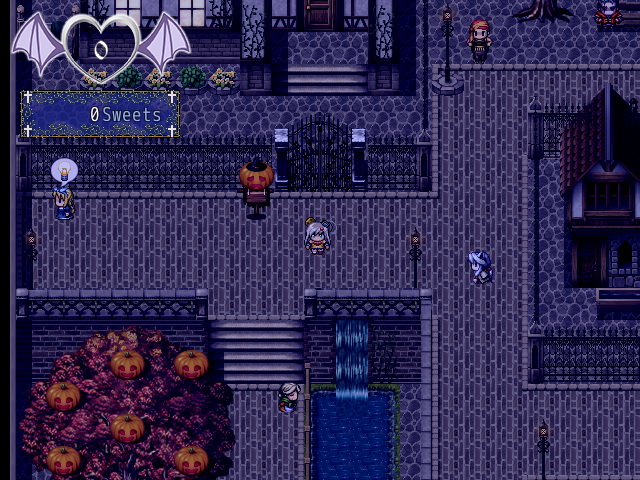 GRAPHICS
The art is Japanese anime style. There are 15 scenes total. The artist is "Papino", a well known figure in the DLSite community.
From the main menu graphic alone, the relaxed presentation of the game is shown perfectly. Mary's socks don't match, her dress doesn't have straps, she's wearing three hair ornaments, and the sleeves don't fit her at all. She's just a goofball youth looking to get some candy and have some Halloween fun! Instead of a wand or a cloak, she has a broom! Because witches ride on brooms, at least according to her.
The CGs in this game are masterfully drawn with a great emphasis on the POV perspective. Players can enjoy an up-close look at Mary's ass, or stare straight into her deep emerald eyes. Each scene has multiple variation CGs to emphasize the "imminent sex" focus. The man lines his cock up with her pussy and gets ready to thrust it in, the anticipation is glorious! Add in blush, semen stains, and an x-ray view of her womb, and this is a visually perfect porn experience.
The city has four districts. A bothersome aspect is how there's no indication for where the store is located. And some buildings like the church or the neighbor's house, don't appear accessible to the player. They are, but how can you tell when the seven other houses are locked until you reach a candy goal?
This is one game that can use recolored stock sprites and pull it off well! From the bandit dude to the beautiful princess, and even the zombie guy! Each character in the game has their own unique Halloween outfit to set them apart from the rest. Some are typical, but others are truly impressive and a joy to discover. I wish this game had a sprite encyclopedia just so I could fill it up and see them all!
VOICE ACTING AND SOUND EFFECTS (SFX)
Trick or Treat has no voice acting.
The sound effects in this game come from the stock RPG Maker library. There are no battles or puzzles to speak of, so they're used sparingly. It's all chimes and bings to indicate menu choices, health loss, or items being purchased.
MUSIC
There are 11 musical tracks in total. Harp and other string instruments are used in harmony to create simple and relaxed melodies. Piano, obos, and xylophones are occasionally used, but the primary focus is on the strings. All tracks are assets from the stock RPG Maker library. As the game lacks any sort of meaningful plot, the soundtrack mainly works alongside the writing to establish a relaxed vibe for the player to follow.
HENTAI
There are 15 scenes in total. The game is advertised on as an "Ignorant Prostitution RPG", and that fits the bill perfectly. Mary doesn't really understand that sex with strangers is taboo, so she does it without a care, hoping to appease the demon following her around.
The game is not focused on virginity, corruption, or forced sex. None of those concepts are present. Mary just has sex because she wants to make the guys feel good, and because it's what the devil wants. Still, I would have really loved a deflowering scene or something.
Sex positions range from missionary to doggystyle, with extra hot ones like footjobs and the 69 pose. Each scene is better than the last, and it makes me curious to see more of Papino's work. Body proportions are kept consistent while still using creative poses and varied facial expressions.
On the negative side, choosing to view the h-scenes means Mary will not get candy from that house. And avoiding sex scenes for a pure playthrough, will not unlock the gallery. And with the 7th house only opening when you have an absurd amount of candy, it seems unlikely players can view all scenes in a single playthrough. Even if you could, it basically penalizes you for playing the pure route. But it's a short game, so I shrugged it off. I'll play pure this time, and slutty the next time.
CONCLUDING WORDS
Trick or Treat is a fun little hentai game about an ignorant girl having sex with strangers on Halloween night. The visuals are gorgeous, the sex scenes are hot, and the various characters all have quirky little personalities.
I recommend this game to everyone. Download Trick or Treat. If you like this developer, check out Embarrassed Girl's Debt Repayment.
Graphics

Gameplay

Story

Music

SFX

Hentai