Written by Rastafoo69, edited by Otaku Apologist
Lewd Crest Lady of the Night, a prostitution porn game developed by Black Train. Released September 1, 2017. Download at Mangagamer for $19.95. For PC Windows. Partial voice acting. Censored genitals. English translation by HappyHand.
Azel was cursed by a demon with a lust spell! The curse makes her a horny slut, which is perfect for her new job working at a brothel. Pay off your debts by working the brothel, and Azel can finally escape with her freedom!
This game is a prequel DLC to Niplheim's Hunter. Read our official review.
STORY
Azel was defeated by a monster and sold into slavery! To pay off the brothel and earn her freedom, Azel has to begin serving customers from all across Pleasure City!
The brothel has three levels. While the first level has a bunch of poor peasants, the top level is full of noblemen and aristocrats. As Azel works the brothel and gains experience, the clients she serves will more and more wealthy.
There is a top prostitute for each level. Ilda is the daughter of a former nobleman, so she's very conceited. Wolfy is a beast girl who's shy and cute, which brings in lots of customers. And at the top of the brothel is Onyx, because Japanese people think black chicks are kinky. Actually she's a succubus, but she's drawn as a gyaru.
Once Azel earns her freedom, her friends at the brothel learn that she left her wallet behind. They start a search for her, but she thinks they want to keep her at the brothel. Azel flees from town, and that's when the story of Niplheim's Hunter begins.
Overall the writing in this game is very basic. While Niplheim's Hunter had witty dialogue and interesting characters, the content of the DLC is simple and straight-forward.
GAMEPLAY
Lewd Crest Lady of the Night was created with the Wolf RPG Editor, the greatest engine of them all. Use the arrow keys to navigate the menus. Press CTRL to skip text. Press Q to hide the dialogue box. Press W to review the text log. Press Shift to turn on auto-text and press X to disable it.
The game is played entirely via menu choices. Whereas in Niplheim's Hunter your sprite walks from place to place, in this game you simply click "room" when you want to visit a room.
The core gameplay loop is super simple. First you choose three "expressions" to give Azel, then you meet various men. Some men want to be dominated while others have a fetish for big tits. Choose your expression wisely to fit each man's preference.
The game can be completed in an hour, taking about ten in-game days. It's a very linear experience without room for experimentation. For example you have a popularity stat, but it's maxed out at 50. The level cap rises as you progress through the story. It limits your earnings to a certain level.
While the game has a variety of features, it's so easy and short that you never need to think about them. For example you can purchase advertising to raise your popularity and earnings. But the game is so easy, you will ignore this feature.
[pornhub url="https://www.pornhub.com/view_video.php?viewkey=ph5f63b1e7f34f8″]
GRAPHICS
The game includes 12 base CGs and over 150 images overall. Scenario, game design, and user interface were handled by Black Train. Illustrations, pixel art, and character designs were handled by Sugar Star. Half of the artworks are devoted to Azel and drawn by Black Train. The other half were drawn by Sugar Star.
This leads to a clear and noticeable change in artstyle when you compare Azel to the other prostitutes. Black Train is known for heavy blush, thick outlines, and a strong attention to detail with lips and sweat marks. Sugar Star is known for softer outlines with a stronger focus on shading and less realistic body types. Both artists are incredibly talented, but if you have a preference for one or the other, then this collaboration may bother you.
The UI in this game is fantastic. Sex stats are listed neatly at the bottom of the screen while leaving the majority of your view on menu navigation. While the downside to menus is a lack of exploration, the upside is how easily you can find extra scenes and content. For example, Andrei's room is the only other bedroom in the game. And due to dialogue clues, it's easy to figure out that optional hentai scenes are available there.
There are ten flirty actions in total, each fully animated in prostitution mode. From showing your tits to spreading your legs, the animations are fluid and realistic, a perfect example of the top quality standards of Sugar Star.
The character designs in this game are phenomenal. Ilda for example, wears a corset in her royal attire. But when you take it off, you can see her smooth curves with no covers! Those wide hips paired with a petite waist make her a super sexy lady! This artist knows what men want to see.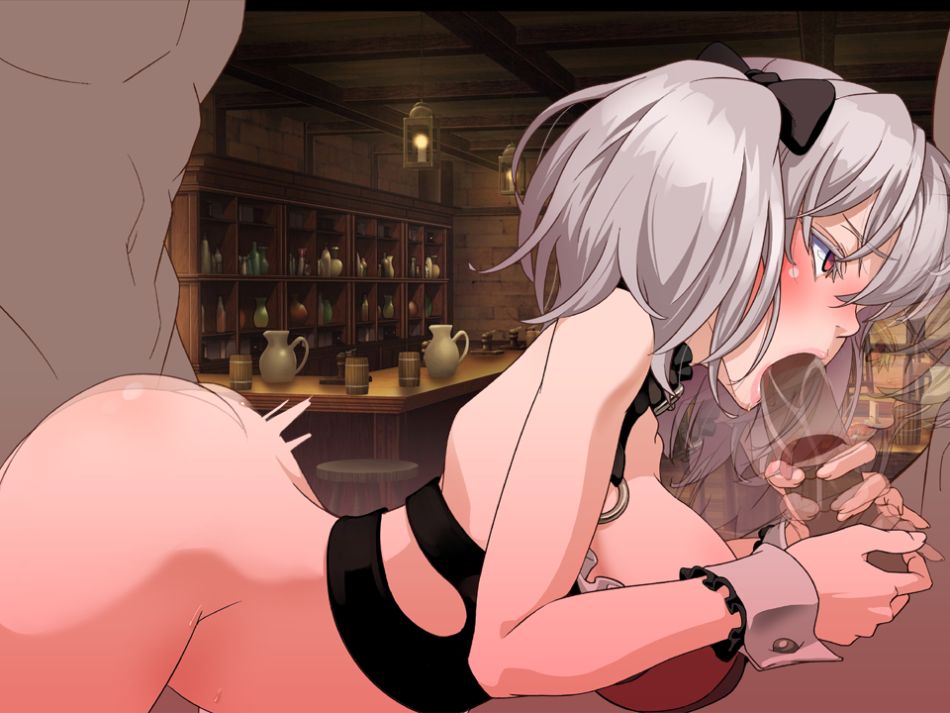 VOICE ACTING AND SOUND EFFECTS (SFX)
Lewd Crest Lady of the Night has partial voice acting for Azel and the three other ladies. The voice acting only occurs during sex scenes. The limited acting is mostly limited to moans of pleasure. The Japanese actresses moan and beg for cock, but they're pretty silent outside of the bedroom.
The characters were voiced by Midorino Lime and Amakawa Miruku. It sounds like Azel has the same voice actor in both the DLC and the main game. With only two voice actors, all four ladies have their personality conveyed perfectly through their delivery. From the sultry Onyx to the shy Wolfy, the performance matches the girl perfectly.
The sound effects are carried over from Niplheim's Hunter. From cock pounding a pussy to a slippery blowjob, each sound effect matches the scene well. My only complaint is that ejaculation sounds like a sponge in a cup, which was odd but strangely fitting as well.
MUSIC
While there are only a handful of music tracks, the game is short enough that none become repetitive. The main menu theme didn't feel like it fit the theme of the game. It's a digitally designed bit of tones and beeps meant to mimic real world percussion instruments, but it came off as a plastic Gameboy track.
Other tracks are significantly better. They rely on bass guitar and drums to create an old school rock feeling. The menu navigation music is primarily violin and flute creating a relaxed feeling as you plan your next decision. The voice acting is meant to compliment the music anyway, so there are no tracks that steal the show.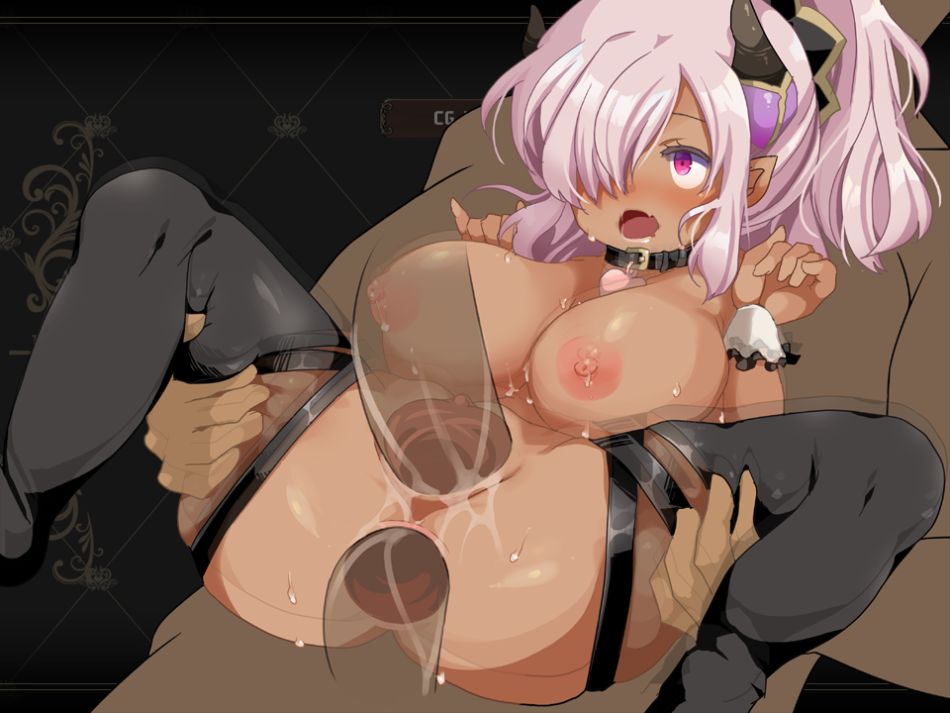 HENTAI
Lewd Crest Lady of the Night has 12 scenes in total. Half are devoted to Azel while the other half are devoted to her fellow prostitutes.
Azel gives blowjobs, handjobs, titfucks, and more! Her final scene combines all of these into one gigantic gangbang! Sadly, the dialogue doesn't emphasize the prostitution fetish. Rather, the guys just talk about how hot she is and how they're going to cum soon.
There are three other prostitutes, each of them gets two scenes. The first scene shows Azel walking in on them fucking a customer. The second scene shows Azel peeping on them being fucked by the owner of the brothel.
Each scene features a minor amount of animation to simulate movement. Usually the screen will shake or multiple variation images will be cycled through to show movement. While each scene is incredibly hot, I wish we could see more angles or perspectives. For example, Onyx never has a scene showing off her sexy black ass.
The game features a scene and art gallery in Azel's bedroom. The heavy moaning and panting from the voice actresses can be disabled in the options menu.
CONCLUDING WORDS
Lewd Crest Lady of the Night is a fantastic DLC addition to the Niplheim's Hunter experience. The graphics are gorgeous, the collaboration between Black Train and Sugar Star produced awesome results. The voice acting is sexy as fuck, and the gameplay is smooth and enjoyable. You can play this one-handed!
I recommend this game to lovers of prostitution and busty whores. Download Lewd Crest Lady of the Night. If you loved this game but want the full experience, check out our review for Niplheim's Hunter.
Graphics

Gameplay

Story

Music

SFX

Hentai