Written by Rastafoo69, edited by Otaku Apologist
Ane Kasegi, a bar management game developed by circle Tengsten. Released May 8, 2015. Download on DLsite for $8.00. For PC Windows. No voice acting. Censored genitals. Free demo available.
Frida and Carl are totally unrelated stepbrother and stepsister duo who have fled their home village. They now run a bar as employees of a large company. The pair hopes to make it big! Little does Carl realize that his big stepsister is in love with big dicks!
New to Japanese eroge? Read our guide How to download DLSite games.
STORY
Frida and Carl are absolutely non-related stepbrother and stepsister. After their village was attacked, they fled with their lives to the big city. Now running a bar, they hope to finally live normal lives of peace and stability, free from harm.
There is no overall story. Just grow the bar until the owner offers to sell it to you. Then, purchase the bar to get your happy ending.
At various financial benchmarks, a small story event will occur. Maybe the owner of the bar will come to visit, or maybe the taxes on your bar will be raised. Keep progressing to slowly learn more about the world around you.
Will Frida lose her virginity to her little stepbrother? Or will she lose it to a horny guy at the bar? It depends on your choices!
During the other plotline, Frida walks in on her stepbrother masturbating and decides to give him a helping hand. She hates it when Carl sleeps with another woman, and is very possessive of him.
During the cuckoldry plotline, Carl is clueless about his stepsister being a whore. She drags customers into the bathroom just to suck their dicks and Carl doesn't realize a thing!
The game has three endings. In the first ending, Frida and Carl get married. In the second ending, Frida becomes publicly known as the town whore as she cuckolds Carl with other men. In the third and true ending, Carl accepts that his stepsister is a slut and decides to love her despite her sinful nature. Frida is pregnant and has no idea who the father is, but decides that she and Carl will raise it as a married couple.
The third ending requires unlocking every scene in the game. Thank goodness hints are offered in the pause menu!
GAMEPLAY
Ane Kasegi was created with the Wolf RPG Editor, with significant scripting to make it a completely unique experience. Use the arrow keys to navigate menus and press spacebar to make choices. Press the left arrow key to view the text backlog. Press Shift to skip ahead in dialogue. Press the right mouse button to hide the text box.
This game may not sound very addicting, but trust me, it is. The sense of constant progression in the plot and your business are sure to keep you excited. This game is very hard to put down!
The bar has six stats. The popularity stat decides the number of customers. The happiness stat will increase purchases. The environment stat will help you get high class customers. The Cleanliness stat will improve customer retention. The security level will lower sexual harassment events. And the "Food and Drink Level" will increase sales of food items at the bar.
Frida and Carl have two stats each. Frida is focused on customer service and cleanliness. Carl is focused on cooking and bar security. Level up the characters to increase these stats, maxing out at level 25.
The bar stats are determined by bar upgrades and character upgrades. For example, a better kitchen will improve cooking quality. I personally love to keep Carl at a low level so bar security is bad and Frida gets groped a lot!
Other gameplay features include character customization, gardening, constructing a menu, managing your bulletin board promotions, borrowing money from the bank, hiring guards to increase security, and much more!
At its most basic level, the bar management is simple. Purchase beers and other items to sell to your customers. Check your inventory daily and keep a high supply of product. But don't stockpile, or you won't have money to upgrade the bar!
Frida has two sex stats. Her lust level measures her horniness. Her lewd level measures her corruption. At lewd level 100, she is able to run the bar almost fully naked, and have sex with random customers. Attend church if you want to keep these levels low!
This might sound overwhelming, but every feature is introduced slowly and over time. Before you know it, you get into a rhythm and the game plays itself! It takes 4 hours to beat the game and 8 hours to see all content.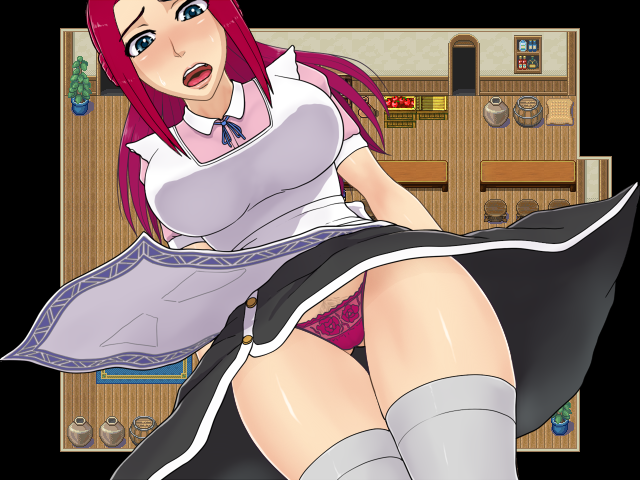 GRAPHICS
The art is Japanese anime style. Outside of the weirdly rectangular eyes, the art is nice to look at.
There are 30 base CGs with countless variations over 48 scenes. The main heroine has five different poses. Most of the game's visuals display character sprites moving on the screen.
Character customization is unlocked gradually. There are four basic hair styles and ten outfits in total. Each outfit has unique gameplay advantages like extra experience points, or extra beer sales.
Even though the character stills are in 2D, many scenes have 3D backgrounds. The assets don't fit together well. Thank goodness those 3D backgrounds are rarely used!
The two leading ladies of this game are absolutely gorgeous. Frida's face and head are sometimes strange, but she always has a fantastic body! And Brigit has the perfect busty milf body type, and slightly tanned skin.
There is no denying that the faces in this game look weird. The body and clothing are absolutely perfect, it's just the faces that are weird. Sometimes they are too long, sometimes too wide. If you can look past that, this game offers lots of enjoyment!
VOICE ACTING AND SOUND EFFECTS (SFX)
Ane Kasegi has no voice acting.
The sound effects are limited and rare. They're mostly standard RPG Maker assets, but it's hard to tell because of how rarely you hear them. There's a chime or beep when you navigate through the menu and make a decision, but that's pretty much it. Even during sex, the thrusting gets no sound effects while pissing does!
MUSIC
The soundtrack has 23 songs in total that make use of very strange instruments, like Hawaiian drums and wind chimes. The musician for this game clearly has a strong love for the xylophone. On a positive note, this music never gets old. The melodies are simple enough that you can happily ignore them while focusing on the bar.
HENTAI
The game has 30 base CGs with countless variations throughout the 48 scenes. The primary fetishes are corruption, and cuckoldry.
I loved to watch Frida get upset when a man patted her on the bottom, because I knew I would corrupt her! By the end of the game, she's begging him to creampie her in front of spectators! From an innocent virgin to a lustful whore!
The cuckoldry is especially hot! Frida's stepbrother always gets angry and kicks out anyone who touches her! Too bad he's ignorant of what's really going on! Frida loves to be groped and touched all over! The moment Carl turns his back, Frida gets pregnant!
The only problem is that this game tackles too many fetishes at once. The corruption is great, but pretty simple. The cuckolding is very hot, but not the main focus. The scenes overall are good, but could have used more build-up.
CONCLUDING WORDS
Ane Kasegi is the best adult bar management game I've ever played. The gameplay is exciting, the music is unique, the character sprites are super cute, and the player has a lot of control over the in-game world.
I highly recommend this game to hentai gamers of all types! Download Ane Kasegi. If you love this game, check out another hot release from this developer, The Imperial Gatekeeper!
Graphics

Gameplay

Story

Music

SFX

Hentai