Written by Rastafoo69, edited by Otaku Apologist
My Mother Kyoko, a porn game developed by Azienda. Released September 13, 2020. Available for free on Windows PC and Linux. No voice acting. Uncensored genitals.
Your father works far away from home and your mother is getting lonely! Can she keep herself satisfied with just masturbation, or will she cheat on your dad with a complete stranger? Play the game and see for yourself!
Order your adult artwork at hentaicommissions.com
STORY
Kyoko is your mother, a traditional housewife living in the peaceful suburbs. But secretly, she's a horny milf that's been struggling ever since your father left. She needs a newer, younger cock to satisfy her.
The dialogue in this game is well written, but unoriginal. Kyoko has sex with her coworker shortly after meeting him. While the narration says she was a loyal wife, it's not a very believable setup, given how quickly things escalate. Meanwhile you're a clueless moron who has no idea your mom is a mega-slut.
Most games have a unique twist on the cuckolding, but not this one. For example, the coworker your mother fucks is just some random douchebag. Other games might make it her boss or her neighbor, but for this game it's just some random guy. He has no personality, he just manipulates Kyoko into sex.
There are three possible endings. Your mother will fuck her man at a hotel, fuck her man at home, or you'll move out. There is no happy ending, your mother is a slut.
GAMEPLAY
As a visual novel game, dialogue is the primary focus of the experience. Press CTRL to skip dialogue. Use the scroll wheel to view the text log. Click the screen to advance the story.
There are two choices in the game. The first choice decides if you're friendly to the guy fucking your mother or not. The second decides which ending you will get. You can only get the "move away" ending if you were friendly with the guy.
All menus in the game operate with fade-ins and fade-outs. This severely slows the pacing of completion. Pausing the game requires a few seconds of fade in and out, opening the text log requires a few seconds of fade in and out. Everything you do activates this pointless transition!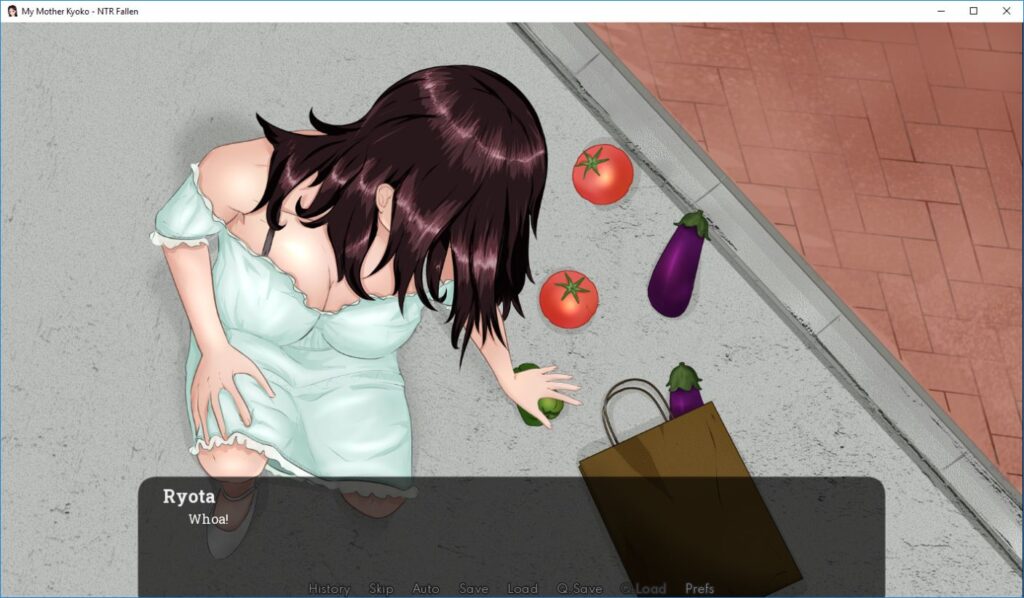 GRAPHICS
The art style is unique to this developer, often varying from scene to scene. While some artworks are cartoonish, others fit the anime aesthetic.
The game was created in the Renpy engine with changes in the user interface to avoid the default appearance. These changes are primarily rectangular black boxes, so it seems like the developer is just learning how to customize the menus. Maybe in future releases he'll be more creative with his visual design, but for this game it's very basic.
Kyoko and her lover Youchi are the only drawn characters in the entire game. While Kyoko undergoes changes like new outfits and hair colors, Youchi remains the same all throughout. The game takes place over a relatively short amount of time, so we never get to see Kyoko in outfits for too long. I would have loved to see more than one artwork of her bleached brown hair, it was a nice look on her.
For same reason, the developer has disabled the default Renpy function to hide text boxes. This is a severe problem, because the text often blocks a part of the photos. Unless you download the photos separately, your only way to experience them is with a text overlay.
VOICE ACTING AND SOUND EFFECTS (SFX)
My Mother Kyoko has no voice acting.
The sound effects in this game are just plain terrible. The sound effect for fingering was like footsteps on a wet sponge. Not only was it unrealistic, but it ruined the sexual tension with its terrible noises that didn't fit the scene. Thank God there's an options menu! I highly recommend you mute sound effects altogether! Ambient noises are in a different category – muting sound effects will only affect the sex scenes.
MUSIC
The music in this game is fantastic. The main menu starts with a unique flute track that sets a good tone for the game. When the game begins, you're greeted with piano and vocalizing women to create a relaxed but enjoyable experience. And once you get into the game, that music cuts to silence.
The music is replaced with fantastic ambient tracks. From the clatter of pans when cooking, to the chirping of crickets in the night, the game relies on these ambient tracks to carry the moment. Musical instruments are used for specific moments, but overall the game relies on ambient sounds.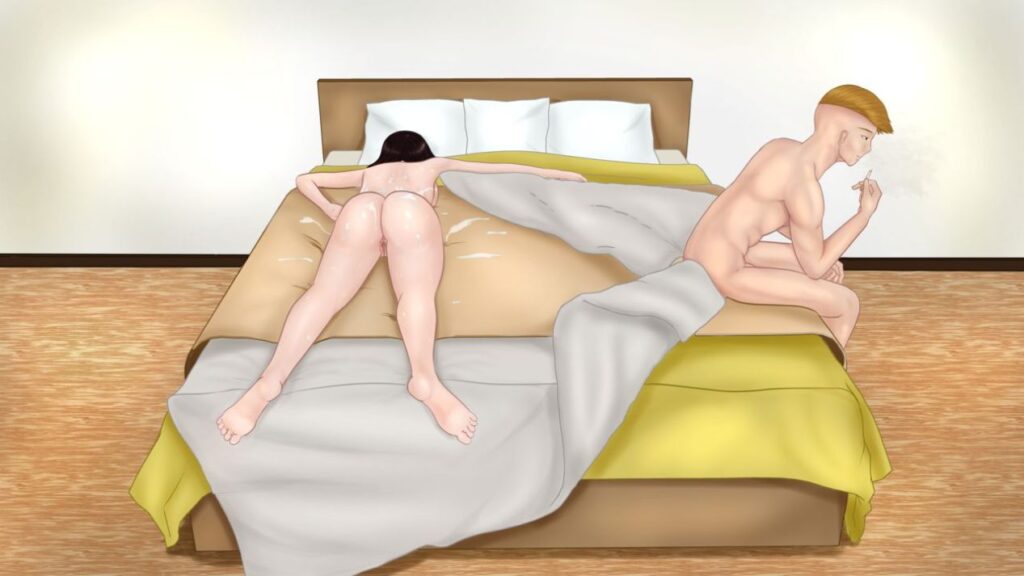 HENTAI
My Mother Kyoko has 12 sex scenes, some of which include multiple positions and artworks. Both bad endings have a unique sex scene, so I recommend saving game at the final decision.
While the full name of the game is "My Mother Kyoko NTR Fallen", there isn't traditional netorare content. She's your mom so you have no romantic relationship with her. The game is about cuckolding your dad, who barely makes an appearance.
This game is better described as a corruption experience. The coworker makes your mother dress like a total slut! While at first she insists on condoms, he eventually convinces her to go without. There's tons of dialogue where he asks "Am I better than your husband?" and the result is always super hot.
At first, Kyoko is quick to say "Please don't talk about my husband right now". But by the end, she's screaming "yes"! The new guy is far better than her husband ever was! What a massive slut!
My favorite scene is when Kyoko is riding the guy's dick and the coworker demands "Drop that ass down!". And when she does, he cums right in her married pussy! She's finally accepted that she belongs to a new man!
CONCLUDING WORDS
My Mother Kyoko is a unique NTR game where your mother becomes a slut and cheats on your father. The audio is fantastic and the sex scenes are incredibly hot! If you love horny milfs taking younger cock, this is a game for you!
Download My Mother Kyoko. If you love being denied of pussy, check out our review of Bitter Exclusion!
Graphics

Gameplay

Story

Music

SFX

Hentai