Hentai Romance Visual Novel Review: The Angel Inn
Hentai Reviews

>

Featured

>

Hentai Romance Visual Novel Review: The Angel Inn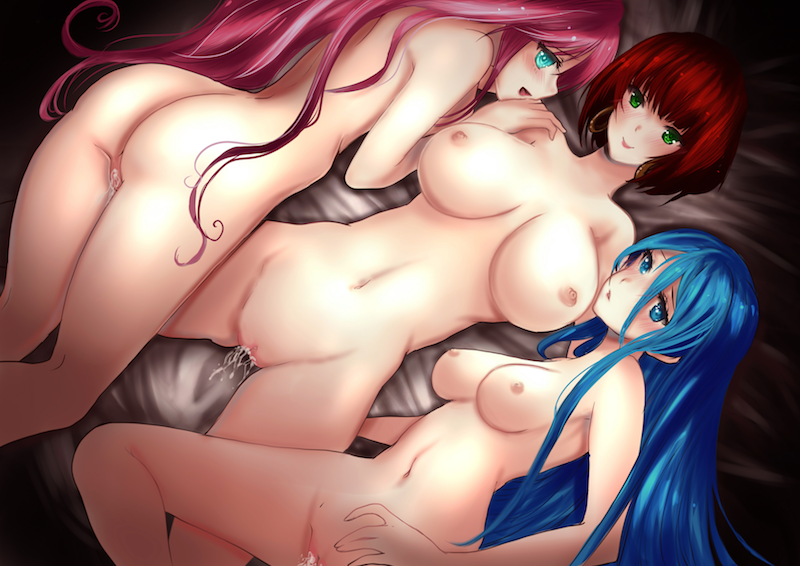 Written by Rastafoo69, edited by Otaku Apologist
The Angel Inn, a hentai visual novel developed by DDreams Games. Released October 23, 2019. Download on Nutaku for $5.00. For PC Windows, Mac OS, and Android. No voice acting. Uncensored genitals.
You'll be staying at the Angel Inn for the next four days. There are three beautiful women staying with you at the inn. It's three girls and one guy, you know where this going! Seduce them all and fill their pussies full of cum!
STORY
You're an average joe from the Capital City, planning to become a well paid guard to an expedition spearheaded by the Merchant's Guild. The journey begins in five days, so you'll be staying at the inn until then.
The three girls are Faylinn, Shea, and Rosabella. Faylinn is the tsundere adventurer girl, Shea is the cute and kind waifu, and Rosabella is the sexually experienced milf. They all have their own appeal, but Faylinn is best girl because she got a sequel title.
Shea is lonely and wants love, but knows it could never work because you're leaving on an adventure. Faylinn is isolated because of a curse that turns her into a demon. Rosabella is a judgemental slut who wants companionship.
The writing in this game is a mixed bag. Sometimes the dialogue is clever and breaks the fourth wall, like when someone says "Don't tell me all you want to do is flirt with women at the inn?". That made me laugh out loud because basically, yes. Other times the dialogue is really modern and doesn't match the setting, like when someone said "Omg like, that's so not the point ya know?". Moments like those made me want to scold the author for being so mediocre.
It's not clear how to win the hearts of the ladies, so you'll likely have to resort to loading the game repeatedly. After winning a girl's heart, you unlock her bonus story to learn more about her background. Faylinn's is clearly the best, because it shows her transition from a loving big sister to a total tsundere. In spite of these flaws, I adored the game for its varied routes and high replay value.
GAMEPLAY
Angel Inn was created in RPG Maker MV. Click the screen to advance dialogue. Press Shift for backlog and Tab to skip dialogue. The skip function is only unlocked after beating the game at least once.
This game is not a free roam experience. Characters will be available at certain places at certain times, and only if your relationship with them has been built up. For example, Rosabella doesn't arrive until you've stayed at the inn for a day. And Faylinn will only let you speak to her at night if your relationship is strong enough. There is no skill involved, this game is largely trial and error.
There's a trophy room in the title menu that helps track whenever you unlock unique dialogue. These trophies are based on all of your playthroughs, so it gives the game replay value for people who care about achievement hunting.
There are 12 unique endings. Naturally there is also a harem route, but it is extremely difficult to unlock. Most routes in this game are lost by a single bad choice. It is possible to convert Shea to a homosexual, bisexual, or heterosexual. Frankly, I found none of this to be very believable.
Players can only save after conversations. You cannot hide text boxes. You can customize the name of the protagonist. You can specify your favored combat skill at the start of the game, which will change dialogue significantly. For example, the true route with Faylinn requires you play a swordsman character. So you can lock yourself out of her true ending without ever knowing better.
The developer is selling a walkthrough on Steam, almost as if he's capitalizing on his poor game design.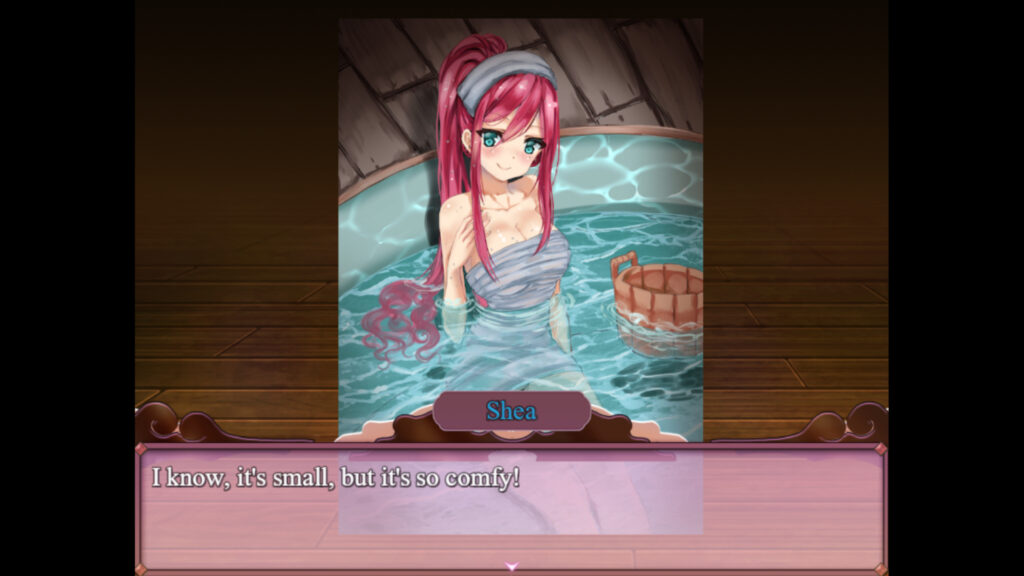 GRAPHICS
The art is drawn in the Japanese anime style, using a style of coloring similar to watercolors. Rather than bold outlines and clear colors, the artist uses smooth movements and gradient shading in order to create realistic visuals for the audience. Best of all, its completely uncensored!
Due to the widescreen resolution of RPG Maker MV, the artworks don't always fill the entire screen. It almost seems as if the art was intended for VX Ace, but the developer changed his mind and kept the artworks. The downside of this being, some artworks are rectangular with weird resolutions that may pull you out of the moment.
The character designs are beautiful. Faylinn has blue hair while the other two have red hair. However, Shea has long twin tails while Rosabella's hair is short enough to show off her earrings.
There are 42 CGs in total, ten of which are variation images. The artwork was surprisingly detailed and complex for a hentai game. Like when everyone has cake and tea by candlelight with a sunset in the distance. The artist clearly loves drawing both characters and backgrounds with great detail. As a side note, Rosabella is the only character whose sex scenes are missing a background. But nobody likes her anyways so I'm cool with that.
The one strong negative in this game is how locations are simply a list on a menu. Click "Front desk" to go there. A menu gets the job done, but it's not very creative and doesn't give a good idea of how large or small the Angel Inn actually is.
VOICE ACTING AND SOUND EFFECTS (SFX)
Angel Inn has no voice acting.
The sound effects are limited to the point of being basically nonexistent. Like when you want a sword battle with Faylinn, but it gets interrupted due to her medical condition. In every scene where sound effects could have been used, they weren't. The game is very visual and focused on dialogue.
MUSIC
There are 11 songs on the soundtrack. The menu track features bass guitar and a standard guitar which create a relaxed rural melody. Dramatic moments are punctuated with soft piano sporting an elevating in pitch that works a tense environment. In general, the music really captures the feeling of a rural inn. It fills the silence without ever distracting from the relaxed tone of the narrative.
HENTAI
There are 32 base CGs spread across a variety of scenes. Many of these are for character moments like eating together or listening to music. In actuality only 15 of these images are explicit and intended for fapping purposes.
This game is focused on romance and building a relationship. While Rosabella is an experienced slut, Faylinn and Shea give you the virgin vibe, but they lack deflowering scenes. For example, Shea churns a big dildo in her pussy when she masturbates, which means her hymen is already broken.
While Shea and Faylinn get standard vaginal sex scenes, Rosabella is the slutty character who offers blowjobs and tittyfucks before actual sex. Faylinn has the least erotic scenes while Shea and Rosabella have a ton. In Shea's case, because she can be the lesbian sex partner of either girl.
The fan consensus is that Faylinn is best girl, because her love feels the most earned. Hearing her slowly open up to you and eventually give you her heart, is one of the best moments in the entire game.
CONCLUDING WORDS
The Angel Inn is a short but sweet visual novel about romancing a girl and making her yours. The artwork is gorgeous and the sex scenes are super hot, but it can be easy to mess up and lock yourself out of the route you wanted. Altogether, it's an enjoyable piece of media if you're into interactive romance.
Download The Angel Inn. If you liked this game but want an impregnation focus, then check out our review of Hara Kano!

Graphics

Gameplay

Story

Music

SFX

Hentai