Written by notTowfu, edited by Otaku Aoplogist
Paladin Lias, a hentai RPG developed and published by SwordRP5. Released on July 21, 2020. Download on Steam for $5.99. For PC Windows. Partial voice acting. Uncensored genitals.
Lias is a religious zealot bitch who secretly wants to get fucked and filled. She always thought living for virtue was the good life, until one fateful day, she got dicked hard and creamed in the womb. The woman in her awakened, and it was all downhill from there.
STORY
The story follows Lias, a loyal servant of the church. During a routine job of hunting bandits, she falls prey to a lustful bandit chief and has an accidental sexual awakening. All Lias wants is to live a noble life dedicated to protecting innocents and marry her boyfriend, but she'll contend with the machinations of the sexual deviants around her.
Lias follows the proud, noble warrior archetype of a Paladin with great zeal. She's a member of the church and stands for justice, chivalry and smiting evildoers with a big-ass sword. In typical games, Lias would be an exemplary but boring role model, a virgin dedicated to righteousness who ends up either dead or happily married.
Luckily for us, Paladin Lias is not one of those games. She is a popular figure in her town and attracts plenty of attention due to her toned body, honking huge boobs and a juicy ass. Men simply can't keep their eyes and hands off her bountiful assets. In this game, the players will be saddled with a choice. Do you want Lias to remain faithful to her boyfriend, or will you nudge her to become a worshiper of dick?
In a formulaic fashion during a mission gone wrong, Lias unlocks a fragment of her forgotten memories that hints at her connection to a goddess. When she tries to put the incident behind her, disaster strikes. A holy artifact is abruptly stolen from the church. As a Paladin working under them, she is tasked with recovering it, and of course the hardships in her way will shake her faith and threaten her virgin identity.
Yes, you see it coming. You still want to see her in all those compromising situations that end with getting her holes filled. The story is mere decoration to move Lias from one set-piece to another, but the good news is that the game excels in the important areas.
GRAPHICS
The artwork is hand-drawn Japanese anime style. Although majority of the game's assets are from RPG Maker, the art made specifically for the hentai scenes is drool-worthy. A nice bonus is that some sex scenes are partially animated. There will be a small visual at one corner of the screen, showing Lias' pussy getting pounded by a random stranger's dick before he fills her with cum.
The coloring, shading and shadows are delectable. Lias is a fuckable buxom blonde with blue eyes and juicy breasts. Her proportions are perfect for a breeder. Her design is sharp, befitting of a warrior woman. While she lacks muscle in her arms, which is a huge oversight considering she's a sword-wielding fighter, she's a fit cock sleeve with a carved body. Just the lack of muscle is unrealistic, otherwise her proportions are sensible for a person of her very physically demanding profession.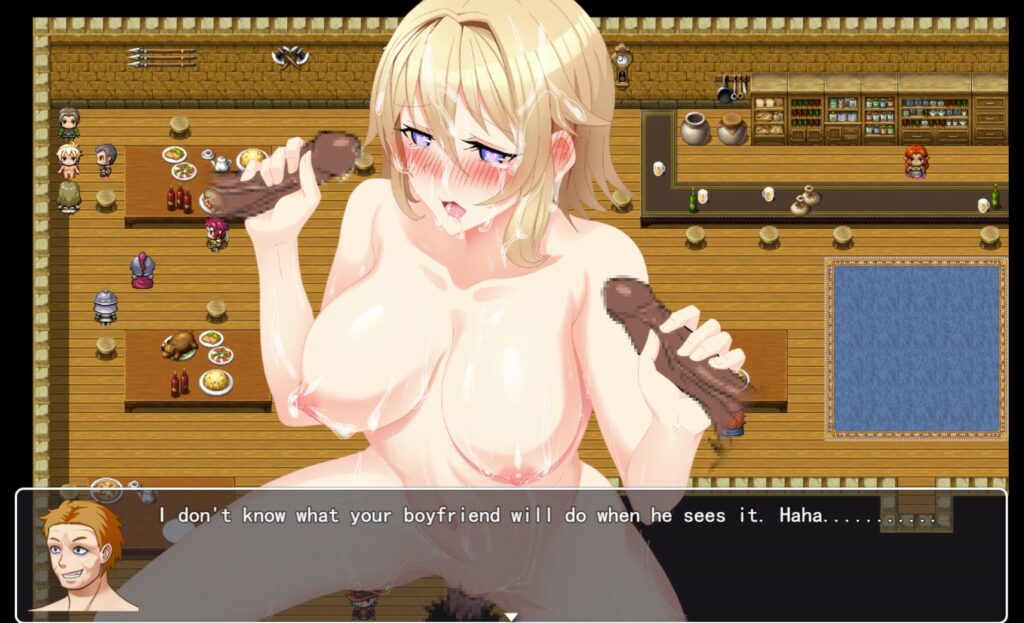 GAMEPLAY
A corruption meter examines your descent into depravity. It's called Kindness and Guilt in this game, and it's as simple as it sounds. Sexy acts decrease Lias' kindness until it turns into guilt. Not having her give into her desires keeps her kindness score high. There's no incentive to keep Lias pure, since certain sex scenes can only be unlocked if her guilt is high enough.
Aside from that, Paladin Lias is a basic RPG Maker game. If you've played any kind of hentai RPG on Steam you should be familiar with the control scheme. The interface is bare-bones and you get partial controller support, which works just fine. Just remember to toggle the character to 'run' at all times to make traversing easier.
Discover more sizzling hot corruption games we have reviewed over the years!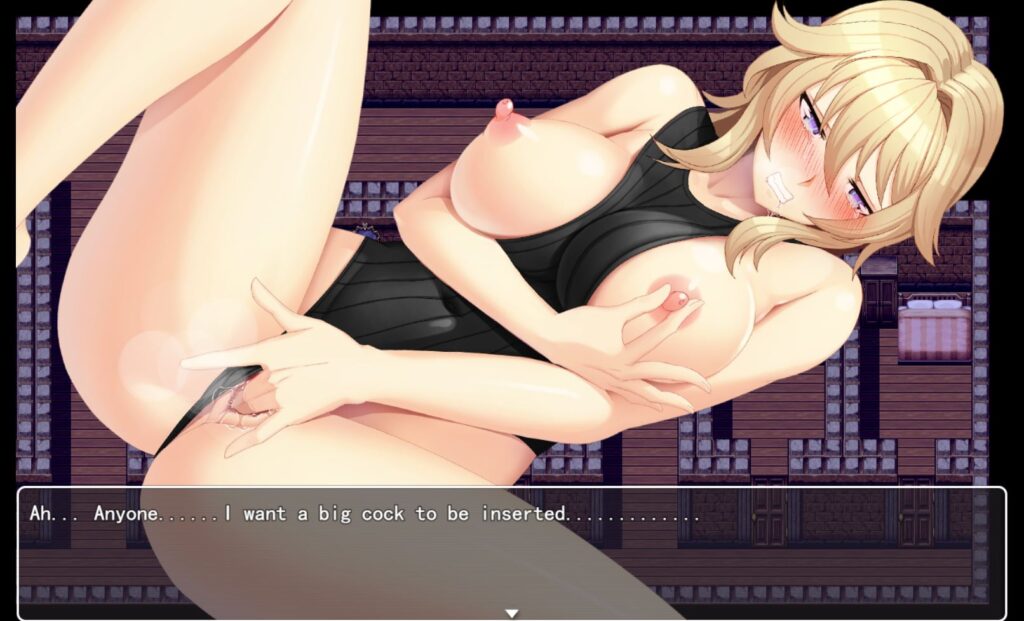 MUSIC
Paladin Lias has decent music. The tracks are pleasant to listen to despite being continuously looped. I was surprised by how little I was affected given how much time I spent playing. Different tracks are played depending on the location, which also adds to the game's immersion. It really feels as if Lias is exploring a new town, building anticipation for new events she might encounter.
For example, Lias visits a seaside town later into the story. The atmosphere is entirely different from the religious town she's from. A playful flute is in the forefront of the track, followed by a smattering of percussion instruments. It gives the place a sense of freedom and relaxation.
SOUND EFFECTS AND VOICE ACTING (SFX)
The game uses stock RPG sound effects. Actions like entering buildings and slashing at monsters will trigger the corresponding sound. Considering the price, I'm impressed the developers went the extra mile to make the game more immersive.
If there's one complaint I have, it's that the audio syncing is sometimes out of whack. It's jarring to hear an echo of her moans in the background while there's already a voice track playing. There is also a handful of moments where the voice track didn't match what was happening in the game. These issues are not deal breakers since they are rare, but your mileage might vary.
Most importantly, Lias' voice is what truly shines. Her girlish squeals as she gets her holes fucked, her moans and whimpers as she gets corrupted by another big dick, every sound she makes is delectable and arousing. You can easily imagine Lias getting pounded by the lowlife who's been lusting after her.
HENTAI
For its price, the quality of hentai content in Paladin Lias exceeds expectations. If you buy the game solely to fap, you're in for a good time.
Plotwise once the initial foundation is laid, you will get plenty of freedom to turn her into a cock craving whore. In trying to get back the prophecy stone, Lias needs to earn a shit ton of money. This gives players the opportunity to unlock a wealth of sex scenes that run the gamut of prostitution, exhibitionism or pimping Lias out to a rich ugly bastard.
Aside from earning money to progress the main storyline, you can also do side quests that unlock other sex scenes. Finding these quests isn't always clear cut, but there is an in-game area that provides hints on how to trigger the events.
For example, you can hire party members for Lias. I helpfully hired a buff mercenary after I explored the monster-infested area, I made them stop to rest in a tiny camping tent. The mercenary forces Lias to sleep pressed up against him and spends the entire night grinding his erect dick into her ass. Rinse and repeat, until Lias gives into the urge to fuck and becomes his personal cock sleeve.
Paladin Lias doesn't have a wide range of fetishes, focusing more on vanilla kinks like cheating, group sex and exhibitionism, but it does them well. You won't be disappointed.
Seemingly innocent jobs will slowly escalate, but they all end with the protagonist cucking her religious boyfriend physically and emotionally.
CONCLUDING WORDS
Paladin Lias is a solid adult gaming experience. The story may be a little weak, but the sexy visuals are good, Lias looks nicely fuckable, and the RPG Maker stock assets are well used, even if they are dirty stocks. There's enough content, both gameplay and hentai to keep you satisfied throughout several sloppy sessions. Highly recommended for one-handed gamers.
Graphics

Gameplay

Story

Music

SFX

Hentai