Catgirl Hentai Visual Novel Review: Nekopara Extra
Hentai Reviews

>

Reviews

>

Catgirl Hentai Visual Novel Review: Nekopara Extra
Written by Rastafoo69, edited by Otaku Apologist
Nekopara Extra, a kinetic novel developed by NEKO WORKS. Released July 27, 2018. Download on Steam for $5.00. For PC Windows, Playstation 4, and Nintendo Switch. Full Japanese voice acting. Available in English, Chinese, and Japanese.
Kashou has found two stray catgirls named Chocola and Vanilla. Help them settle into their new life within the Minazuki family!
Want to know more about Nekopara? Read our overview of this adult game series.
STORY
This slice of life kinetic novel follows the Minazuki household from Summer-time to Christmas night the year before the events of Nekopara 1.
Chronologically, this is the first game in the series. Chocola and Vanilla are still little kittens. They've recently recovered from a harsh sickness. Kashou nursed them back to health. After the events of this game, Nekopara 0 takes place.
In real life, this game was released after Nekopara 3. It foreshadows the events of Nekopara 4 by frequently mentioning that Kashou has only recently returned from studying in France.
An OVA based off of Nekopara Extra was released due to positive fan reception towards this game. The OVA cuts out certain plot-points exclusive to this game.

The events of this game are super simple. A beach visit, a shopping trip, checking heights and weights at home, and of course, a Christmas dinner. The dinner is directly referenced and shown in Nekopara 4.
The author clearly recalls the details laid out in the other Nekopara titles. For example, Coconut calls you "oni-chan", which is a habit she tries to drop in Nekopara 2. Coconut also does not have a bell, because she's a young kitten.
Some moments of this game are funny like when the characters reference an "ipon" instead of "ipod". Others are weird, like Shigure explaining her plans to make all the catgirls fuck Kashou. And in a prayer scene, Kashou says he doesn't believe God is real, and only prays out of superstition.
GAMEPLAY
Nekopara Extra is a kinetic novel with all the standard features. Press CTRL to fast forward. Scroll to access the text log. Right click to hide the text boxes. You can save your progress into multiple slots or use the quicksave feature for smooth bookmarking.
The game is about 1 hour long, making it the shortest in the series.
GRAPHICS
Cut-in images and multiple outfits were added in the place of sex scenes. The emote system is still in use, allowing for a variety of facial expressions and movements to bring the characters to life. Considering all characters are aged down with different bodies, this was an impressive addition on the developer's part.
There's a wide variety of CG images throughout the game. Even for small moments like Coconut crying over nothing, the artist fully depicts the scene with tons of detail and emotion. I absolutely adored this game, largely for the huge amount of scenes.
Even something as simple as clothing design is super well done. While Chocola has loose sleeves to match her careless nature, Vanilla has a tight outfit and numerous bows all over to match her "in-control" personality. They're still kittens and generally shy, but their underlying traits become more and more pronounced as the story progresses.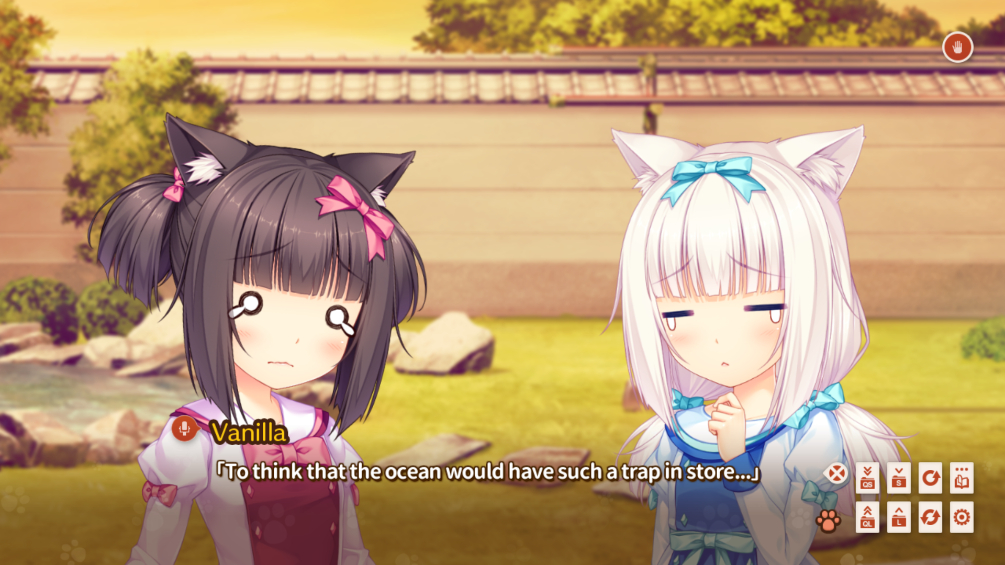 VOICE ACTING AND SOUND EFFECTS (SFX)
Although the catgirls are younger, they retain the same voice actors as the original series. Coconut, Chocola, and Vanilla are noticeably different however. Their voice is a higher pitch and their manner of speaking is more childish than later on. I absolutely loved this detail, because it really drives home how young and immature they are.
Sound effects are used in conjunction with voice acting on a regular basis. Even something as simple as footsteps makes for a good compliment to the scenes and atmospheres being built by the visuals. Another masterful performance by NEKO WORKS.
MUSIC
Nekopara Extra does not have a music room, just like Nekopara 0. This is because both games have no new music to mention. However, because it came out later, Nekopara Extra has more music than its sister title.
Remember, this is a slice of life game about an idyllic life between catgirl sisters. Naturally, there are few if any opportunities to create tension and drama that would warrant musical praise. It's all background music, good background music, but still forgettable.
HENTAI
Nekopara Extra features no sex scenes. While there is a bath scene, the mist covers up all the lady bits.
CONCLUDING WORDS
Nekopara Extra is chronologically the first game in the series. The characters are cute, the voice acting is professional, and the slice of life content was engaging enough to get its own OVA. If you want to see Chocola and Vanilla before they become catpanions, play this one.
Download Neko Para Extra. If you enjoyed this game and want to play more, check out our review of Nekopara 1.

Graphics

Gameplay

Story

Music

SFX

Hentai