Bioshock Infinite 3D Porn Cartoon: Operation Cocktease
Hentai Reviews

>

Reviews

>

Bioshock Infinite 3D Porn Cartoon: Operation Cocktease
Written by Mistress Valentine, edited by Otaku Apologist
Operation Cocktease, a 3D porn cartoon by Redmoa. Released June 19, 2019. Runtime 3 minutes. Full voice acting. Uncensored genitals.
STORY
Agent Liz, modelled after Elizabeth from Bioshock Infinite, is interrogating a rogue operative. She needs information and the guy is unwilling to talk. Liz decides to use all her feminine wiles to sexual torture this enemy agent with the bait of cumming inside her if he gives her the information she wants. But after hours of teasing, Liz still leaves him with blue balls after she gets what she needs. What a bitch!
ANIMATION
I found the animation in Operation Cocktease to be passable. There weren't any special shaders used to make the visuals pop. The animation feels lifted from a PS2 cut scene. There is some mild clipping with hair passing through Elizabeth's face.
The animation itself is very fluid with no jaggedness. The animator shows off their skill by incorporating great subtle facial animations. He also shows excellent attention to detail with slight fabric and breast movements that are not present in a lot of 3D cartoons.
The enemy agent's dick becomes more wet and sweaty as more time passes. The dick looks average with no extra effort going into animating cum or the tip folds. The animator also takes a few shortcuts by changing sex positions but only showing them for a few seconds. The use of the clock that appears on the screen every other second can become annoying to look at. The lighting is used to great effect. The room Liz and the agent are in is vividly lit. In certain shots the light from above reflects on Liz's sweaty forehead.
Discover more faptastic 3D porn games and videos we've reviewed over the years!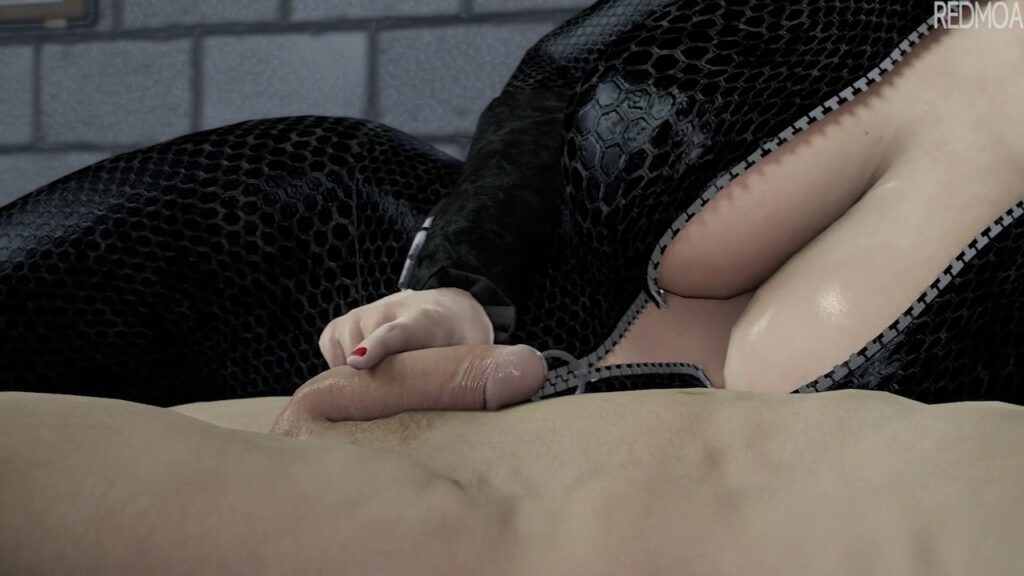 VOICE ACTING AND SOUND EFFECTS (SFX)
You can tell the voice actress playing Liz is having a lot of fun with the script. She peppers her dialogue with a sense of sensuality that makes you want to cum with every word. Her tone is perfect, her delivery is believable. Her moans leave you wanting more.
The episode has a lot of sound effects given its runtime. You can hear Elizabeth undoing her zipper, kissing the enemy agent's dick and sucking his cock. The screen will shift to black and classical typewriter sounds will accompany on segments that show long into the cock teasing we are. There is also some slight fabric rustling noises whenever Liz moves. The entire episode has a low air hum, no music.
MUSIC
Operation Cocktease has no music.
HENTAI
The video does exactly what the title suggests: It teases you with the promise of sex. Liz talks dirty to the enemy the whole time. She brushes up against his rock hard dick with her ass and plants sweet kisses on it.
At one stage Liz wraps her juicy hooters around the guy's throbbing dick but refuses to shake her boobs until he spills the beans. The camera likes focusing on Liz's body. Liz does give the enemy agent a small sample of what's to come by licking his cock and giving him a short, sensual blowjob. She doesn't let him cum.
There is no sex though. After getting the info she needs, Liz taunts the bound agent that having sex with her was nothing but a pipe-dream and that she prefers him blue-balled. The episode is bodacious to make the audience sit through such a blatant cock tease.
CONCLUDING WORDS
Operation Cocktease is worth checking out if only for its blue-balling joke at the audience's expense. If you're a fan of Elizabeth you might rub one out. Hopefully Redmoa's next instalment sees some lucky bastard cumming inside this bitch.
You can watch this saucy 3D porn video at Newgrounds.com.

Animation

Story

Music

SFX

Hentai