Written by Rastafoo69, edited by Otaku Apologist
An Insufficient Girl Bullied and Fucked, a visual novel developed by PinPoint. Released June 1, 2018. Download on DLSite for $12.00. For PC Windows. Full voice acting. Censored genitals.
Fuyua is a busty schoolgirl with a humiliation fetish and a desire to get along with everybody. As these two emotional needs combine, she ends up becoming a cumslut used by all her male classmates.
Visit our perverted Redbubble art store and support our website!
STORY
The protagonist of this game has difficulty with relating to others. She's a hoarder. She tries to help people but tends to make things worse. She loves doujins, as a way to escape from her boring school life. She's the kind of girl you want to protect from the world, but can't.
Everybody at school looks down on her. She has no friends. Other girls pull her hair while the boys taunt her about her body. Even the teachers mistreat her, yelling at her and taking their anger out on her.
Fuyua is the type of person who lets things happen to her, rather than dictating her own fate. She lets people belittle her, she lets people insult her, and she tries to smile through it all hoping to one day make friends. But that will never happen, because she can't assert herself.
Throughout the course of the game, Fuyua is beaten and brutalized. Her naked body is recorded, and they force her to do humiliating things like drink urine in front of her classmates. Nobody gives a damn about her. By the end of the game, though it's never explicitly stated, it's implied that Fuyua kills herself as a result of this abuse.
"I didn't know. What did I do wrong? Why did this happen to me? I know I'm not bright at all. I'm a failure. But, I wanted to get better!". This ending was enough to make me cry. With her last words she says "I wanted someone who understood me. Someone to stand next to me, and watch the sunset… If you had been there, would you have protected me?"
The moral of this story is obvious. No matter your reasons, to look down on someone is to ignore their humanity. Nobody deserves to be treated like that. And if you stand by when evil occurs, you are a part of it. The story is straight-forward and focused on sex.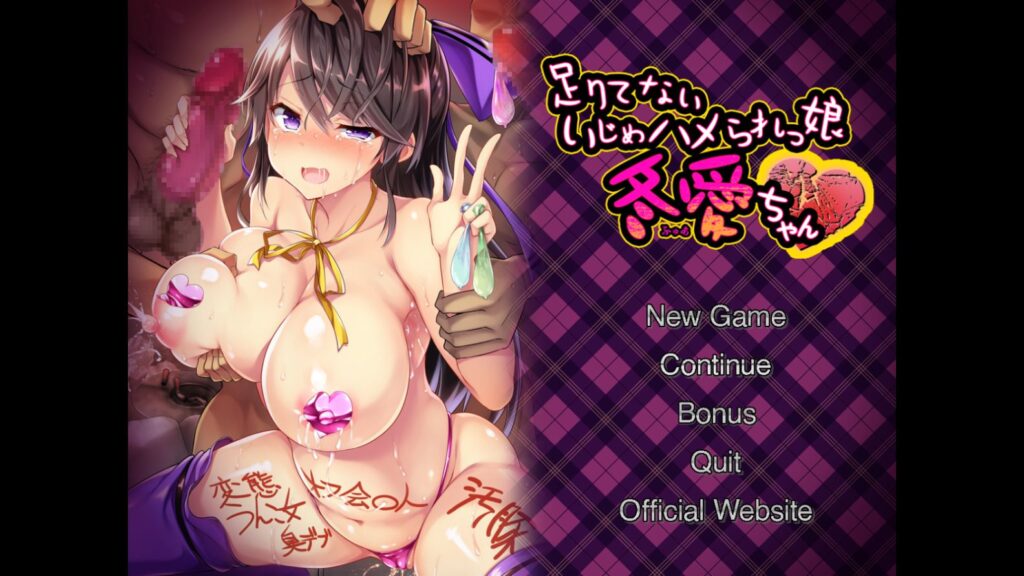 GAMEPLAY
An Insufficient Girl Bullied and Fucked is a kinetic novel. You click the screen to advance the story. As a kinetic novel, the game offers no choices whatsoever. It is impossible to miss a scene. With auto-text, this game is basically a movie.
The game engine is not reliable. It leads to choppy frame rates and a user-interface that often requires multiple clicks for an action to register. Not to mention that transitions like opening the options menu require you to wait a moment first.
GRAPHICS
The art is classic Japanese anime style, with some distortions and abnormalities that fit the hardcore aesthetic.
You will notice a fart-colored haze over most of the photos. This is explained in game in a variety of ways. This gaseous haze over most of the photos was cool at first but heavily overused. And playing this animation over the dialogue was not a good choice with this engine. The frame rate tends to suffer when the haze is overused.
Fuyua is a busty schoolgirl with long flowing hair tied up in a purple ribbon. She gains weight as the game progresses, making her body reflect the wear and tear that her actions have caused. As the scenes escalate, people start physically hitting her and writing mean things on her skin. While Fuyua does have a masochistic streak, her pain remains clear and evident all throughout.
The visuals do a fantastic job of conveying her character. While all of her classmates have clean clothes that perfectly fit them, Fuyua does not. Her clothes are too tight and she sweats through them on the long train ride to school. While her classmates are normal, the visuals alone indicate that Fuyua does not have the idyllic life they do.
VOICE ACTING AND SOUND EFFECTS (SFX)
Fuyua has full voice acting in both her personal monologues and conversations with others. From her manner of speaking, she conveys the personality of a ditzy but earnest girl who's just trying to get along with others. All she needed was a friend, but the bullying causes her to breathe heavily in fear, talk quickly like she's trying to explain herself, and behave dejected when her classmates eye her with judgement.
Overall the voice acting is fantastic, but during sex scenes it becomes unbearable. Fuyua screeches like a high-pitched noise machine, it's so irritating I ended up muting the game.
The sound effects convey the impact of actions without going overboard. When Fuyua is kicked around by her classmates, it sounds more like feet shuffling than a cartoonish "thump" like other games. The focus is always on the voice acting, so the sound effects are meant to fade into the background.
MUSIC
An Insufficient Girl Bullied and Fucked features 42 music tracks in total, though many of them are never used.
All tracks are digitally synthesized, creating predictable beats that lack much musical flair. Some of these tracks lack a melody altogether, and instead rely on chirps and beeps that fade out before repeating again. Meanwhile another track is classical music with light and relaxing tones that conjure the mental image of a nursery. Altogether the tracks are a mixed bunch. Some of these songs are trash, and others I've downloaded to my phone for personal listening.
HENTAI
There are 16 sex scenes with 14 base CGs. The two repeating CGs change the clothing and dialogue, but the base positions are identical. There's all kinds of disgusting visuals, such as phimosis dicks, dirty clothing, sex on the floor, and so much more.
The game begins with Fuyua getting groped on a train by a perverted businessman. When she arrives at school, her PE teacher deflowers her and fills up her pussy with cum. Soon after, some school bullies film and fuck her. The tape is used by another student to blackmail her for even more sex. Somehow word gets out that she's a slut and soon, every guy in town wants to fuck her!
While the primary fetish is humiliation, there are tons of hardcore scenes to be found. Soda is poured into her pussy. Men piss on her and force her to drink the piss. Someone films her shitting in public and posts it on the internet. And of course, she's put on drugs and kicked in the stomach by strangers. She's a cum dumpster, treated as a source for breast milk and anal sex. I wouldn't blame you for feeling queasy. Still, lovers of hardcore humiliation are going to adore this game. Masochists unite!
CONCLUDING WORDS
An Insufficient Girl Bullied and Fucked is one of the most hardcore games we've ever played. The graphics are gorgeous and the voice acting is very well done. This game was made for a masochist audience, so don't expect any kissing or lovemaking.
I recommend this game to fans of humiliation and hardcore poundings. Download An Insufficient Girl Bullied and Fucked. If you liked this game, also check out our review of Kamikaze Kommitee Ouka.
Graphics

Gameplay

Story

Music

SFX

Hentai