Sex Game Review: Hentai Girl Clicker
Hentai Reviews

>

Reviews

>

Sex Game Review: Hentai Girl Clicker
Written by Rastafoo69, edited by OtakuApologist
Hentai Girl Clicker, an animated hentai game developed by ExamGames. Released July 24, 2021. Download on DLSite for $5.00. For PC Windows. No voice acting. Available in English and Japanese.
A beautiful white-haired babe wants you to click on her! Level up and unlock all her favorite sex positions!
STORY
Hentai Girl Clicker has no story. It doesn't even have a title screen! You are just dropped into the game, which immediately starts tracking how long you were away for passive rewards. There is only one save file, so you'll have to delete your save folder if you want to start over. The game was made for DLSite and translated and localized over to Steam. However, this was a machine translation. It seems Steam has gotten lax on translation quality and allowed this half-assed product on their site.
GAMEPLAY
Hentai Girl Clicker was created in Wolf RPG Editor. The game is operated entirely with a mouse, making it a perfect one-handed experience.
As the title implies, you click to earn in-game currency. This currency can be spent on two types of boosters. The left side of the screen gives general boosts like a 1.2 times mulitiplier on all items. The items are on the right side of the screen and they all do the same thing, boost your earning rate passively and via clicks.
If you plan to be an active player, you should max out the "click cursor item". If you plan to fap and watch your income rise passively, you should buy the other items like "eros emblem" and "pheromones".
The red bar in the center of the screen is your fever gauge. As you click it, it will slowly rise. Once it maxes out, you'll have a 10 times multiplier on all clicks for a small period of time. The fever can be upgraded to last longer with a higher multiplier, so it's especially important for active clicker gamers.
This game offers auto-clicking and auto-saving, but doing things manually is faster and smarter. Especially if you bought an upgrade you regret, an autosave would leave you stuck with it.
There are numerous unlockable trophies based on what you've upgraded and how you've played. For example, a trophy for passing 500 clicks. Try to get all the trophies, since each one gives a small bonus to your click earnings.
The game is very casual, which may prove disappointing to some. Like, how all left-side bonuses are active at all times. Making players choose to specialize in one would have been far more interesting. Like all the items have the same function, just a different symbol. I wish each item had a unique purpose.
The game takes about an hour to complete if you're hoping to find all five animations. To reach 100% completion with all upgrades may take two hours or more. Of course, this all depends on your playstyle and click speed. Players skilled at clicker titles can easily beat this game in a half-hour.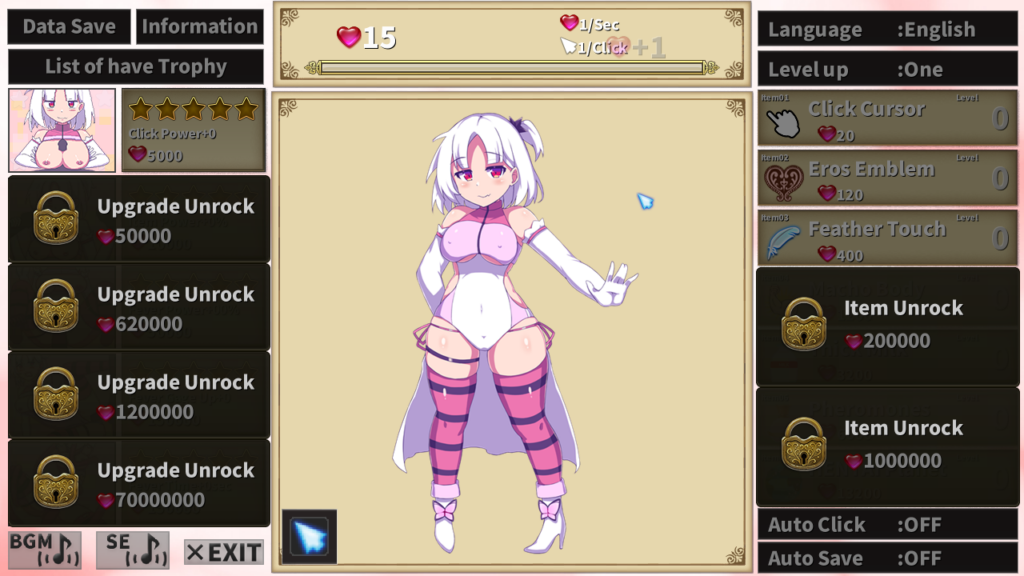 GRAPHICS
The entirety of the game is illustrated via pixel animations. There are no fullscreen CGs, even for the promotional art! While this art style has its appeal for its easy animation and chibi-like appearances, it also lacks detail. During the missionary position, the girl's legs look like duck feet. And when the cock pulls out of her pussy, instead of seeing beautiful pussy lips, you see a weird circle!
The fact that there were only 5 animations was a real disappointment. I would have preferred less trophies and items, and more animations. Even 10 animations would be enough to satisfy, because it would encourage players to take a break and come back, to savor the experience. With only 5 animations, you'll have them all unlocked before you know it!
Another issue with this game is how the animations get repetitive. I wish that more sexual experiences would change how the girl looks. Maybe at first she would have a shy face, but after enough sex, she'd be fully cock crazy! The same animations you get at the start remain that way for all time.
The frame rate occasionally stutters and stops whenever you unlock trophies or save game. This is because the engine is trying to save game while an animation is still playing in the background. The developer should have created a separate save menu that would pause animations in order to avoid the frame drop.
VOICE ACTING AND SOUND EFFECTS (SFX)
Hentai Girl Clicker has no voice acting.
The sound effects are realistic and enjoyable. Players can disable music if they want to focus purely on the sound of skin rubbing together during a titfuck, or a tentacle entering the girl from both ends. However, I wish there was light moaning or something. With only the sound of skin, it almost feels like the girl is a robot.
MUSIC
There are 3 tracks cycled throughout the game. It's all relaxed elevator music without lyrics or complex instrumentals. Players can disable sound effects if they want to simply click and vibe to the beat. Due to the digitally synthesized nature of the music, I suspect it came from some stock music library online.
HENTAI
The 5 sex positions are titfuck, cowgirl, missionary, side sex, and tentacle sex, but no doggystyle! The girl's ass and back are never shown once throughout the entire game! I love missionary as much as the next guy, but the lack of ass is a deal-breaker for many hentai gamers.
There is no erotic dialogue. The animations are simple loops repeated perpetually until you reach fever mode and cum. I wish there was some kind of timer, so you'd have to click fast enough to make her cum first. As it stands now, you can watch her titfuck your character for literally hours without stopping. At first that's hot, but eventually it ruins the suspense of a good sex scene.
The auto-clicker is too slow for players to sit back and enjoy a scene. If you wait for the auto-clicker to reach the cumshot, you'll be sitting for 15 minutes! Which means you always have to have one hand on the game, focused on the fever bar.
CONCLUDING WORDS
Hentai Girl Clicker is a simple game from a well respected developer. Although their past games have been high quality, this release is rather basic. Depending on your click speed, you'll find all 5 animations in under an hour. Download Hentai Girl Clicker.
Graphics

Gameplay

Story

Music

SFX

Hentai