Dead or Alive 3D Porn Cartoon: Maid to Face Fuck
Hentai Reviews

>

Reviews

>

Dead or Alive 3D Porn Cartoon: Maid to Face Fuck
Written by Mistress Valentine, edited by Otaku Apologist
Maid to Face Fuck, a 3D porn cartoon made by LordAardVark. Released January 31, 2021. Runtime 10 minutes. Full English voice acting. Uncensored genitals.
STORY
Helen Douglas is lady of the manor. She spends her days drinking cum out of wine glasses, courtesy of her male servant who spends his days jerking cum for Helen's sperm bank. Helen's maid, Marie Rose, feels like she can do more around the house. She begs to milk the servant when he complains that his hand is about to fall off and has to be instructed how to suck cock.
The male servant takes this as an invitation and begins deep-throating the little bitch much to Helen's protests. He bangs her mouth and cums down her throat, putting his own sexual satisfaction above that of his mistress.
SOUND EFFECTS AND VOICE ACTING (SFX)
InsideIncognita provides the vocals for Helen Douglas, while Cougar MacDowall and VoiceLikeCandy play the male servant and Marie Rose. The acting from all three actors is amazing. Their delivery is on point. InsideIncognita's French accent is stunning. VoiceLikeCandy sucks dick like a pro and her innocent, youthful enthusiasm makes for a great sitting.
The episode features a good number of sound effects. At the start of the episode, you can hear the male servant's dick begin jerked constantly in the background. Footsteps on a wooden floor, as well as subtle movements of fabric can be heard as well. Once Marie is being face fucked, you hear the dick ram in and out of her amidst her gurgling.
MUSIC
The episode features a soft violin, harp and a piano, which ease the viewer into a relaxed mood. The melody is warm and soothing. The soundtrack is limited to one or two tracks that usually play in the background or are deafened by Marie's sucking noises. Songs are not disruptive but the volume is sometimes too low for you to hear.
ANIMATION
The animation in Maid to Face Fuck looks straight out of a PS3 video game. The character sprites have been modified and are rigged beautifully. Helen's rack sways enticingly every time she breathes. Her cleavage window is impressive and looks just made for tittyfucking. Characters have fluid motion for the bulk of the episode. The male servant's body has a noticeable clip near his armpit that is distracting when in view. Marie's bow clips through the rest of the collar whenever she turns her head in-shot. Marie's chin clips in the second half of the episode when she is being face-fucked hard in a different position.
The episode features a number of animations that enhance the viewing experience. Even subtle movements cause Helen's chest to move. Marie's mouth and throat expand and contract to fit the servant's dick inside. Several x-ray shots give us a clear view of cum being dumped down Marie's throat.
The backdrop is a single room, but the detail makes you believe that Helen is a wealthy bitch with nothing better to do than drink cum all day like a royal cunt. The setting is brightly lit and makes you feel you're at a private chalet in the countryside.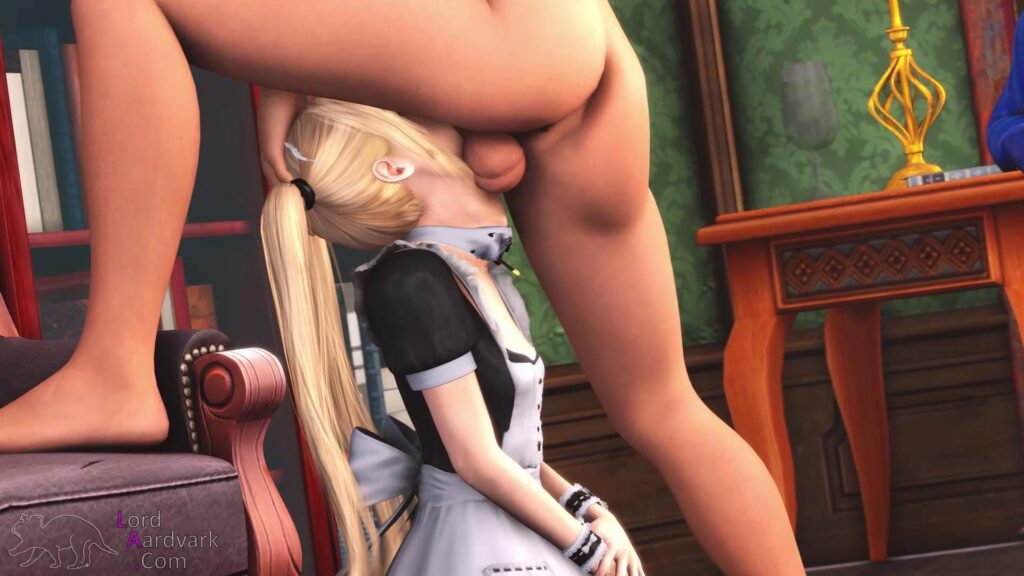 HENTAI
The episode focuses on blowjobs, but LordAardVark manages to make this vanilla sex act look incredibly sexy thanks to great vocal work and excellent camera angles. Several shots zoom in on Marie's face as she swallows the servant's dick. Her mouth stretches to mimic classic exaggerated hentai girl O-faces. The sight of her cute, innocent blue eyes looking up at the camera is enough to make you cream your pants.
The episode changes pace when the servant begins deep-throating Marie. The sex is wild, visceral, and lewd. I enjoyed watching Marie's tiny throat engorged as the larger-than-life dick pumps her. Helen's concerns about Marie's safety and her constant telling-off at the male servant adds to the sex appeal of the scene. Helen's French accent is deliciously slutty and makes you want to see her suck dick too. Her huge, fat tits sway with every movement and are begging for a cock to fuck them.
CONCLUDING WORDS
Maid to Face Fuck is enjoyable. It takes popular Dead or Alive babes and throws them in a very lewd scenario. What could've been a generic blowjob episode turns into a fun deep-throating romp that makes you laugh as much as it makes you cum. The visuals are sexy and the vocal performances entertaining.
You can watch this wonderfully lewd 3D porn video at LordAardvark's website.
Animation

Story

SFX

Music

Hentai