Written by Mistress Valentine, edited by Otaku Apologist
Angel Sex Pet, a hentai kinetic novel developed by Norn/Miel and produced by Cherry Kiss Games. English localization released on February 15, 2021. Download at Nutaku for $9.99. For PC Windows. Full Japanese voice acting. Censored genitals.
Takeshi is a sad, self-loathing beta male who hates his job and spends his nights fapping to porn DVDs. One day a steaming hot angel bitch appears on his way home. She doesn't know shit about sex and wants to fuck, and Takeshi's incel pecker is eager for raw dick-in-pussy action. Thanks to this sudden and unforeseen divine intervention, everyone is made a winner!
STORY
Takeshi and Charlotte meet and forge a sexual relationship after the expected shenanigans is all done with. Before reaping the words of enthusiastic consent from her drooling, cock sucking lips, Takeshi takes the passed out Charlotte home and fondles her tits. She wakes up midway to the groping and explains her situation to her captor. Unbeknownst to Charlotte, the resourceful Takeshi has stolen her rosary, which she needs to get back to heaven. If Charlotte cannot recharge her power within seven days, she'll be stuck on earth.
Takeshi convinces Charlotte to consume his 'vile' sex energy. Stranded on Earth with her means of escape stolen, Charlotte has little choice but to accept Takeshi's 'help'. Thus begins the corruption of Charlotte. Takeshi does everything in his power to ensure she doesn't return to Heaven, while getting his dick wet in her moist virgin snatch every night. He gets rid of Charlotte's clothes to limit her movement, he fits her with a dog collar and a chain so she can't get away. A true and earnest lover who knows what women want, what a champ!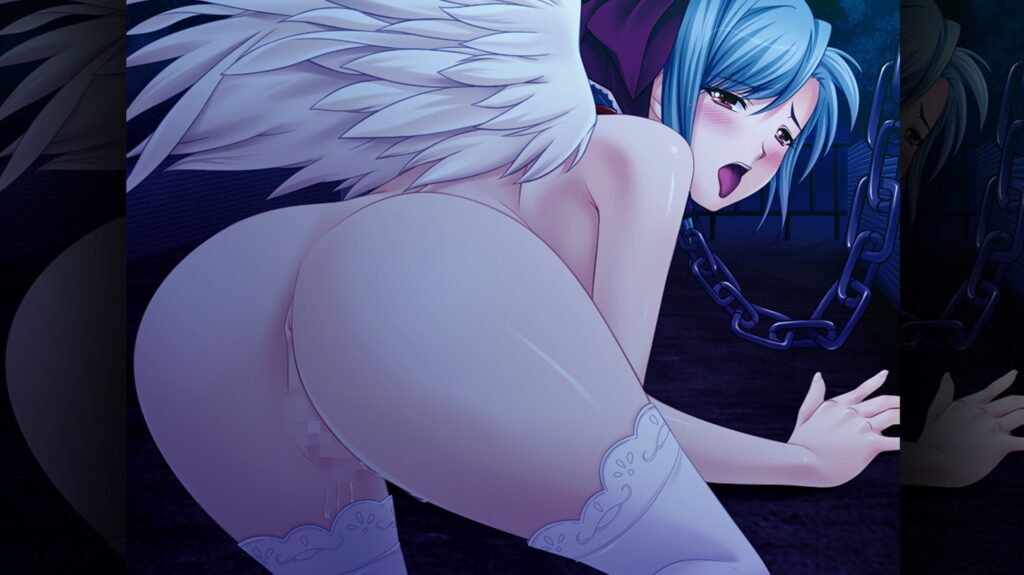 GRAPHICS
The game carries on the long Norn/Miel tradition of featuring excellent graphics. The character design for Charlotte is interesting. She has an unusual appearance that makes her feel like a real-life angel. The developers went the extra mile by trying to make Charlotte's lines sync up with her lip movements. She has loads of facial expressions and will periodically blink.
Background art is plentiful with deep detail. Certain locations have day and night variations which shows off just how well the lighting and shadows in the game are utilized. Takeshi's room is filled with typical otaku items but the sheer amount of detail is amazing. Unfortunately the artist didn't think to change the time on the clock which stays stuck on the same time. The game doesn't have as many backgrounds as visual novels normally do.
GAMEPLAY
Angel Sex Pet is a kinetic novel game. You click the screen to "turn the page". The game has basic visual novel functionality. There are no choices with only one ending to get. You knock up Charlotte and marry her while she's still wearing her dog collar chain. There are ten chapters to work through with twelve sex scenes.
Fap to your favorite CGs in the gallery menu. Speed through dialogue using the 'Auto' or 'Skip' button. You can replay your favorite scene from the Scene Select Menu or play through the sex scenes in the H-Select Gallery.
SOUND EFFECTS AND VOICE ACTING (SFX)
Angel Sex Pet has full Japanese voice acting. The actress playing Charlotte is amazing. Listening to her turn from a faithful servant of God into a mindless cock craven slut is spectacularly entertaining. Her normal line delivery is very believable too. Her stern, no-nonsense persona fits well with her inner whore that surfaces and blossoms during the course of the game.
Throughout the game you'll hear things like thuds, doors opening and closing, and chains rattling among others. The library is limited with several missed opportunities. The lack of sex sounds hurts the experience.
MUSIC
Music in the game employs a combination of real and synthetic instruments. Sex scenes feature songs that have a rave or techno feel. They're fast and upbeat but feel out of place. The song library is vast with loads of tracks that ticks a box for every situation, but the music itself isn't interesting. Songs loop endlessly during scenes which makes you wish the developers had cued their songs better.
HENTAI
The game is filled with wonderful sex. Takeshi is a bastard opportunist who doesn't mind taking a passed out Charlotte home and groping her. He apologizes when she wakes up, but sees his chance when she tells him she's in trouble. He convinces her to use his 'vile' energy to fill up and picks up where he left off. He takes out his dick and strips her of her virginity.
Like a true romantic, he ties a dog collar with a chain around her neck and fucks her doggystyle. In another scene, Takeshi makes Charlotte give him a blowjob. The best scene in the game is the last in which Charlotte has been so thoroughly enslaved by dick that she denounces God.
The game's sex is hot and kinky. The play by play commentary is lewd as fuck while Charlotte's slow corruption is entertaining.
CONCLUDING WORDS
Angel Sex Pet is a great adult game with a sexy idea that is well serviced with faptastic scenes, saucy visuals and fantastic voice acting. If you love corruption storylines and BDSM scenarios, you'll cream for sure at this one.
Recommend for lovers of innocent anime bitches. Download Angel Sex Pet.
Graphics

Gameplay

Story

Music

SFX

Hentai