Written by Rastafoo69, edited by Otaku Apologist
Revenge Girl Marl, a hentai RPG developed by circle yaminabedaiichikantai . Released August 31, 2018. Download on DLSite for $12.00. For PC Windows. No voice acting. Censored genitals. English translation patch here.
After her parents were killed by bandits, Marl devoted her life to defeating them. After a lifetime of training, she's finally ready to investigate their base and destroy them all! Let's hope they don't creampie her along the way!
New to Japanese eroge? Read our guide how to download DLSite games. Also read how to apply translation patches.
STORY
The story begins with a prologue explaining the death of Marl's parents and how she trained in stealth combat. Using intel she's gathered, Marl finds the abandoned castle in the woods that houses the bandits. There are three levels, with the lowest holding the assassin hideout cave full of elite criminals. Marl knows if she doesn't take a stand, more innocents will die, so she heads out to defeat them.
Like all games by yaminabedaiichikantai, there is no story beyond the setup and conclusion. There are no NPCs, extra party members, or other sources of writing and dialogue. The experience is bare bones.
There are six rooms per floor. At the end of a floor is a boss battle. After clearing all three floors, Marl goes home to settle into a normal life and find a husband, just like her parents wanted.
GAMEPLAY
The game was created in RPG Maker MV. The developer is new to the engine and has only used it for four months. Naturally, it's not as impressive as his previous titles. Use the arrow keys to move. Press spacebar to speed up dialogue.
Rather than a traditional RPG system, this game emphasizes stealth kills and proper planning. There are no inns or magic spells, only items and skills. The game is two hours long and should be complete around level 18.
Kill enemies to level up. Every level up earns skill points which are put into stealth or combat modifiers. For example, one skill increases item drop rates while another increases attack power. By the end of the game, you'll have completed 10% of the skill menu. The game is stingy with skill points, so you won't get the rest.
Walk behind enemies and kill them. This only yields half the experience points. Often times an enemy will block your path and you'll be unable to sneak around him, so don't neglect your combat abilities!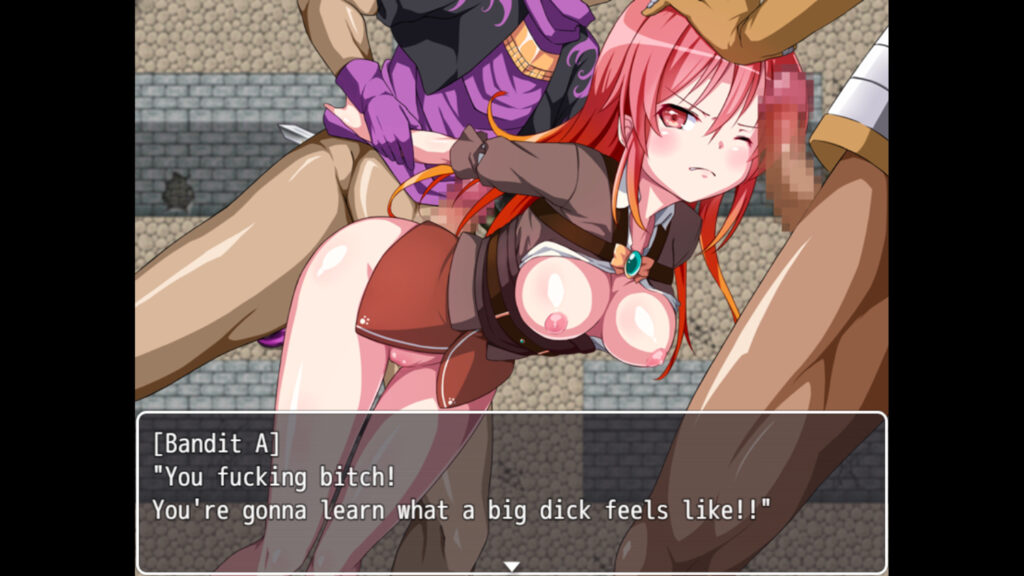 The store page heavily emphasizes the KP gauge and "Escape Strategy" system as new and exciting features. In reality, they're pretty basic. KP is your sexual endurance level, it goes down when you have sex. You can only escape after enduring about 5 sexual encounters. Make sure your KP was high before you got captured or you cannot escape. That's it, there's no "strategy" involved.
The flaws in this game are numerous and incredibly frustrating. Many of these flaws were not present when the developer used VX Ace, but ever since migrating into a new engine, he's had to relearn a lot of things. Here are some examples.
This game is missing sex stats and the sensitivity levels available in all previous titles. This game is missing a game manual in the pause menu. The enemies drop too many items and none of them work. The numbing powder works 1/10 times and the poison has never once worked for me. Some items like stat buffs have no purpose, because in-battle sexual harassment is overpowered.
Enemies can grab your character and immobilize her for multiple turns. Sometimes you can escape, but more often your character gets fucked. There is no cooldown for this move, so enemies can repeatedly bang you and your character cannot resist. Why bother using an item if it'll wear off before you can attack?
The greatest flaw is the complete lack of game design. If you put all your skill points into stealth, you'll get murdered by unavoidable encounters late-game. If you put all your points into combat, it means nothing because enemies can immobilize you at random. Altogether, the game is irredeemably bad.
GRAPHICS
The art is drawn in the anime style. Sadly, it's a step down from previous releases. While games like Earth Defender Valkyrie had their own unique artistic flair, this game does not. It's a lot of super shiny characters as if the artist just learned shading and lighting a few nights ago. This art is acceptable for a newcomer developer, but this dev has no excuse.
There are 12 CGs total. Marl slowly loses clothing when she takes damage, but if an enemy grabs her, the clothing magically reappears on her body. Speaking of enemies, there's only one enemy type throughout the entire game, and it gets repetitive fast.
Stock assets are used throughout the game in the most predictable ways imaginable. And because each floor has up to six rooms, you'll see repeated textures on loop for a long time before you get any variety. These gray dungeons make me want to blind myself.
The one good aspect of the game is the boss-battle system. Battles occur in real time as you and your opponent attempt to strike one another. You can hide behind cover, attack from behind for double damage, and be really creative with your strategies. Sadly, this game removes the boss rematch function that was in all previous titles by this developer. If you wanna goof off in action mode, you can't.
VOICE ACTING AND SOUND EFFECTS (SFX)
Revenge Girl Marl has no voice acting.
All audio is stock assets from the RPG Maker library. You're likely to mute these repetitive chimes after the first hour of play, and I wouldn't blame you.
MUSIC
There are 20 music tracks in total, all from the stock RPG Maker library. The main menu uses the most overplayed track in all of RPG Maker. Even casual gamers will recognize its mediocrity. This was pure laziness.
HENTAI
Revenge Girl Marl features 12 sex scenes, each with their own CG. All scenes require defeat in battle. Alternatively, they are unlocked by completing the game.
Yellow cum, hyper-pixelated dicks, and an overuse of white for character art leaves these scenes feeling amateurish at best. Since they're all accessed the same way, via defeat in battle, the dialogue is virtually identical all throughout. And due to the lack of animations, the scenes just feel stale overall.
The one improvement on previous games is a wider variety of sex positions. Two scenes show off Marl's ass, and the scene of her bound in the stockades was a true beauty. If only you could view these scenes and continue your playthrough, then the game would be improved dramatically.
CONCLUDING WORDS
Revenge Girl Marl is a painful product. The developer switched engines and cut corners. RPG Maker MV is widely hated and this is why. Like the Unity engine, it has a reputation for low quality works filled with flaws that are damaging to the gaming experience. While this title has its weaknesses, it has competent bandit porn for fetishists of the niche.
Download Revenge Girl Marl. If you enjoyed this game and want another, check out our review of Magician of Olecta Desert.
Graphics

Gameplay

Story

Music

SFX

Hentai