Hentai RPG Game Review: Cowgirl Mei Ecchi Adventure
Hentai Reviews

>

Reviews

>

Hentai RPG Game Review: Cowgirl Mei Ecchi Adventure
Written by Rastafoo69, edited by Otaku Apologist
Cowgirl Mei and the Ecchi Adventure, a hentai RPG developed by Ore Teki Shikou. Released November 25, 2012. Download on DLSite for $6.00. For PC Windows. No voice acting. Censored genitals.
Your little brother has been kidnapped! It's up to you, Mei the cowgirl, to get him back! Travel the world, make lots of money, and save your brother from the sexual harassment of the evil Cattleya!
New to Japanese eroge? Read our guide How to download DLSite games.
STORY
As the first game by this developer, the plot is super simple from start to finish. Cattleya wants to fuck your brother and you want to stop her. Every time you catch up to her, she escapes and takes your brother further away. Eventually, you get your brother back and live happily ever after.
The game takes four hours and will be completed around 30. The start and ending are exciting but the middle portion is super boring. It feels like the game could have cut a lot of content like the hotsprings town, and things would have better pacing. Adding in Lut the thief girl at the end was also unnecessary, but it honestly feels like the developer was just making this up as he went along. Thankfully, future games are much more planned out with far better pacing.
There's a lot of strange lore in this game that never gets properly explained. Cows are sentient and human-like, but they're subservient to humans. They don't wear clothes and they only know how to read and write in their unique cow language, yet they also speak the human tongue. It's a lot like Nekopara, because it seems like in the real world people would just buy them as pets and fuck them all the time.
A lot of this game isn't very realistic. Like when you find the inventor Nembury in an underground dark realm and he randomly agrees to help you defeat Cattleya. Temporary party members are pretty pointless in my opinion, since you know they won't be around long, so you never get attached. Don't expect Shakespeare here, the writing in this game is typical of a debut release from an indie developer.
GAMEPLAY
Cowgirl Mei was created in RPG Maker VX Ace. Press Shift to skip dialogue. There is no text log or button to hide text boxes. The game is almost a decade old, so don't expect modern features like quicksaves or crafting systems.
It's a standard RPG experience. Beat enemies to level up and earn money to buy new equipment for your party. The towns are pretty barren with nothing to do outside of chatting up NPCs to discover new bits of dialogue.
Players can fast travel to any town they've visited before. The difficulty is low, in large part due to item drops and full-recovery spots before bosses. The memory room can be fully unlocked with a password once you beat the game. There are three quiz girls who reward you with ecchi scenes for participating in simple quizzes like "what was the name of the dog at the start of your quest".
You never really need to level grind or solve puzzles, just keep moving forward. It's a pretty linear experience overall and you rarely need to backtrack or talk to old NPCs. Pretty much everyone will complete the game in four hours, because there are so few distractions or things to do outside of going to the next dungeon.
GRAPHICS
The art is drawn in a softer variation on the anime style iconic to Ore Teki Shikou. They did upwards of 25 doujins and mangas on their own before ever dipping their toe into game design. For a debut release, this has some of the best artwork in the genre. Their experience shows!
There are 20 scenes in total, fifteen of which are central to the story and 30 base CGs. This is because many scenes use multiple CGs, usually transitioning from one sex position to another. Every scene is a joy to watch because you never know if a transition is coming or what you'll see next. There are 100 total art assets due to cut-in images, but they're almost always an x-ray view into the creampie.
The character sprites and textures in this game are all stock assets from the RPG Maker library. Similarly, enemy sprites during battles are also the standard snakes and dogs common to the genre. Even characters important to the story are usually recolored sprites of stock assets. On the plus side, this game does surprise with occasional animations like a monkey jumping away and out of sight.
As many other games have shown, stock assets can be used in creative ways to build truly unique experiences. This game does not do that beyond the first town. The farm area was nice, and the mansion was well designed, but everything after that is basic. The hotspring town in particular is basically a corridor with different rooms, very disappointing.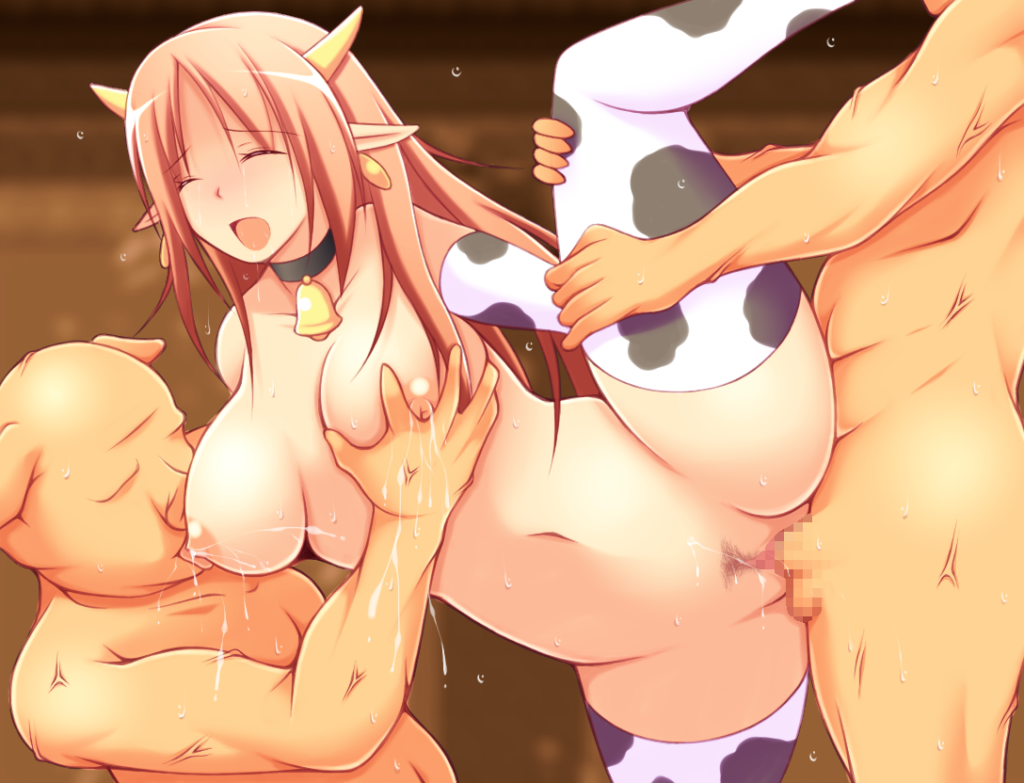 VOICE ACTING AND SOUND EFFECTS (SFX)
Cowgirl Mei has no voice acting.
Sound effects for moans and queefing are used in every sex scene. Personally I felt they went a bit overboard with the latter, it almost sounded like every woman had a gaping hallway of a cunt. As for battle sound effects, they're stock assets common to the RPG genre. There is nothing noteworthy outside of the sex sounds, which range from hot to silly.
MUSIC
There are 17 tracks in total. They're all overused stock and licensed tracks common for debut releases from small developers. While some tracks like "Old Gold" were unusual and upbeat, but the vast majority like the title theme, were painfully generic. With 17 tracks total, you'd think the developer would use a better variety!
HENTAI
There are 20 scenes in total. Most of the scenes are completely unavoidable, even if they contain fringe fetishes like tentacles. Flashbacks indicate your brother lost his virginity to a random milf a long time before the game began, so there's not even a virgin defloration fetish here.
Sex positions range from cowgirl to doggystyle with everything in between. Even when the sex is predictable and the dialogue is basic, these artworks are fucking gorgeous man! I almost feel catfished! These artworks deserve much better dialogue and foreplay. If only this game had impregnation mechanics! If it had something outside the visuals, I'd be cumming like a rocket!
Mei has huge tits and they absolutely deserve to be grabbed and fondled around. While there are titfucks and breast sucking, neither are super prevalent throughout the game. I would have loved to see a breastfeeding emphasis or something, because her tits are perfect! Sadly, most scenes just show them visually without anything being done to them. What a wasted opportunity!
CONCLUDING WORDS
Cowgirl Mei is the debut release from this developer and it shows. The writing is basic, the music is stock tracks, and the sex scenes are pretty vanilla. Thankfully, the developer's experience in the doujin industry ensured there are some gorgeous artworks to enjoy, with perfect busty babes I'd love to be laying under. If you love sexy anime cowgirls, you'll cum hard at this game.
Download Cowgirl Mei Ecchi Adventure. If you liked this game, then check out our review of Sujimon Quest.
Graphics

Gameplay

Story

Music

SFX

Hentai