Pure Love Visual Novel Review: With an Older Girl Yuina's Sweet Encouragement
Hentai Reviews

>

Reviews

>

Pure Love Visual Novel Review: With an Older Girl Yuina's Sweet Encouragement
Written by Rastafoo69, edited by Otaku Apologist
With an Older Girl Yuina's Sweet Encouragement, a hentai game developed by BousabaG. Released October 25, 2020. Download on DLSite for $20.00. For PC Windows. Full Japanese voice acting. Censored genitals.
Your beautiful cousin has come to live with you! She has a motherly disposition, and has always treated you like a little brother. Get cuddled and pampered in this open-ended lovey dovey hentai sexperience!
STORY
As the DLSite store page admits, "There are no endings, just an ever-continuing lovey-dovey life". After about an hour, you've seen all the content the game has to offer.
Yuina is your cousin, and is totally understanding of how men get horny sometimes. She's willing to help you with that, with handjobs after three days and sex after eight. She saved her virginity for you, because you're precious to her.
Kisses, hugs, lap pillows, ear cleaning, and falling asleep together, this girl will do anything for you! She wants to live with you and take care of you. She says "I'll always be here to help you. Don't hesitate to ask". And when she asks if she's being a nuisance, you can tell her "No, stay with me forever!"
The closest thing to a main quest is the marriage plotline. After her affection has deepened enough, you'll be able to purchase marriage magazines and later, an engagement ring. This makes her your fiancé, but sadly, you never get to marry her. There is no marriage ceremony in-game. It's basically a loving girlfriend simulator. She loves you unconditionally from the start, so don't worry about trying to be someone that you're not.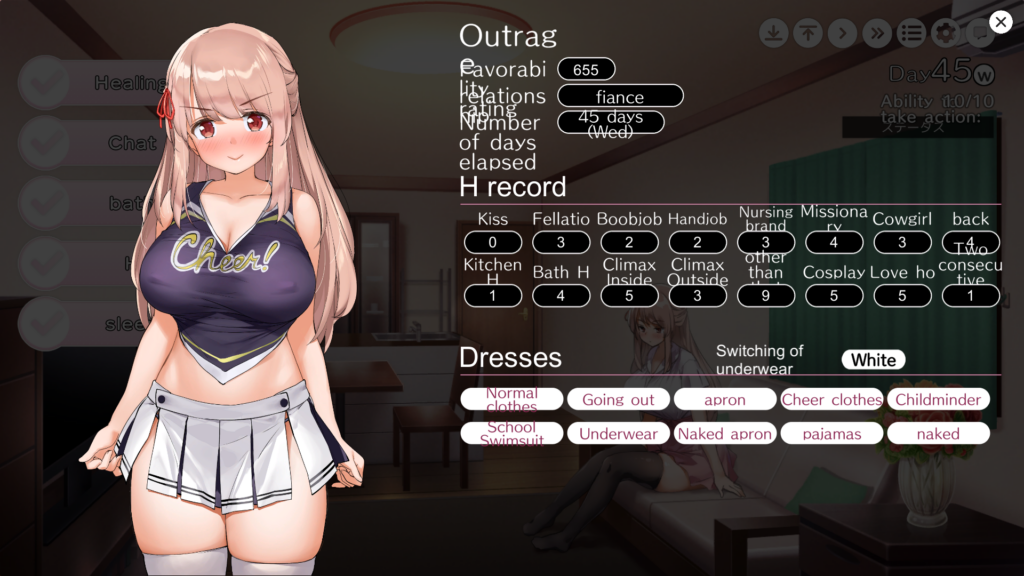 GAMEPLAY
Older Girl Yuina was created in the Unity engine. Click the screen to advance dialogue. Buttons on screen will activate auto-mode, text skip, and the backlog. There is no overall goal, the game is basically a visual novel.
Once a week you can take Yuina on dates to the movies or aquarium. Going shopping on the date does not advance time, so feel free to shop like crazy! In fact, shopping is the primary method to advance the marriage plotline and acquire new cosplay outfits.
When you're home, you have a certain amount of action points each night. These can be spent on cuddling, talking, or having sex. Combining outfits and actions will yield unique outcomes. Like titfucking and cosplaying show a cheerleader scene. Or taking a bath after purchasing a swimsuit, you get a bath sex scene. Mix and match to find all the outcomes!
Talking lets you choose which topics to discuss. Cuddling lets you choose how to be spoiled and for how long. Beyond that, the game just goes on forever. This is your life now, your shelter from the cruel world outdoors. The game can be completed in 30 in-game days. While at first her status will be "good cousin", by the end it should say "fiancé".
GRAPHICS
There are 15 CGs in total. Most CGs have variations depending on Yuina's attire. Some artworks like the one featuring a doggystyle position are not immediately available, and need to be unlocked over time.
The game takes place almost entirely inside the player home. Yuina usually wears a white blouse and pink dress, though she'll wear pajamas or a maid outfit when circumstances are right. She mostly has her hair down, but keeps it short on the front and braided on the sides.
Yuina's booty is lovely and round, but only shown off in one scene! Instead the game focuses on her tits. You get the front view, side view, and my favorites! Looking up at her breasts towering above you, and looking down at her breasts as she sits below you. It just feels so intimate and loving and pure! Add in her blushing face and honest eyes, and you have a girl who is truly waifu material.
The thigh-high socks and perfect hip to waist ratio make her an absolute hottie! But it's only natural that I'm left wanting something more. It doesn't feel like I earned her love, it feels like it was given to me. I would have really enjoyed more scenes leading up to the sex, where we get a view of her cleavage or an emphasis on her legs. Right now, the scenes jump from polite to lewd with nothing in between.
VOICE ACTING AND SOUND EFFECTS (SFX)
Older Girl Yuina is fully voiced by Poplar Sawano. While the performance is nothing special, she delivers her lines to perfectly match the intention and tone of the script. When she says "doki doki" referring to her heartbeat or "daisuke" when expressing her love for you. It touches my heart when I come home and hear her happily say, "What happened today? Tell me all about it". And of course, even though she's not your sister, she still refers to herself as your "onee-chan", which is a major turn on to many adult gamers. My favorite line of all however, is when you ask her about any fetishes she might have. "My fetish? I guess I'd say, your voice is my biggest fetish". Her cuteness is absolutely overwhelming.
You wake up to the sound of vegetable chopping in the morning as she prepares you a breakfast. You come home to hear the creak of the door as you peek into the room. You lay relaxed in the bath as the sound of running water accompanies the voice acting. There's a lot of care put into the details.
MUSIC
There are five tracks in total. All tracks rely on some combination of xylophone, guitar, woodwinds, and occasionally bongos or percussion. Sometimes the guitar is primary, sometimes the piccolos are primary. Regardless, using these instruments consistently creates a level of relaxation and expectation that's easily fulfilled in the arms of your beloved Yuina. It almost feels like a rural home on the countryside, because the music creates such a cozy vibe.
HENTAI
The 15 CGs in this game are easily unlocked via repeated sexual actions. You start with a handjob, then a titfuck, and eventually you'll be pounding her pussy!
Sex stats are tracked in a menu accessible on the right-hand side of the screen. This also tracks the outfits you've acquired and favorability built with Yuina. It's not entirely accurate though. I've kissed Yuina countless times but our kiss stat is still at zero.
The game is not focused on lewd or taboo sex. Rather, the focus is on building a loving relationship. Like getting into the bath together and getting extra close and cozy with each other. Or talking about getting married someday, then having sex missionary style so you can adore her beautiful face. It's a relaxed vanilla porn game overall.
CONCLUDING WORDS
Older Girl Yuina is a short and sweet hentai game about the unconditional love of the most beautiful girl in the world. The visuals are gorgeous, the music is comforting, and the voice acting is the star of the show! While the game lacks conflict and tension, it makes up for that by being an experience you'll always want to come back to.
Download With an Older Girl Yuina's Sweet Encouragement. If you like older women, then check out our review of Milked Life of a Female Doctor and Her Assistant.
Graphics

Gameplay

Story

Music

SFX

Hentai