Corruption Hentai Game Review: Digital Princess Karin
Hentai Reviews

>

Reviews

>

Corruption Hentai Game Review: Digital Princess Karin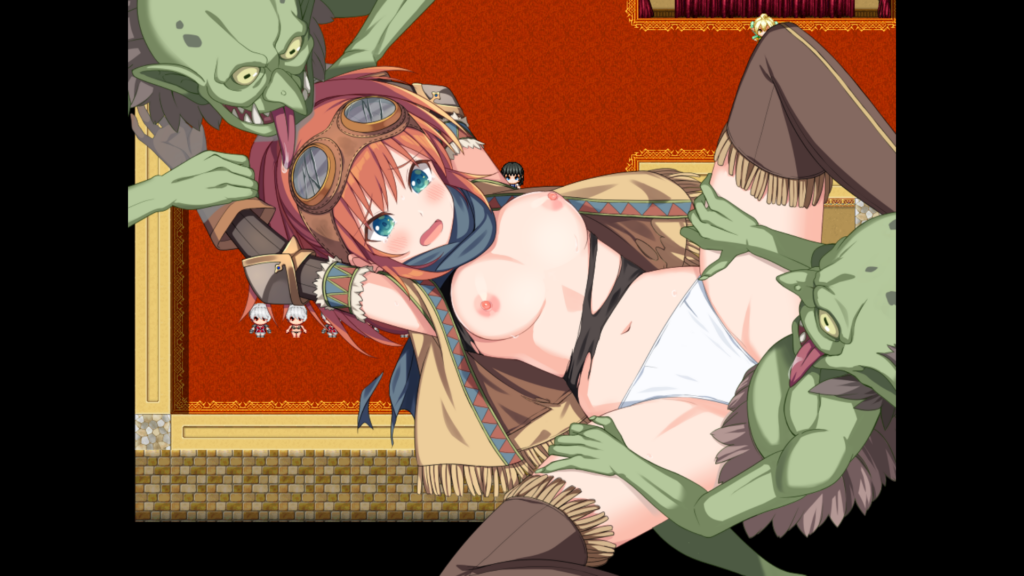 Written by Rastafoo69, edited by Otaku Apologist
Digital Princess Karin, a corruption hentai game developed by circle Fairy Flower. Released June 25, 2021. Download on DLSite for $16.00. For Windows PC. No voice acting. Censored genitals.
Karin's father is the creator of a virtual reality game called "SkyWorld". But when a lewd virus infects the game, she and all of its users become more vulnerable to erotic content! Will she find the hacker and remove the virus, or become a victim of its lewd infection?
New to Japanese eroge? Read our guide how to download DLSite games.
STORY
This game is the third in the Princess series. First was Princess Knight Claris, then Hero Princess Millia, and now the Digital Princess Karin. Although the corruption focus remains, this game follows a traditional level-up formula rather than starting at 99 and leveling down.
Someone hacked SkyWorld to allow erotic content! The lewd virus is capable of infecting players mentally, making them lewd in the real world if they have sex in the virtual world. Don't let Karin have sex or else!
This game has two worlds to explore. The real world allows you to buy games, a camera, outfits, and more! Livestream your gaming to earn money which you can spend in the virtual world! Become a camgirl and spend your earnings on premium items!
The game is four hours long and the story is much simpler than its predecessor. Complete guild quests to either progress the story or strengthen your character. Rank up in the adventurer's guild to unlock new regions to explore. There's basically no overall story. By the time you find the hacker, your actions throughout the game will determine whether you get the lewd ending or not.
Very few games build up such an interesting premise. You can find erotic scenes in both the video game and the real world. Sadly, this never really goes anywhere. The real world is small and basic while the video game world is huge and enjoyable. It really feels like the developer wasted a great premise.
Discover more sizzling hot corruption games we have reviewed over the years!
GAMEPLAY
Digital Princess Karin was created in RPG Maker MV. As usual, the switch from VX to MV led to a weaker product. However, the mouse functionality is appreciated.
Starting at level 1, players will kill monsters and complete quests to slowly grow in strength. The two features to mix things up are passive skills and class changes. Passive skills give boosts like an increase in attack power or defense, which may be swapped out at any time. Class changes allow players to use different weapons and focus on different stats like a mage emphasizing magic.
The problem is, the game is way too easy. I never felt a need to try the other classes! And sure clothing can be damaged and new classes can be unlocked, but none of that really matters when you always feel over-leveled. This game can be beaten without ever worrying about features beyond "attack" and "items".
Classes level up separately from each other, so your level 20 swordsman is distinct from your level 1 bunnygirl. However, leveling up your other classes is easy since holding the CTRL key will skip through battles. And, your higher level class has probably got a lot of money for equipment that your weaker classes can use. But again, you never have a reason to change class in the first place.
Monsters drop sellable items instead of money. Each dungeon has an estimated level so you're never in danger of wandering into trouble. The Battle City allows for easy level grinding and access to hyper strong weapons. Although this game has all the features of a great game, it's way too easy. The low difficulty level makes it less engaging.
GRAPHICS
The art is drawn by a different artist than before! While the previous artist emphasizes consistent lighting, skillful shading, and knowledge of textures like wet clothing, this artist does not. Rather, the art in this game is a series of colored ovals, as if drawn by an amateur. As an indie release this would be fine, but this is the third game in the Princess series! What happened to the art quality?!
Another strange point to note is how the enemy sprites are so hyper-detailed while the protagonist is not. While the enemies are drawn to appear completely unique and well designed with their own memorable aspects, Karin herself is just some random chick with big boobs!
Each class has its own unique outfit. On one hand, this is fantastic since it changes your standing art. On the other hand, this is lame since it creates more work for the artist. They either have to redraw every scene for every outfit, or simply make Karin completely nude. They chose the latter, so almost every scene has Karin nude. And with all CGs repeating multiple times, the visuals get old fast.
All battles are icon encounters rather than random, meaning it's possible to sidestep battles and enemies. The world map has guardsmen blocking off certain areas depending on your story progress. After a few hours of play, you'll have to choose between visiting the Haunted House or Fairy Village. Beyond that, the world is your oyster.
Your clothes have their own HP bar to track how damaged they are. If they fall below 10% health, you will be sexually harassed. As a side note, the game is designed to encourage mouse usage with a menu access icon in the top right corner of the screen. The visuals are technically good, but the amateurish artworks remain a sour side to the experience.
VOICE ACTING AND SOUND EFFECTS (SFX)
Digital Princess Karin has no voice acting.
The sound effects in this game are stock assets and downright terrible. For example, when a guy pees inside of Karin, it sounds like a cup of water being filled at a kitchen sink. And the battle sound effects are the standard assets used in every other MV title. There is nothing worthy of praise here.
MUSIC
There are 97 tracks in total, the vast majority of which come from the MV stock library. Thankfully, a few of the tracks in this game are unique and enjoyable. The title music plays a big part in giving a good impression to the game with an emphasis on string instruments and small bits of piano in the background. And the world map music is fast-paced pure piano, which creates an upbeat tempo to compliment the techno effects that join in soon after. The music is much better than in the developer's previous titles.
HENTAI
Digital Princess Karin has only 10 unique CG images. Oftentimes variations are passed off like new ones. For example, Saori's scenes fucking tentacles is just the CG of her fucking goblins, but with the goblins removed. The developer cut corners and repeated CGs like crazy.
Getting fucked in your sleep or by some random homeless is supposed to be hot, but if you've seen the CG before, the freshness is lost. There's a surprising amount of piss content in this game, which left me annoyed, because that could have been replaced with actual sex scenes.
There is no blood for deflowering scenes. While sex stats are available, you have no incentive to find all the scenes and raise them due to repeating CGs. Although the character classes have sexy outfits, only a handful like the bunny outfit are actually given unique sex scenes.
CONCLUDING WORDS
Digital Princess Karin is the classic case of a developer trying to follow up on their magnum opus. While the scenario is super interesting, the gameplay is too focused on the RPG elements. Although the sex scenes have good scenarios, there aren't enough CGs to keep things fresh. In summary, the game ends up as a novelty rather than an incredible adult gaming experience.
Download Digital Princess Karin. If you like this developer and want to see perhaps their best game ever, then check out our review of Heroic Princess Millia.
Graphics

Gameplay

Story

Music

SFX

Hentai