Hentai RPG Review: Princess Project
Hentai Reviews

>

Featured

>

Hentai RPG Review: Princess Project
Written by Rastafoo69, edited by Otaku Apologist
Princess Project, a hentai RPG developed by Triangle. Released April 6, 2019. Download on DLSite for $7.00. For PC Windows. No voice acting. Censored genitals. Available in English and Japanese.
Meeyu is the scatterbrain princess of a prosperous empire. But when her father gets injured and there's a high chance she may have to take the throne, she decides to become a more respectable person. From zero to hero, so begins the Princess Project!
Read our guide how to download DLSite games.
STORY
The overall plot is simple. The Prime Minister is hoping to seize power by either killing or capturing Meeyu. Once she uncovers this plot, she seeks him and defeats him and restores peace to the nation.
Although the game seems short, lasting only two hours, a lewd playthrough is over double the length, because there's so many sex scenes. Every dungeon has multiple scenes, which you unlock by getting defeated by monsters or the boss. Similarly, your companion for that dungeon also has multiple sex scenes. And of course, returning to sex scenes will give unique dialogue, the same as raising your lewdness level unlocks unique dialogue. Although the game is two hours on a virgin playthrough, playing lewd opens possibilities!
Princess Meeyu is the main protagonist, but her three friends also appear at various times through the story. Ai runs a brothel, Elise is the castle maid, and Sonia is the local nun. In town, you can swap between all four ladies and find their unique sex scenes. For example, play as Elise and get drunk at a bar!
The writing in this game is hilarious in a goofy way. Like whenever Meeyu wakes up she says "Heck Yeah, I slept like a boss!". She's such a dork! Another funny scene was watching Ai try and recruit Sonia to work at the brothel. This game is less about a plot and more about "slice of life" experiences.
There are two endings, depending on whether you win or lose against the final boss. There are occasional mistranslations like characters telling you to go south-east when the actual location is south-west. Fans may recognize Succubus Rem and Kunoichi Tsubaki who make cameos in this title.
GAMEPLAY
Princess Project was created in RPG Maker MV. Press W to hide text boxes. Press CTRL to skip text. Movement is done via arrow keys or clicking with your mouse.
The core game cycle is a classic RPG dungeon crawler where you grind enemies to level up. The game is completed at level 20, so you should have ten levels per hour, which is a nice and satisfying pace of growth.
To change characters, find them on the map. The nun is always at the church for example, and the others are easy to find as well. However, you can only explore and level up when controlling Meeyu.
While there's a basic alchemy system, you never have any incentive to use it. And although your charisma stat rises by killing monsters, it has no real effect on the story.
A fantastic feature of this game that other developers should learn from is the rescue system. Much like Magical Girl Sarah, defeats in battle are not the end! After the protagonist is defeated, you'll control her friend to search and rescue her. If the friend is defeated, she'll have unique sex scenes of her rescue gone wrong.
GRAPHICS
Triangle is a developer well known for his art style. If you've played Sex Angel Ariel, this probably seems familiar. Bright colors, soft fades pink shades, and super expressive eyes make this artist a well renowned classic.
There are five waifus in total, representing the five body types. While Ai has enormous breasts, Maki is far more petite. Speaking of Maki, she's the girl dressed like Megumin from KonoSuba. I wish she had more scenes! She only has 3 unique artworks, which left me wanting more.
There are over 110 scenes in total, with about 40 CGs to enjoy. However, they usually repeat when you lose to the same boss twice, so most players won't notice too much repetition. The only noticeably overused CG was Meeyu's titfuck, but the others are spaced out.
Outside of CG images the world is gorgeous. Especially Sonia's church! From the walls to the pews, each bit of that building is wonderfully designed to match realism with beauty. It actually makes the royal castle seem bland by comparison. On another bad note, the weapon wheel during combat is pretty hard to navigate at first. Rather than a menu that says attack or defend, you have to press up or down to rotate a wheel clockwise or counter-clockwise.
While all scenes feature CG images, some add in minor animations. A tongue movement during a blowjob, an x-ray view for a pussy pounding, the list goes on. These small animations add life to these scenes and compliment the dialogue perfectly. You can actually see the man speed up his thrusting when dialogue mentions it, and see the girl move her tongue more when the guy she's blowing is getting close. Even after you've seen it all, you'll be glad this game features a recollection room in the player bedroom. I still come back to rewatch these scenes, even after beating the game twice!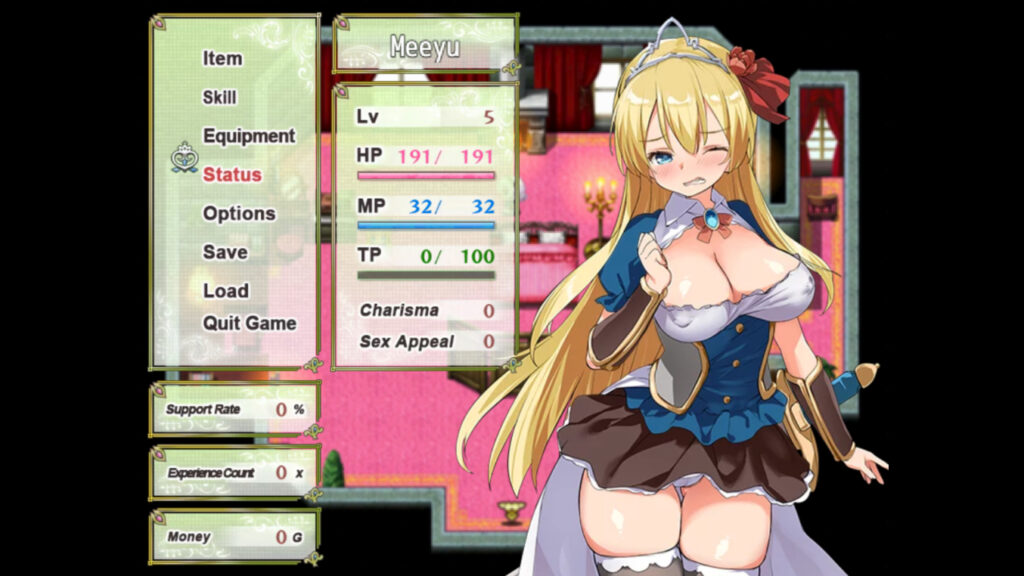 VOICE ACTING AND SOUND EFFECTS (SFX)
Princess Project has no voice acting.
The sound effects in this game come from the stock RPG Maker library. Some are licensed assets. The game never feels generic, because the music keeps the focus. It's also short enough that the battle audio won't get repetitive. And the actions always match the sound effects like a throwing knife sounding different than a blade strike. Altogether, wonderfully done.
MUSIC
There are 49 songs in total. While none of them are particularly memorable, they aren't bad either. The main menu track is a digitally made track with piano and bass creating a relaxed and happy feel. Meanwhile the final battle track uses electric guitar and a fast drum beat, which builds up to a techno melody you heard on Sega Genesis. Like most digitally made music, its beat and rhythm is predictable, but thankfully the tracks often swap tone before you get tired of them.
HENTAI
There are over 110 sex scenes in total, with fewer than half as many CGs. The repetition is unavoidable, but the dialogue always changes to keep things fresh. Like the addition of an aphrodisiac or changing the scenario from something goofy to being pounded by an evil bandit.
All boss battles in the game are preceded by a warning "you smell a pervert". This way, you can feel free to save game if you want to lose on purpose. I absolutely loved doing that, like when Meeyu gets deflowered by a cocky nobleman! She says "My first time? With an old man like him?!"
A gloryhole at the church confessional! The pronebone position at the brothel! A stomach bulge from being filled with cum! Each scene has something new to offer. One of my favorites was when the nun needed to pass a blockade and had to pay the toll, with her mouth! That guard was enjoying every moment of having an innocent nun bobbing her head up and down on his cock!
Even when CGs repeat, they are always used creatively. Like when Elise is about to get fucked by a guy and insults his tiny dick! A moment later, he gets hard and swells to double in size! Suddenly she's blushing, and soon her pussy is flooded with cum! He fucked her bare and she came like crazy! That CG repeats later, without the dick growth.
Erotic dialogue is always hot, especially when the girls are super unexperienced. While animations are limited, watching a thick cock thrust into your favorite waifu is an absolute joy to view.
CONCLUDING WORDS
Princess Project is one of the most gorgeous hentai games on the market today. While the story is basic, the sheer volume of +110 scenes provides players with hours of enjoyment. From a hooker to a nun, a maid to a princess, and even a Megumin knock off! This game has it all! I highly recommend this.
Download Princess Project. If you liked this game but want a male protagonist, then check out our review of Pronant Symphony!
Graphics

Gameplay

Story

Music

SFX

Hentai