Sexy Puzzle Game Review: Call of Hentai Kitty
Hentai Reviews

>

Reviews

>

Sexy Puzzle Game Review: Call of Hentai Kitty
Written by Mistress Valentine, edited by Sexy and Otaku Apologist
Call of Hentai Kitty, an adult puzzle game developed and published by Pen in Apple Studio. Released for Windows PC on April 14, 2021. Download on Nutaku for $2.00. Partial voice acting (moaning only). Uncensored genitals.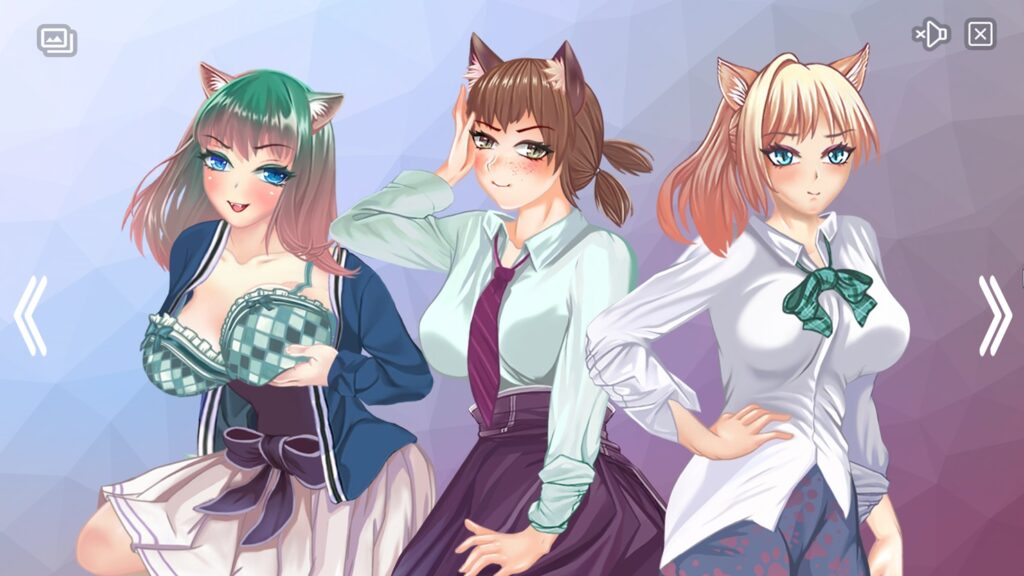 STORY
Nine girls are tired of being alone. That's where you come in. Don't try to think about how or why or what even any of the girls' names are. You are here to pleasure them. Needless to say, Call of Hentai Kitty has literally no plot.
GAMEPLAY
Call of Hentai Kitty is a puzzle game. You have nine girls to play with. Each girl has three stages that must be completed. The first round involves shuffling tiles in the correct pattern to reveal the cute girl. In the second stage, you have to match tiles in pairs of two. A board of tiles will flash on-screen at the start and then flip face down. You have to memorize their positions in order to clear the stage. Tile images in stages range from various girly things like hearts and ice cream and diamonds.
After every round the girl will lose more clothing until she is completely naked. In the third stage you have to tap buttons on your mouse or keyboard to pleasure the girl until either of you cum. You can cheat your way to victory by pressing Control + F. However, this cheat does not work in the third stage where it is most needed.
GRAPHICS
Call of Hentai Kitty uses hand-drawn art typically found in the West. Character sprites look like they've been painted with a brush. Lines are thick and the colors soft and warm. All the girls in the game have same-face syndrome with only their eye color and clothing to differentiate them from one another. They all have large bobbing boobs and cute, soft bodies. There is no variety or creativity. None of the girls are even named. After you complete a stage, the girl you are playing against will lose more of their clothing until they are completely naked. Sprite bodies in the game jut and move. Breasts sway side to side as they are being pleasured.
The game's background art compliments the sprites. They share the same art style with light colors and minimum detail to not take away attention from the girls.
VOICE ACTING AND SOUND EFFECTS (SFX)
Call of Hentai Kitty has no voice acting but does feature generic moaning and grunting noises. Each sound is indistinguishable from one another and might have been performed by the same actress. The moaning starts to sound like background noise after a while. I didn't get wet listening to them.
Occasionally you will hear a stray 'meow' whenever you accomplish something. The rest of the game's sounds are limited to tiles moved around or flipped up and down.
MUSIC
I really enjoyed the music in this game. The soundtrack is extremely limited to a handful of tracks. Most of the time it feels like you're listening to just one song on loop, but the melody is so intricate and beautiful that it tricks you into thinking there is a large library of them. The game uses original instruments like the piano. Tracks are all soft and warm. They put you in a relaxing and intimate mindset. The composition is so relaxing that I once fell asleep to it.
HENTAI
During the third stage, you pleasure the girl by groping her tits. After you have rocked her world, you lick out her juiced up cunt. Finally, you use your dick or a dildo and plow her mouth or pussy until you cum. While that may sound hot, the sex in this game gets repetitive very quickly. The above-described events play out with every girl in the exact same sequence. Sometimes the game switches it up a little. You will spank the girl instead of groping her and lick her tits instead of the pussy. The girls' facial expressions don't even change when they cum.
The developers cheat by making inanimate objects like dildos spew cum forgetting they're not cocks. You can't even get off properly because you have to smash the keyboard buttons so fast that by the time the girl cums, you're left blue-balled. If you tap too slowly, your girl never reaches the height of orgasm. This game mechanic is poorly designed for its ultimate purpose.
CONCLUDING WORDS
If you like solving puzzles while exploring cat girl pussy with your dick in hand, Call of Hentai Kitty may just satisfy those needs. The anime art is decent and thankfully uncensored, but music and audio and story have notable weaknesses. It's a simple time-killer for the dirty-minded. Download Call of Hentai Kitty.
Graphics

Gameplay

Story

Music

SFX

Hentai