Hentai RPG Game Review: Double Elf Fantasy
Hentai Reviews

>

Reviews

>

Hentai RPG Game Review: Double Elf Fantasy
Written by Rastafoo69, edited by Otaku Apologist
Double Elf Fantasy, a hentai game developed by ExamGames. Released on June 19, 2019. Download on DLSite for $10.00. For PC Windows. No voice acting. Censored genitals. Available in English and Japanese. Free demo available.
You are Gray, the pennyless wandering adventurer searching for the elf village. But when you collapse from exhaustion, you wake up in the home of two elf sisters! After convincing them that men need sex to live, they become your two fuckbuddies!
Read our guide how to download DLSite games.
STORY
After moving in with the two elf sisters, you learn about a hidden war between the "People of the Mountain" and the "People of the Forest". Apparently, the forest creatures are attacking and hoping to steal magic stones for their own power!
Although this game was localized in English to Steam, its translation is still amateurish. It's a pure machine translation. Normally I would not mention translation quality in a review, but this game was released on Steam, who somehow forgot all quality standards.
A machine translation means that any words with a double meaning are immediately made confusing, like how it's never clear which girl is the elder sister. Most Steam reviewers have given negative ratings to the game for that fact alone. Although the game can be understood, there are enough odd moments that it gets on your nerves.
Even if the translation was perfect, the dialogue itself is bland and predictable. For example, "Oh look a treasure chest", "Don't open it, it could be a trap", "I'm not afraid of that!". This is the quality of writing for the entire game. It almost feels like the writer was half asleep!
The dialogue is filled with contradictions. Like when the girls tell you that dark elves are more resistant to poison and paralysis than other races. And yet, in-game, the dark elf girl is nothing like that! She got poisoned every two seconds! What's the point of dialogue, if it contradicts the gameplay?
Days 5-7 of the game are a major slump. You fight one battle, then go home, three times in a row. Then you randomly have a threesome without any buildup. Let's be honest, the developer was padding out game time. Ignoring gameplay, the story is super short. You defeat the elf lady who started the war and help her deal with an evil monster – the end.
GAMEPLAY
Double Elf Fantasy was created in Wolf RPG Editor. The game is over 4 hours long and completes when you're around level 50. Your playtime depends on whether you do all the side quests and forage to create all the items.
The core gameplay loop is a standard RPG where you kill monsters for experience points, items, and money. Items can also be found by walking into them outside of battle. Return home to craft stat boosting items and new weapons with the items you found.
Gray is a swordsman. Lily, the blonde, is the mage. Vernica, the dark elf, is the archer. After returning home from the dungeon, you can talk to one of them and have sex. This will boost their stats. My favorite example is when Lily swallowed my cum and gained 10 intelligence points.
Growing in strength is super easy. Whether you drink stew to boost your health points, or cut wood for an ATK up, your character is always growing stronger. And the side quests of helping woodland critters in exchange for accessories was a nice touch. The game has a relaxed yet addictive flow.
Whether you're picking up auto-crops at home or going into a dungeon to find particular items, this game is all about backtracking and finding crafting materials. In fact, you cannot save in dungeons, because the developer wants to emphasize coming home regularly to craft things.
The downside being, I was once killed in a dungeon after 15 minutes of foraging and lost all my progress. I understand the intention, but I really would have preferred being able to save game while exploring. Especially if I had to get up from my computer, I would really appreciate a quicksave function.
There are no cooldowns for random encounters, so sometimes you can take a single step and get into fights consecutively. Your movement speed outside of fights is slow, so exploration can be a slog. On the bright side, you level up super fast and battles are semi-automated except during boss encounters.
While foraging and crafting is enjoyable at first, once you've crafted everything, the game feels pretty empty. The lack of NPC characters, towns, and other features leaves the player feeling rather isolated. Living in the woods with two elf girls is fun at first, but I was left wanting something more.
GRAPHICS
The anime art style only applies to Lily and Vernica. The majority of sex scenes are chibi artworks with monster girls. While there are 10 fullscreen CGs with the main waifu, there are at least 20 chibi artworks with monster girls.
The character design in this game is fantastic. Gray's spiky black hair and bronze armor perfectly matches his youthful adventurer aesthetic. Lily's flower hairpin and bright color scheme match her girlish charm. Vernica's ponytail and quiver of arrows match her more mature and focused personality that balances the group out.
There's just one problem! Each character has only one standing artwork! Sometimes emoticons appear about their heads, but that's it! The lack of unique facial expressions does a disservice to the character design. I want to see Vernica's face change when she scolds someone, so I can appreciate her smile even more. I want to see Lily's excitement when you try her cooking, instead of that blank-faced stare. For a game that came out in 2019, I was expecting more.
The world design is a mixed bag. It's just your home, the forest, and the cave. Each region is beautifully designed with tree stumps, chickens, minecarts, mushrooms, and so much more! Every time I walk through the world I find something new to appreciate. However, that doesn't change the fact that the world feels so small. The cave goes really deep and even has concrete ruins at the bottom, but it's still just a cave. No matter how beautiful a game may be, four hours in a cave becomes grating.
VOICE ACTING AND SOUND EFFECTS (SFX)
Double Elf Fantasy has no voice acting.
The sound design in this game is fantastic. Whether it's the pitter patter of footsteps or the grumble of a hungry stomach, the assets used in this game are simply phenomenal. I always enjoyed progressing the story and unlocking new dialogue, because the developer put so much energy and effort into personalizing each scene. The sound design gets a bit weaker towards the endgame.
MUSIC
There are over 100 music tracks in total. Rather than relying on the stock library, the developer used popular licensed tracks from Wingless Seraph & MusMus. This means the music is enjoyable and high quality, but it has one flaw! There were many moments whether it was Robin's death or Corone's defeat, where a dramatic change in music would have really carried the scene to greatness, but it did not happen. Even more egregious, there is no change in music when you initiate sex! High quality music is nice, but if it doesn't fit the scene, it's a missed opportunity.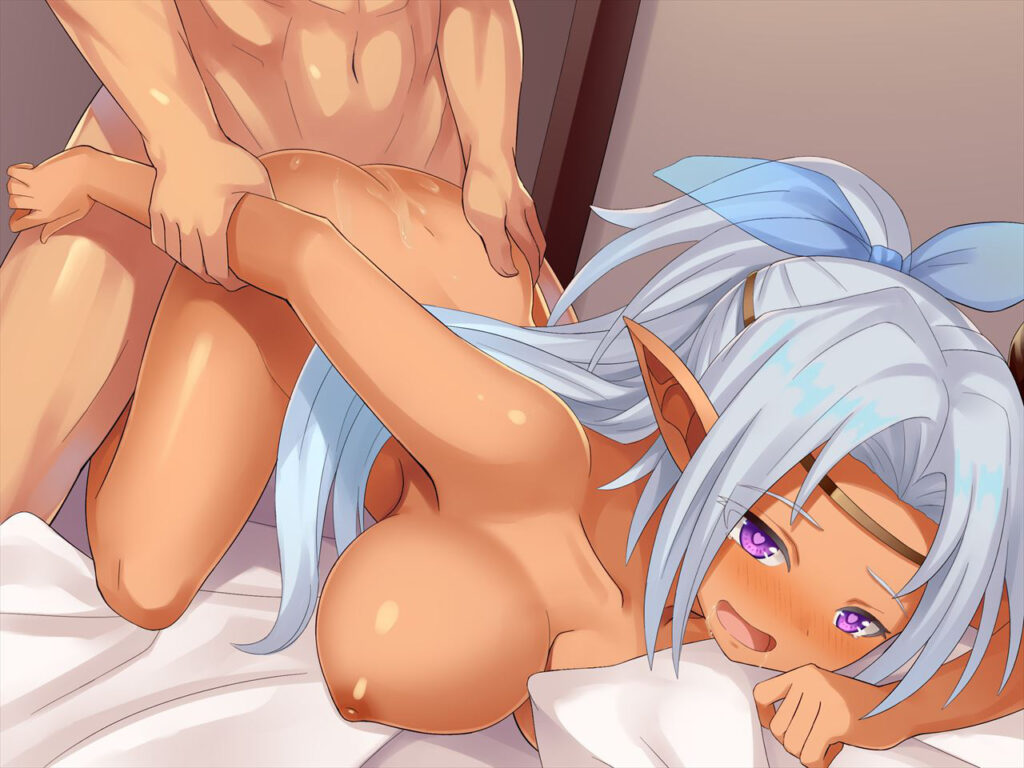 HENTAI
Double Elf Fantasy has 10 CG images for the primary waifus and over 20 cut-in images for the chibi monster girls. To have sex with the waifus, go exploring for a while and come home. Lily and Vernica take care of you every night!
10 fullscreen CGs over a 4+ hour experience is frankly bad. Only two images per hour! Who the heck plays a hentai game only to see two images per hour! Yes, the images are incredibly hot, but there's not enough porn here!
The premise is also silly. The girls immediately believe you when you say men need sex or they'll lose their minds. And then they agree to fuck you so quickly! I wish that Lily gave her first handjob all shy and built up to lewdness, instead of immediately becoming cock hungry.
Corone the rock girl only got one scene, and Alicia the elf mage also got one scene. The writing portrays Corone as the ultimate waifu with a sense of duty and honor that makes her totally lovable, and you only bone her once! What a tragedy!
The tits are hot, the cum is thick, the ass is fat, but the CGs are minimal in number! If only there were more CGs, this game would be an instant classic.
CONCLUDING WORDS
Double Elf Fantasy is your typical hentai RPG about dungeon diving with your two elf babes. While the story is basic, the character designs and sex scenes really bring this experience to life. I only wish the translation was of better quality! I've seen fan translations better than this Steam translation! Download Double Elf Fantasy.

Graphics

Gameplay

Story

Music

SFX

Hentai