Hentai Parody Game Review: That Time I Got Reincarnated as an Orc
Hentai Reviews

>

Reviews

>

Hentai Parody Game Review: That Time I Got Reincarnated as an Orc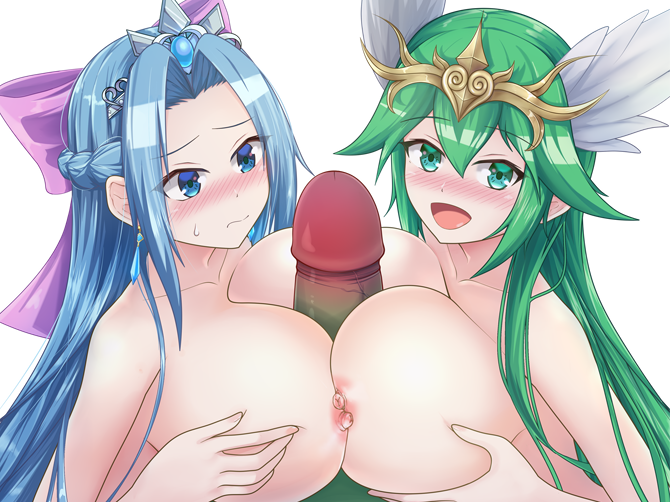 Written by Rastafoo69, edited by OtakuApologist
That Time I Got Reincarnated as an Orc, a hentai game developed by HoneySoft. Released August 14, 2020. Download on DLSite for $18.00. For Windows PC. No voice acting. Uncensored genitals.
In a comedic parody of the hit television anime That Time I Got Reincarnated as a Slime, you play an orc! And instead of saving lives, you fuck every girl you meet! Enjoy this adventure comedy while fapping to your heart's content!
PROMO: When you download games through links on Hentaireviews, you help produce original hentai media.
STORY
You were a 35-year old convenience store clerk who wasted his money and time on eroge until one day, your life changed forever. Someone from another world needs your help! Fight hard! Defeat the Demon King! And live a brand new life as the man who was reincarnated as an orc!
This is a total comedy experience, don't expect a serious plot or difficult gameplay. In fact, you're given level 99 after only an hour or so! The focus is on dialogue and funny moments, so don't stress the details.
During reincarnation, people take the form of their inner self. So if you were a businessman or a boxer, you'd become a trader or a knight. In your case you became an orc, because all you care about is having sex!
The first hour of the game is an introductory sequence that establishes the setting and characters. After that, you just track down six magic orbs and defeat the cute little demon king, easy!
Most of the jokes in this game are visual in nature and don't translate well to a review format. I encourage you to play through the introductory sequence to see if the comedy fits your tastes. Remember that although the game includes sexual content, the primary focus is always the parody format.
I loved the Tengen Toppa Gurren Lagann references. I loved the animations during dramatic sequences. I loved how the Goddess played "Dragon Quest" and that's why she's trying to motivate you by mimicing that game. Even the small moments like Yumi ringing your doorbell a hundred times were super hilarious.
There's a wide variety of sub-events that can reviewed from the recollection room as simple side-stories. And of course, there are minor side quests that yield unique sex scenes. However, the player isn't given much direction at the start of the game, which may be annoying to some.
The comedy is good but when the plot tries to be serious it just doesn't work. Like with "Reincarnation-redos" and other convoluted stupidity. Seriously, the comedy always lands but the core plot is tiresome and boring. Enough with the 10 minute conversations! Sometimes I want to save and quit, but conversations go on and on!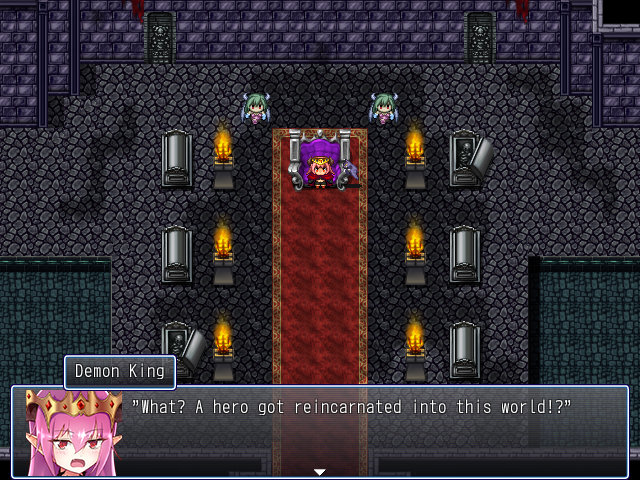 GAMEPLAY
That Time I Got Reincarnated as an Orc was made in RPG Maker VX Ace. Press CTRL to skip text. Press A to hide text boxes. There is no text log. Text skip is only active if you press Z first.
After the introductory sequence of the game, you're level 99 and most battles are automatically won off-screen. Money is incredibly easy to acquire, so the game functions more as a visual novel with an open world environment. There are no complex mechanics beyond walking around.
It's possible to play as Princess Yumi for limited moments of the game and purely for sex scenes. While your party members can still level up, your character is so overpowered it doesn't even matter. If you're bored, go find all the items in the game – not that you'll need them.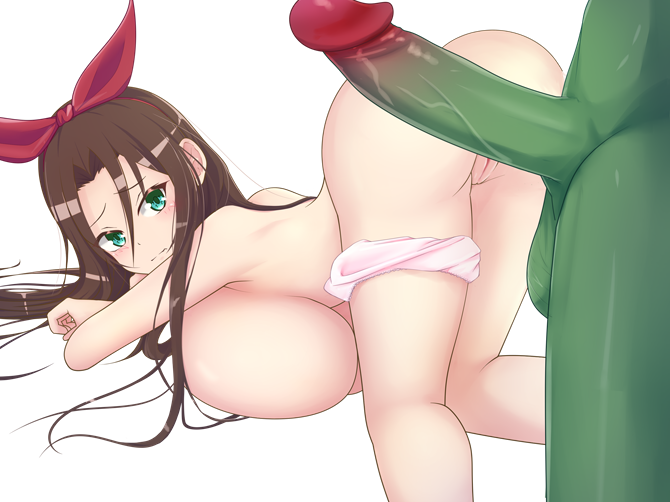 GRAPHICS
Although there are over 30 scenes, many of them lack fullscreen CGs. There's actually under 20 unique artworks throughout the entire game.
The developer put most of his efforts into the animations that compliment the comedy. Like the Gurren Lagann parody sequence. With so many unique animations throughout the game, each scene feels fresh compared to the last.
The main town of the game is absolutely gorgeous. If not for the comedy focus, this would be the greatest RPG town of 2021, purely based on the numerous districts, houses, and NPCs. It really feels like a lived-in community, like a whole new world!
I love the unique interface for the save menu and pause screen. Even better is how text boxes change depending on the tone of a scene like pink for a romantic moment. Best of all, each sex scene has numerous variations for facial expressions and even small details like eye movement. Although the CGs are minimal, each one is fantastic.
There are some downsides though. Like how the knight commander is a dark elf but her sprite has light skin. And how a handjob scene has no artwork and simply shows the standing art move up and down.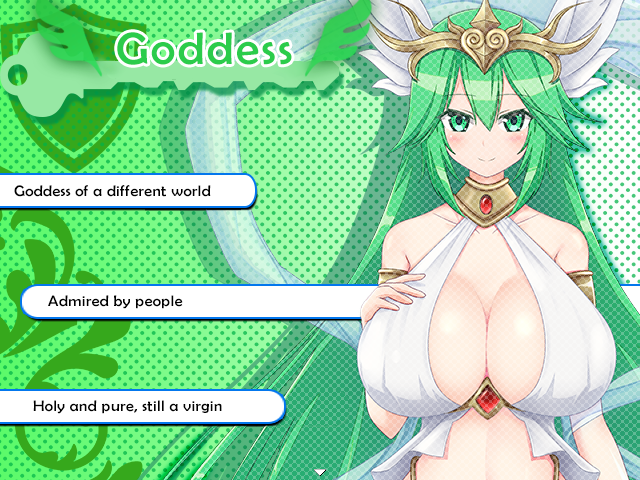 VOICE ACTING AND SOUND EFFECTS (SFX)
That Time I Got Reincarnated as an Orc has no voice acting.
The sound effects are totally unique, but not always good. The vaginal sex is super realistic and believable, while the handjob audio sounds like someone washing a pile of dishes. Overall, the originality is refreshing and I'm thankful they didn't rely purely on stock assets. Outside of sex, the sound design is fantastic. Especially during comedic scenes, players are usually given audio cues to match the jokes, which makes for an enhanced experience. This is something you don't want to mute!
MUSIC
There are 88 tracks in total, utilizing a mixture of stock and unique assets, though primarily the latter. I love how romance scenes have bass guitar and saxophone while more upbeat scenes add electric guitar chord to pump some energy into the music.
The title menu track doesn't really fit the game since it relies on high-pitched chimes like a music box. I would have preferred a more bouncy track like the one that plays during Yumi's introduction.
Although the focus is on comedy, the music does a great job of changing the tone when necessary. Like when you're caught by a hostile spell, unable to move, soon going to die. Fast-paced music like an epic confrontation begins to play in the background, digitally synthesized but well designed enough that it still feels dramatic rather than excessively tailored. Altogether, the music in this game is fantastic!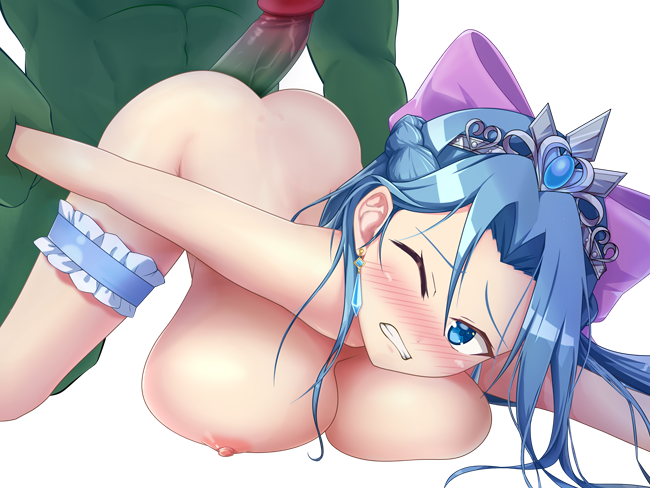 HENTAI
There are under 20 unique CGs and it shows. Often times distinct images look similar to one another, almost as if the artist used the previous one for reference rather than starting from scratch with a fresh concept.
The stomach bulge is a huge fetish here. There is no impregnation or other fetish style content. Most girls have breasts bigger than their head, to the point I found them unattractive.
The very first sex scene in the game is standing sex with the green-haired goddess and I have to say, it didn't hit the mark for me. While the visuals are good enough, standing sex doesn't properly emphasize the defloration of a holy goddess. I would have loved doggystyle or missionary, so we could see a tangible thrust rather than an image swap.
Sex scenes allow you to, optionally, continue by using ejaculation charges, three in total. This unlocks new dialogue but the visuals remain the same. This could have been exciting if there was impregnation content or something to give that choice impact, but sadly it's just the same CG repeated three times.
Altogether, the sex feels almost out of place. In such a light-hearted and comedic game, seeing a girl's stomach get inflated looks painful and unappealing. Rather than getting me excited for the next scene, I was left wishing for a "skip scene" button, so I could return to the comedy.
CONCLUDING WORDS
That Time I Got Reincarnated as an Orc is a hilarious comedy title about a former human who has sex with any girl he wants. The jokes are hilarious and the music is a breath of fresh air. But the nonexistent gameplay and heavy stomach bulge content tend to burden the experience. A visual novel format would have made this better, an absolute classic even.
Download That Time I Got Reincarnated as an Orc. If you liked this game and want another light-hearted sexy adventure, then check out our review of Princess Project.

Graphics

Gameplay

Story

Music

SFX

Hentai