Impregnation Hentai Game: Lisette Maiden of Spring Pregnancy
Hentai Reviews

>

Featured

>

Impregnation Hentai Game: Lisette Maiden of Spring Pregnancy
Written by Rastafoo69, edited by Otaku Apologist
Lisette Maiden of Spring Pregnancy, a hentai game developed by Kedama Qube. Released November 23, 2018. Download on DLSite for $12.00. For PC Windows. Partial voice acting. Censored genitals. Free demo available. Download the English fan translation patch.
Your childhood friend was kidnapped! Explore the cursed island and track him down! The people of this island follow a pregnancy religion, where creampie sex is the same as a prayer. Will you avoid their lustful desires? Or give in and have tons of babies?!
Read our guide how to download DLSite games. Also consult our article how to apply translation patches.
STORY
Lisette and her childhood friend Elvin were attacked by pirates on a trip to the cursed island of Wepal. Separated and alone, Lisette must explore the island to find Elvin and make their way back to the mainland!
The writing in this game is awesome. Plot points include a coup d'etat, a centuries long grudge, a pirate invasion, the oppression of lesser races, and so much more. An entire book could be written based off this story. You'll be hooked and constantly surprised by the twists and turns ahead. And with four unique endings, your choices have a dramatic effect on the fate of Lisette and the rest of the island.
The title alludes to the religion on Wepal island. The Goddess Hecate loves impregnation and pregnancy, so the villagers constantly have sex and breed more followers. Later in-game, you learn the plants and fruits of this island have properties similar to an aphrodisiac. This creates a question of which came first, the beliefs or the religion? The story makes you think and come to your own conclusions.
NPC dialogue changes dramatically as you progress through the story. For example, the elf village hates your guts! But once you become their only hope, and demonstrate you understand their history, they treat you with loyalty and kindness. In fact, the village matriarch outright says "I'm more than happy to welcome you as one of my own", and offers you the privilege of living in the elf village.
The final villain was so charismatic, I genuinely felt bad for her when she was defeated. I loved the showdown, especially when the villain said "No matter what you say, it's all just noise. True justice, is power!!"
Quests become unavailable depending how far you get in the story. I was unable to complete four quests, because they led into corruption and sexual encounters. You can end up locked into one route or the other if you neglect quests for too long.
There is an entire side-story and ending based on being captured by a sadistic nobleman. He uses a forbidden relic to control your free will, and attempts to brainwash you into a sex slave. While it is possible to escape, it's also possible to be deflowered and impregnated. You will live the rest of your life as his cum dumpster! And for people who love the virgin route, this serves as your first introduction into the lore and power of forbidden relics.
Depending on your actions, Lisette either decides to return to the mainland or stay on the island forever. A virgin route takes you home to marry your childhood friend, while a slut route makes you the biggest breeding sow on the entire island!
GAMEPLAY
Lisette Maiden of Spring Pregnancy was created with RPG Maker VX Ace, the most common version of the engine. Use the arrow keys to move. Press Q to show the text log. Press Shift to hide the text box. Press S to activate your stealth skill. There is no dialogue skip.
Rather than a traditional RPG where you defeat enemies to level up, there's a distribution system. You can put all of your experience points into one character, split them evenly, or customize things any way you like. The same applies to skill points. You can unlock all the skills of one character, or none of them.
Experience points are gained on missions and in exchange for gold pieces. This keeps the game well paced, since doing missions is the primary way of leveling your character. Also, not all enemies drop gold pieces. Most of the time they only drop crafting ingredients used to upgrade your gear and craft new items.
My only complaint is that the bosses are too easy! I beat the final boss of the game with my entire party at full health! When the cutscene after showed my characters struggling to move I was completely confused.
As a remote island, the primary village has no need for weapons and armor. This means that iron and silver will sell for cheap, while farming products and food items will sell for high prices. In other words, the crafting system is central to becoming a stronger warrior.
The game is over ten hours long on a virgin playthrough, so being a slut can easily double your game time. The game automatically carries over your money and treasure into new-game plus mode. The only way to avoid this is to delete your old saves.
To explain the depth of this game would take a lifetime, so here are some key features: A bounty board, a farming system, fertility levels, pregnancy and birthing, accessories granting abilities, an enormous open world to explore, a quest log, a cooking and nutrition system, character traits, dynamic time and weekday system, sex stats, and so much more.
Best of all, everything is explained naturally and over time. There is a game manual in your character's bedroom if you ever get confused. And because you start as a penniless adventurer, the game can be enjoyed as a simple RPG long before you get into the more complex mechanics. All in all, the gameplay is excellent.
GRAPHICS
The art is in Japanese anime style. Although Lisette is the title character, over half of all artworks feature other women. Since the theme is pregnancy, it's only natural that many women get impregnated throughout the game.
The world map is embarrassing. It's a blank screen with dots all across it. We read about island aristocrats but never get to explore their city. Although the world is huge and expansive, it felt to me like the developer wanted to do even more.
On the bright-side, the sprites in this game are gorgeous. There are numerous sprite animations for when the villagers have sex outdoors. The fullscreen CGs are reserved solely for main characters. A minimap in the top left corner of the screen helps players navigate the branching paths in each area. My highest point of praise goes to the super cute character sprite of Adeline. She wears robes that are too big for her, so you can't see her hands or feet as she shuffles across the screen. She's so cute!
There are over 40 base CGs with hundreds of variations spread out across over 70 unique scenes. The vast majority of scenes are unique, while the repeated artworks are isolated to certain scenarios. For example, Lisette locked in stockades is one artwork used in 5 scenes. While at first she only gets fingered, things escalate, and eventually she has pregnant sex and even gives birth. The same base CG is used throughout, but variations show a swelling belly or dripping pussy.
VOICE ACTING AND SOUND EFFECTS (SFX)
Lisette Maiden of Spring Pregnancy has generic moaning tracks that play during sex. It feels like these clips were simply dragged in without double-checking. For example, during a painful birth the voice actor says "kimochi" which conveys pleasure. The dialogue and visuals don't match that.
Sound effects are standard to the RPG Maker engine. Fire spells and sword slashes, they're all from the stock library. Many scenes could have used sound effects to punctuate a point but never did. For example, slamming a table during a tense conversation, would've added to the drama. To watch the sprites stare at each other with a blank face killed the moment.
MUSIC
There are 55 songs on the soundtrack, most of which are stock assets from the RPG Maker Library.
After ten hours of play, it's only natural for songs to feel bland, but the first time I heard them I was hooked! Often these digitally synthesized beats had a jazzy feel that made me feel relaxed. And on big moments like during dialogue before a boss battle, the music would fade to silence and be replaced by ambient wind. However, there are many negatives to the music design. Songs loop frequently, and the developer rarely synced songs to a dramatic moment. I could be having a discussion on life and death, but I'd still hear a gentle flute town theme. I remember countless times the music sabotaged the moment.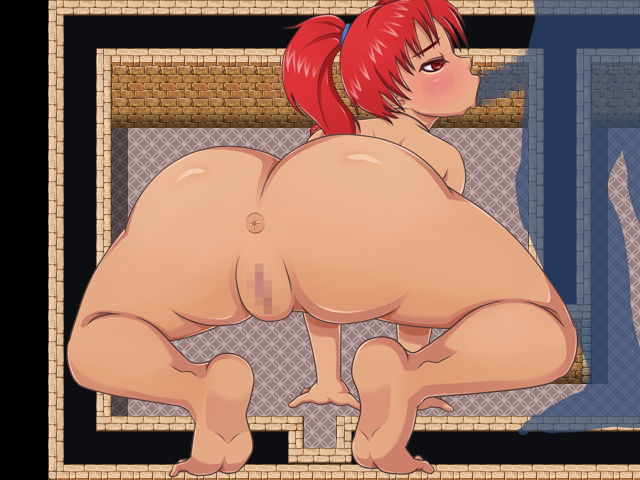 HENTAI
Lisette Maiden of Spring Pregnancy has over 70 scenes in total. Pregnancy has three stages, each reflected visually, and six characters are featured in standing art during cutscenes.
The sex stats in this game are fantastic. They record your number of sex partners, pregnancies, anal sex, the father of your current baby, and so much more. Even better, the other member of your party also has sex stats. You can corrupt two girls at once!
While other impregnation-themed games allow for hookups with random characters, this game does not. Hints on how to find the scenes are available in the recollection room, because they're so hard to find. This was especially disappointing because the game has many NPCs who say they want to have sex, but the player is unable to interact with them.
This game gets hardcore at random times. One moment you're giving birth to an audience of people, the next you're drinking piss from some guy you barely even know. Add in that you can't have sex for the first few hours of the game, and you have a very niche game. Only someone in love with impregnation would endure all this.
If you do manage to find the scenes, they're absolutely fantastic! These scenes feature the deflowering of a virgin elf girl, a teacher being impregnated by her student, the main villain of the game gets dominated and inseminated by an ugly bastard! With at least eight different women giving birth throughout the course of the game, it's a wild ride! Just pick a waifu and follow her plotline!
Altogether the hentai content was great but painfully difficult to unlock. And if you do some quests in the wrong order, you'll lock yourself out of scenes entirely.
CONCLUDING WORDS
Lisette Maiden of Spring Pregnancy is one incredible impregnation game. The story is among the best I've ever written for a hentai game, and the gameplay is dynamic and interesting enough that you'll easily spend a dozen hours on it. With pixel animations and fullscreen CGs, the visuals are fantastic. If you have a pregnancy fetish, this is the perfect game for you.
Download Lisette Maiden of Spring Pregnancy. If you love impregnation, check out our review of Hazumi and PregState.

Graphics

Gameplay

Story

Music

SFX

Hentai